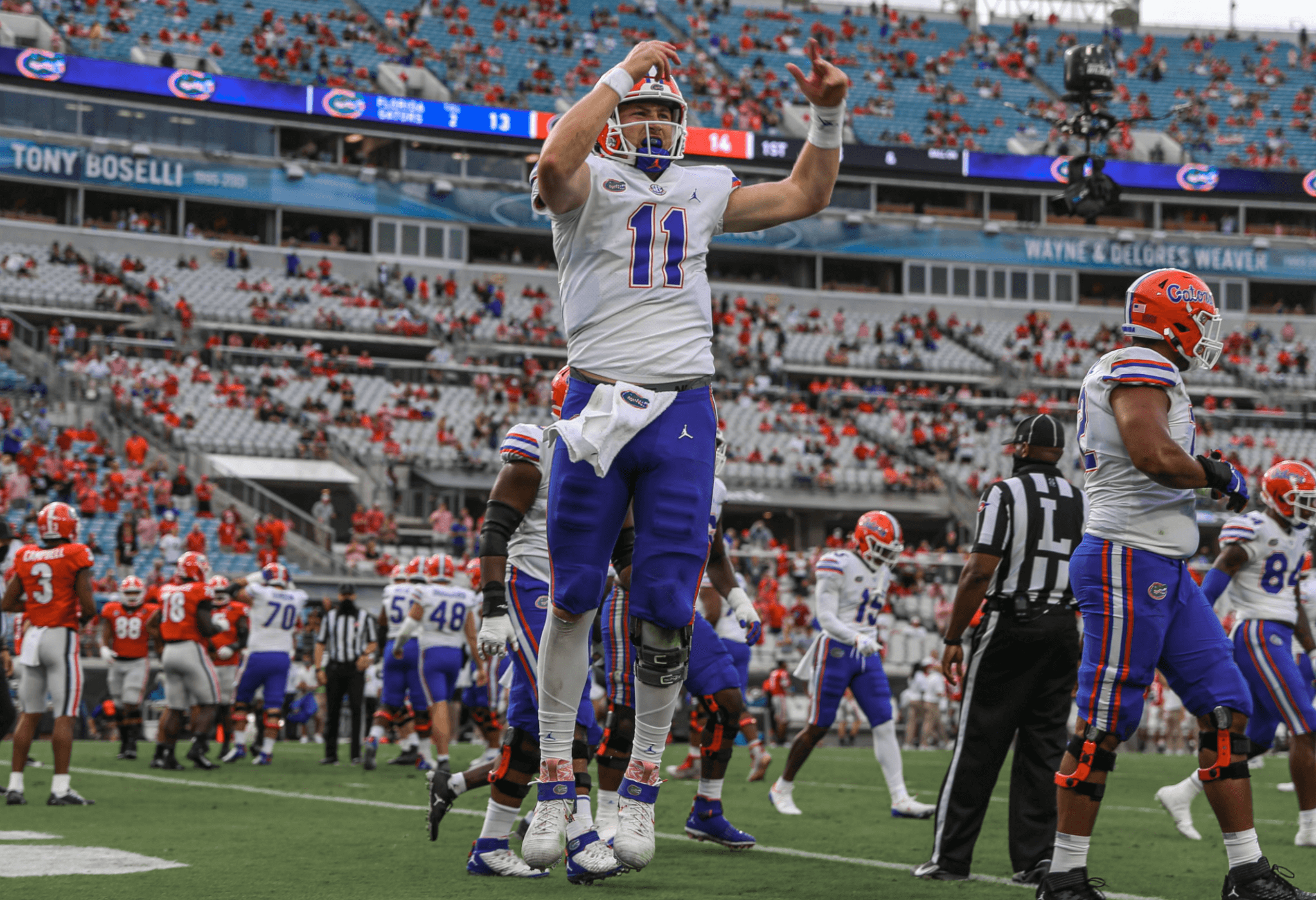 WE DID IT!!!
Yes, at long last, Florida has gotten the Georgia monkey off its back and toppled the Bulldogs to take control of the SEC East. What did we learn along the way?
Kyle Trask is officially a Heisman Trophy frontrunner
He may not win the award, but he has to really fall off a cliff now to not be in New York as a finalist (or virtually, however they do it this year). Even after a sluggish second half, Trask's 474 yards were the second most in a single game in Gator football history- and better yet, he showed the leadership needed to lead this Gator team to the promised land. After falling behind 14-0 in the blink of an eye, Trask calmly led Florida back into the game, shook off a pick six which gave Georgia the lead back, and guided the Gators right down the field yet again. Though his numbers slowed significantly in the second half without the dangerous Kyle Pitts- who missed the second half with an injury sustained after taking a big hit- this was easily one of the best overall performances by a Florida quarterback in school history, and now the competition gets easier.
Florida's offensive line is the team's most improved unit from 2019
Never in my wildest Gator-centric dreams would I have imagined that Florida's offensive line could control the trenches against the Georgia Bulldogs. But that's what they did. This unit- featuring Stone Forsythe, Richard Gouraige, Brett Heggie, Stewart Reese and Jean DeLance- held Georgia's front seven in check and gave Trask plenty of time of throw and running backs NayQuan Wright, Malik Davis and Dameon Pierce plenty of room to run. That's quite a feat given where John Hevesy's "big uglies" were as a position group a year ago, where they were getting pushed around by pretty much everybody other than FSU and the two FCS teams they faced. With the continuity they've got, plus Ethan White set to return soon, this unit is easily the mid-season most improved bunch on the team.
Florida's defense was is making strides, but it's not there yet
Major kudos are in order to Todd Grantham's unit for bouncing back from a horrible start, settling into the game and overall playing fine. The Gators appeared to be in trouble early, first allowing Zamir White to go 75 yards for a touchdown on the first play of the game and then allowing the Bulldogs to torch them on a six play, 61 yard touchdown drive, but then locked down and allowed just one first down and 29 yards the rest of the first half. Florida also forced three turnovers, the last second of which knocked the Bokp dedkown for the count and the third of which dropped the guillotine down. But Georgia also helped with that. Between overthrows and drops, the Bulldogs missed five potential big plays after having beaten the Gator defense. This unit is night and day better than it was against Texas A&M, and it did make some legitimate plays that merit credit, but it's still not close to ready to facing the likes of Alabama or Clemson yet.
Pitts, not Trask, is the MVP of the team
How do I know that? Because, with all the respect in the world to Kemore Gamble and Keon Zipperer- who I strongly believe are going to be tremendous tight ends for Florida when their times come- they're simply not Pitts. Florida's offense went dead silent in the second half without Pitts… at least by their standards, anyway, punting twice, turning it over on downs once and never actually reaching the end zone. There is a seismic difference in the level at which this offense functions with Pitts vs. without him. Make no mistake: Florida can probably survive his absence against Arkansas, Vanderbilt, Kentucky, Tennessee and LSU. It's going to force Mullen to get creative, that's all. And we all know that's his strong suit.
The verdict: this Florida team is officially in position to make history
I'll hold off on all the kowtowing of Mullen until Florida knocks off Alabama and actually wins a championship. But in video game terms, Florida passed a major checkpoint to unlock those bonus levels of the 2020 season with this win today. This was, without a doubt, the biggest game of Mullen's coaching career. Why? Because winning it gives him and his players the chance to play in even bigger games down the stretch. His Gators are far from perfect, but they sure are dangerous- and now they're feeling pretty good about themselves having proven what they're really capable of. The SEC East is Florida's to lose, meaning a date with Alabama for the SEC Championship is theirs to squander. And if they can finish business and get to that matchup without another loss, all that any team strives for in the preseason is at their fingertips.