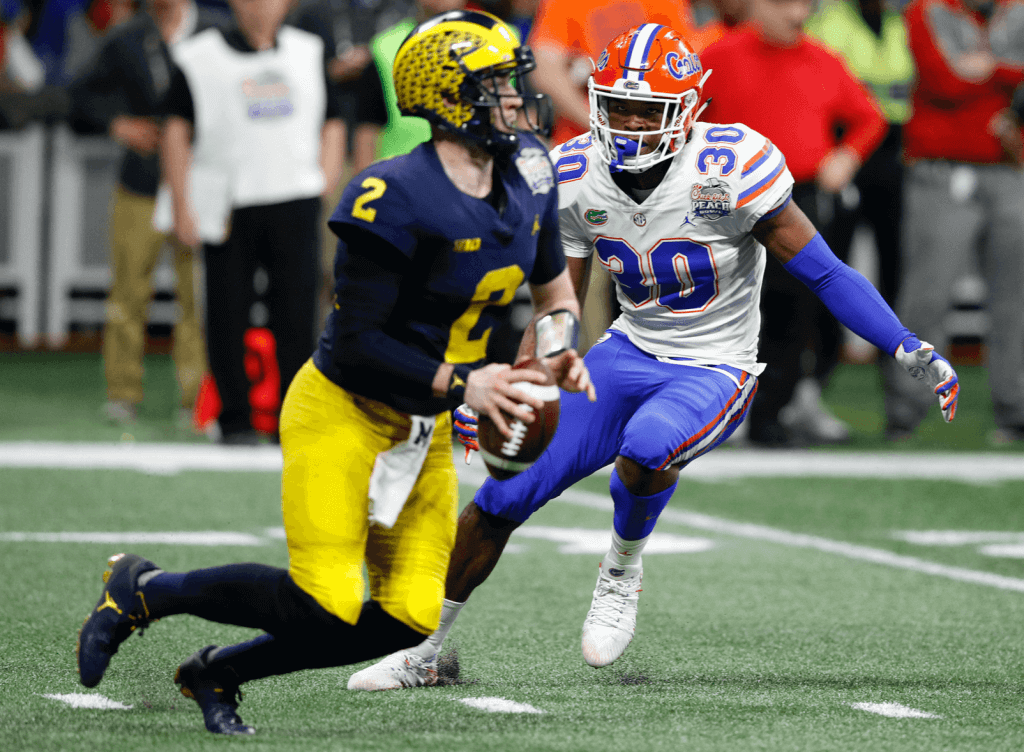 Usually, when a team returns the majority of one side of the ball, there is reason for excitement. The unit has experience, leadership, and can build on what was accomplished last year. But usually is not the same as always. Case in point: when you have a defensive unit that was as bad as the Florida Gators' was last year, the question has to be asked: with so many starters/key players from last year coming back for the 2021 season on Florida's defense, is that a good or bad thing?
Undoubtedly, as is the case with any major college football program, there is an abundance suiting up for the Florida Gators. Florida has tons of blue chip players, and some underrated 3 star players, in my opinion. So why didn't the talent translate to the field last year?
Well, there are lots of factors, but the biggest one, simply put, is coaching, and it starts with the man leading the defense, Todd Grantham.
Grantham is, shall we say, a polarizing figure within the Florida Gators' football team. If you go on social media, it seems like everyone wants him fired, and in some cases more. There are even some rumors from within that the players are not necessarily crazy about him. But while that hasn't been proven to the public, one thing that has been proven is that Mississippi State, Georgia and Louisville fans were all correct: he is one stubborn man.
Todd Grantham's philosophy is simple: blitz the opposing quarterback, put immense pressure on said quarterback, and hopefully force him to take sacks or make poor decisions. It sounds great in theory, and when it works out that way, he looks like a genius. But when Grantham runs the same few looks over and over, his defense becomes very predictable and vulnerable on the back end when the pressure does not get there.
Making matters worse, he also chooses to play experience over talent, no matter the results (see Marco Wilson and Donovan Stiner last season), to the detriment of the team in situations. That directly cost Florida not one, but two losses last season, and in all likelihood, kept them out of the College Football Playoff- unless you'd care to argue that a 10-1 Florida team with wins over Georgia and Texas A&M and a close loss to Alabama would have been left out of the CFP.
But anyway, let's take a look at some numbers from last year. The Gators totaled 35 sacks in 12 games played, almost 3 sacks a game, and tied for 7th in CFB. Not bad, right? Well, 29 of those sacks came in the 8 wins, which means in their 4 losses, the Gators had just 6 sacks in those games.
So, what went wrong in those games? Were the Gators playing elite QB's? Not necessarily. Max Johnson was a freshman making his first career start, in the Swamp no less, and found great success. And Kellen Mond, though certainly not a bad quarterback, is not exactly recognized as an elite quarterback, either.
So, then what is it? Well, when all eleven opposing players know that pressure is coming, it is much easier to pick up the blitz. And when the blitz is picked up, the secondary is basically in one on one, something the Florida Gators struggled mightily with last year- in part because Grantham never adjusted to the fact that the Florida Gators struggled mightily with it last year.
Another glaring statistic from last year's defense was that the Gators only forced nine interceptions. To put that into perspective, the teams tied last year with the fewest interceptions had 8, and Florida played more games than most of them. In fact, 6 of Florida's 9 interceptions came against Georgia and Kentucky, leaving 7 games where Florida did not force an interception. On a defense that predicates itself on creating chaos, and with that, turnovers, that… well, that isn't going to win games.
By my calculations, the Gator have roughly 25 players on defense who could potentially compete for significant playing time in 2021, and 13 of them played significant time last year. Out of those players, there are a couple of stars, like Brenton Cox Jr. and Kaiir Elam. There are question marks with great potential as well, like with Trey Dean III. But should we expect any of the players to take a big step forward when the Gators had an all around poor effort on their historically bad defense, save for a few players?
Maybe. Maybe not.
But I do know two solutions as to what couldn't hurt.
Firstly, Dan Mullen needs to step in and supervise the defense more. In year's past, Mullen let Grantham do his thing and mostly focused on the offense and quarterbacks, where he thrives. But after the catastrophic 2020 season and Mullen saying he will be more involved on defensive matters, it is time to put his money where his mouth is, as "CEO" of the program (and, you know, stop calling it "erratic" when it's bad, and simply call it bad). A bad defense again in 2021 would be 100% Mullen's fault, as not only did he retain the defensive coordinator who would be responsible for it, but he broadcasted the fact, for all the world to hear, that he was getting more involved with it.
Secondly, Grantham needs to not be so stubborn. Which honestly may not be plausible- but it's what needs to happen for Florida's defense to improve greatly. His defenses have regressed year to year in his three years at UF, with 2020 being by far the worst. The 2020 defense appeared to be as bad as it was for three main reasons: one, COVID eliminating tackling in the offseason, two, as previously mentioned, Grantham favoring experience over talent, and lastly, and perhaps most importantly, the scheme did not fit the personnel. In 2018 and 2019, Grantham had at least one elite edge rusher and at least one lockdown corner (2018 Polite and Henderson, 2019 Greenard and Henderson). Last year, Cox, while great, was in his first year in the system, and did have some injury issues. And Elam, while also great, was still only a sophomore, and not quite at that elite level yet. Couple that with a lack of depth, and Grantham not adjusting his schemes, and there was no pressure on opposing QB's in the Gator's losses while the secondary was getting torched.
Lastly, the Gators players need to step up and redeem themselves. They will be the first to tell you that they played awful last year, and 2021 has all the making of being their redemption story. With new players coming in and hopefully lighting a competitive fire under the veteran's for playing time, I hope that spark can translate to on the field play.
So, back to the original question: is it a blessing or a curse that Florida has most of its historically bad defense returning? That will depend on the factors mentioned above, but my optimism believes that the defense will be much better.
Because from both a statistical and subjective perspectives, it can't get much worse.