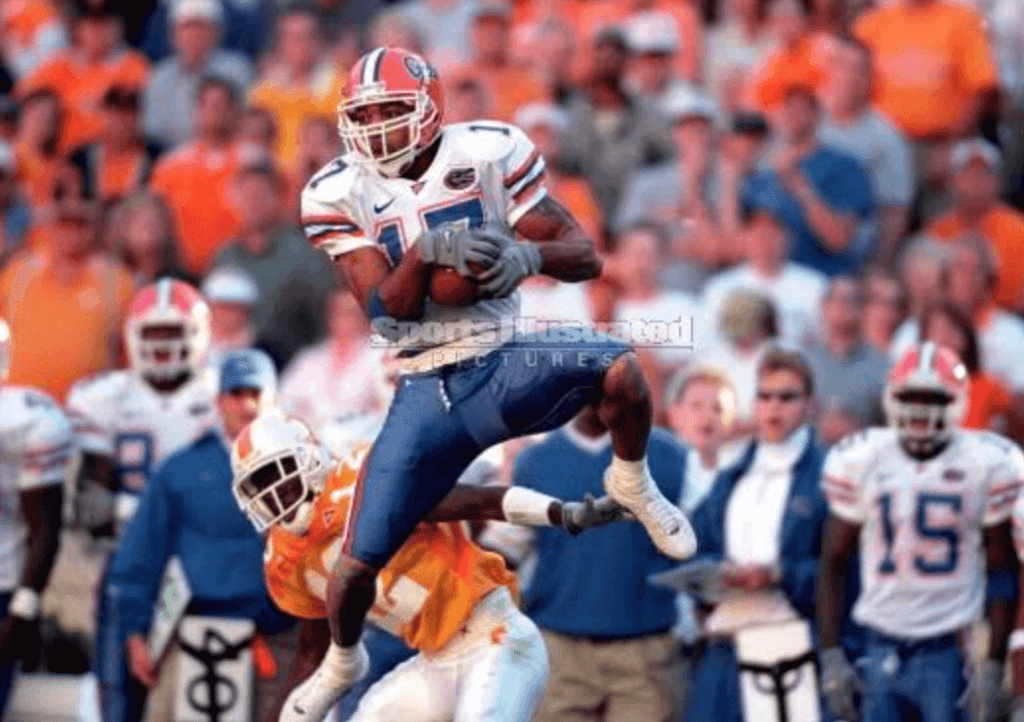 Ex-Florida wide receiver Reche Caldwell has died from injuries sustained in a shooting right outside his home in Tampa, according to multiple different reports. The story was first broken by TMZ, and confirmed by ESPN's Adam Schefter.
Caldwell was 41.
Apparently, the murder was planned out in advance. Reche's mother, Deborah, told TMZ that he was getting ready to take his girlfriend on a date when he quickly went back inside to grab a jacket. His girlfriend reported to TMZ that the Caldwell was "ambushed" by a "couple of people" who jumped out of bushes beside his home attempting to rob him. The burglars shot Caldwell multiple times in the leg and chest, leading someone to call 911.
But Caldwell's injuries were too severe. He died in the ambulance on his way to the hospital.
Thus ended the life of a supremely talented, albeit imperfect individual.
Caldwell played for Steve Spurrier's Florida Gators from 1999-01, and played a large role in the Gators' 2000 SEC Championship, as well as the dynamic 2001 team that fell a two point conversion against Tennessee (and the ensuing overtime) away from a date with Miami in the national championship game. He broke out as a junior and hauled in 65 catches for 1,059 yards for that unforgettable 2001 team, earning himself third team All-American honors and even being named a Fred Biletnikoff semifinalist. He then decided to go pro, and was drafted 48th overall by the San Diego Chargers.
However, his pro career didn't turn out quite like many had thought or hoped. He lasted four years with the Chargers before joining Tom Brady and the New England Patriots. Despite having an overall strong season, two key drops in the AFC Championship Game resulted in him being cut by the Patriots. He would sign a one year deal with the Washington Redskins a year later before his career ended.
Reche Caldwell is survived by his younger brother, Andre, who also played for Florida and is fact the Gators' all time receptions leader with 185. "The way the game kicked him to the curb like an unwanted stepchild hurt him mentally and haunted him," Andre remarked of his older brother's crucial dropped passes.
Perhaps in a dark state of mind, Reche's life took a downward turn following the end of his football career.
On January 30, 2015, he was sentenced to 27 months in federal prison and three years of probation for possession of MDMA (Molly) with intent to distribute. In addition, he pleaded guilty to drug charges involving marijuana and ecstasy, along with additional charges involving gambling.
And then this past December, he was accused of the Justice Department of conspiracy to commit health care fraud. The following month, he pleaded guilty to one count of the aforementioned charge; records indicate that Caldwell was just one of several other former NFL players involved in the scheme, who combined to file nearly $4 million in false insurance claims over a span of 18 months. Caldwell was set to be sentenced for his part in this later this month.
But here's something that shouldn't need to be said but definitely does need to be said in the midst of the global pandemonium we're experiencing: this was a murder, and no matter what he did in his life, he absolutely didn't deserve to die. All those around him in his football life had nothing but pleasant things to say about him, which paints the picture of a good hearted man who didn't know how to handle life after football and thus made some bad decisions. It's a sad ending for a life that was filled with so much promise; a cautionary tale for young athletes who think life will last forever and never contain any degree of difficulty; a reminder to all of us that no matter what adversity we may face in life, we must keep pushing forward and do as much good as we can in the short time on this planet that we have, because it can be gone in the snap of a finger when we least expect it.
Rest in peace, Reche Caldwell.