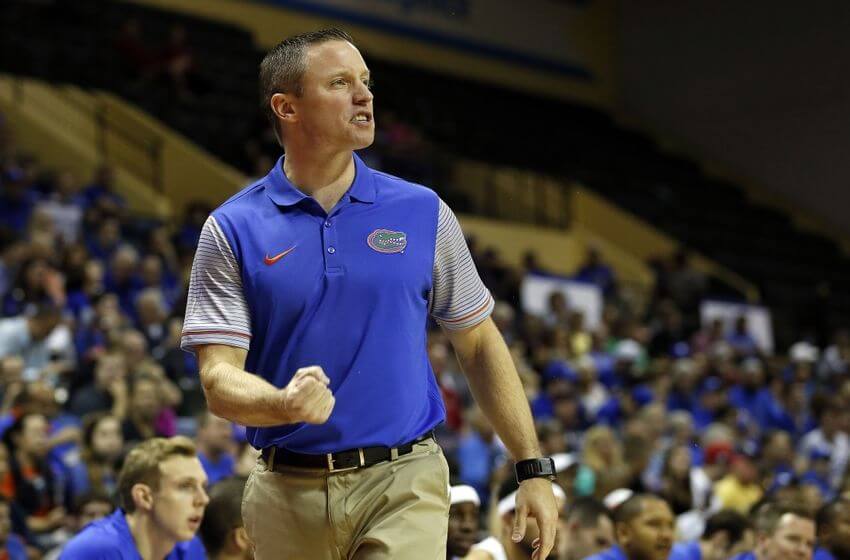 With Tuesday's announcement that Keyontae Johnson will be returning next year for a third season with the Gators, the preseason picture for year six of the Mike White era in Gainesville is growing clearer.
Cap tip to Florida Basketball Hour's Neil W. Blackmon, who broke the Johnson story first.
Johnson, a former four star forward signee out of Norfolk, VA, led the Gators in scoring a season ago with 14 points per game, and frequently flashed NBA potential on the defensive side of the ball, too. He was, most Gator fans would agree, the best player on a very inconsistent 2019-20 squad that most bracketologists had pegged as a #9 seed before the COVID-19 pandemic destroyed the rest of the season. So this is a big, big coup for White and Florida, which now has absolutely everything it needs in order to win at a high level next year.
The freakishly athletic Scottie Lewis is back for his sophomore year. The quarterback of the offense, Andrew Nembhard, is back for his junior year. The former five star guard signee Tre Mann is back for his sophomore year. Backup big men Omar Payne and Jason Jitoboh, both rising sophomores, are back. All of these guys were hand picked by White, and now they're entering their second (or in Nembhard's case, third) seasons in his program.
Then there are the additions. Forward transfers Anthony Duruji and Osayi Osifo will be eligible next year, as will Cleveland State guard transfer Tyree Appleby. And the Gators will be adding a pair of freshmen: small forward Samson Rushentzev and shooting guard Niels Lane.
So by any objective measure, White's going to have an absolutely loaded roster next season. He's got his handpicked players, he's got a surplus of natural talent, he's got experience, and he's got continuity. It's all there for him.
The question will be if he can win with it. Because we've heard this kind of hype about Mike White teams before.
With many key pieces returning from an Elite 8 squad the year before, the Gators were ranked #8 to begin the 2017-18 season and even looked the part for a few games. With three senior starters returning in 2018-19, including KeVaughn Allen- who finished his career sixth on Florida's all time scoring list- Florida wasn't perceived as a top ten team, but rather a solid team that could make a run for the SEC crown and do some damage in the NCAA Tournament. And last year, with a pair of highly touted freshman as well as Virginia Tech transfer Kerry Blackshear entering the mix, Florida was a trendy Final Four pick and the preseason #6 team in the country.
None of those teams made it out of the first weekend of the NCAA Tournament. Cue the disclaimer about the COVID-19 pandemic cancelling last year's tourney, but Florida was almost unanimously projected to be a #9 seed, which meant that the Gators would have faced one of the top four teams in the country in the Round of 32. We saw that movie play out back in late January, when Baylor ripped Florida apart in the Gators' own arena.
In the spirit of keeping things real: that's the past now, and the opinions of neither myself nor any other fan or booster matter on this subject. Mike White is going to be Florida's coach next year. If he was going to be fired, as I have very vocally advocated for, it would have happened already. I may not like it, and you may not like it, but that's the reality.
That comes with a caveat, though: for Mike White, this is it. The idea that White will need another year beyond the upcoming one in order to finally be able to win has now crossed the border from objectionable to downright insane. There are no more mulligans. He's exhausted his allotment of excuses, margin for error, and time to build what he wants. If this was a video game, he'd be down to his final life.
White now has the perfect storm of circumstances. This is his dream scenario. He will never have a roster that is more conducive to winning than the one he will have in 2020-21.
And if he doesn't win with it, he simply never will in Gainesville.