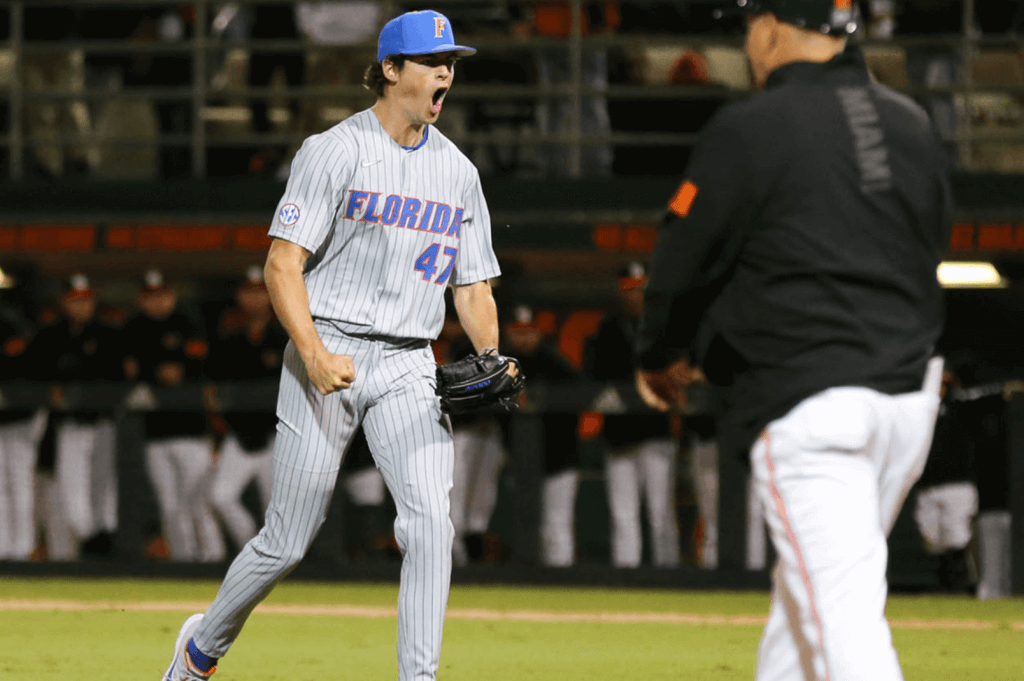 Tommy Mace has just pulled perhaps the biggest offseason surprise in the world of Florida Gator athletics.
Mace, the ace of the Gator baseball pitching staff, has decided to return to Gainesville for another season after going undrafted in the MLB Draft. Per GatorCountry's Nick De La Torre, Mace was contacted during the Draft and "turned down a good offer". Due to the NCAA's blanket eligibility waiver, at least in theory, Mace could be back in 2022 if he desires (although that's extremely unlikely, as Mace could very well be a top five pick in the 2022 MLB Draft).
The Gators' Friday night starter in 2019 and 2020, Mace was off to a brilliant start to his junior campaign before COVID-19 dismantled the college baseball season. He went 3-0 with a 1.66 ERA and allowed just 21 hits in four starts (all of which went six full innings or longer). Most notably, he threw a gem against the top ranked Miami Hurricanes, allowing just two hits in four innings on the road in Florida's opening game win of what turned out to be a three game sweep of the Canes.
It's been left to creative minds to dream of what the 2020 Gator baseball team, which all four major college baseball polls ranked #1 at the end of the abbreviated season, could have achieved. Evidently, Mace's dreams- logically based on a school record 16-0 start- made the choice to come back to Florida a no-brainer, as he pulled the trigger before the MLB Draft was even over.
What does this mean? Well, it means Florida's 2021 baseball team is going to be absolutely loaded. For starters, nearly the entire offense will be back. Most of the bullpen will be, too. And now we know that the entire weekend pitching rotation will be back as well, featuring Tommy Mace, (presumably, barring something shocking) Jack Leftwich and Hunter Barco, each of whom were off to strong 2020 campaigns before the cancellation of the season.
Here's hoping that 2021 allows this group of guys to finish the business that COVID-19 left unfinished.