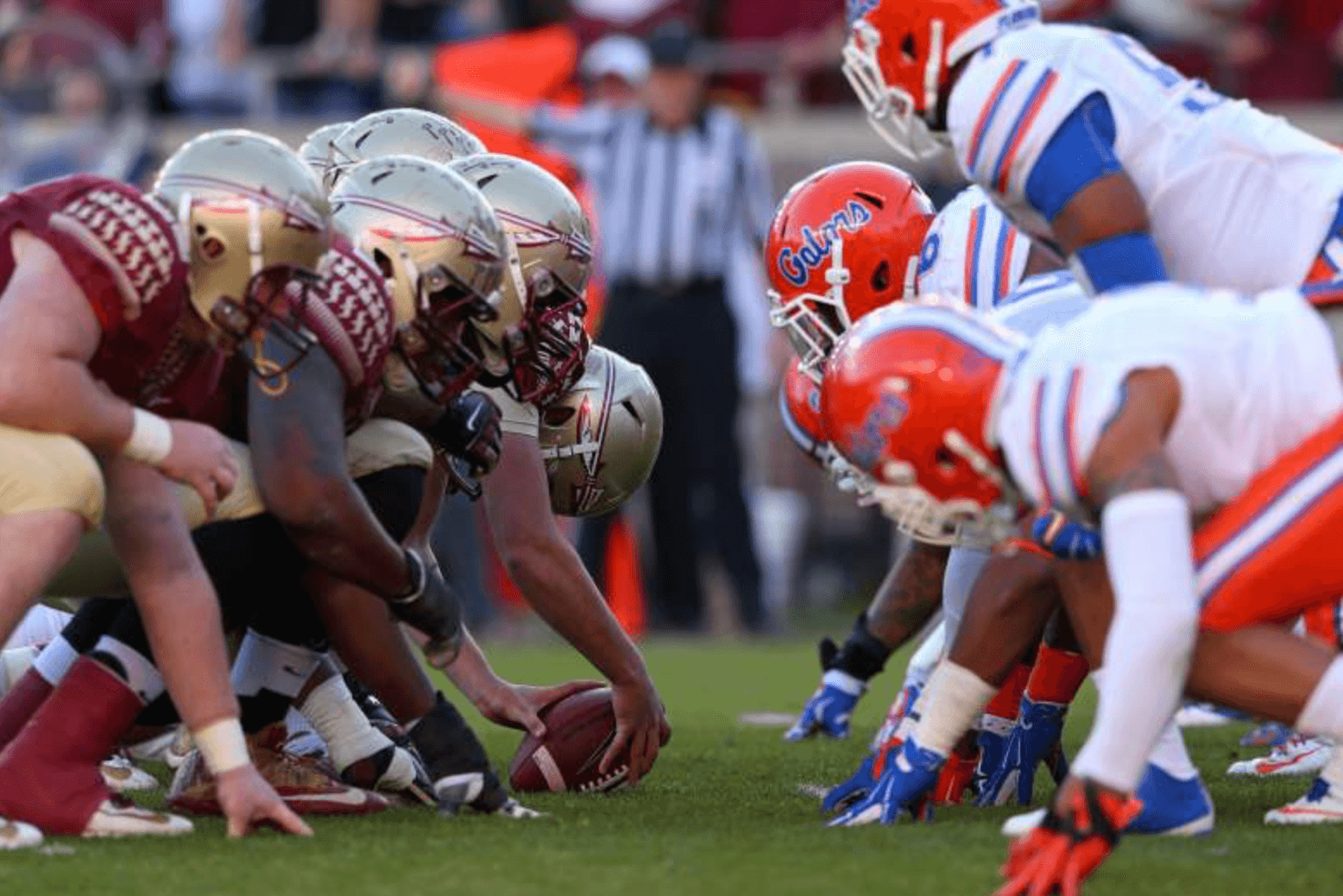 For the first time since 1957, Florida and FSU will not meet on the football field.
As first reported by Ross Dellenger, the SEC presidents have agreed to adopt a ten game, conference only schedule for each of its fourteen member institutions. That means no out-of-conference games will be played for anybody: Georgia-Georgia Tech, Tennessee-Oklahoma, Louisville-Kentucky, LSU-Texas, Clemson-South Carolina are all scrapped. The season is now set to kick off on September 26, with the SEC Championship Game being played on December 19th.
Specific details, including the list of opponents and game locations (particularly Florida-Georgia) have not yet been determined; although per Paul Finebaum, Florida has drawn Alabama and Texas A&M. Meanwhile, Georgia has reportedly drawn Arkansas and Mississippi State. (Which would be nightmarish.) On the other hand, Dellenger has tweeted about a complex scheduling model based on strength of schedule to determine the two extra opponents.
As for Florida-Georgia, a precedent has reportedly been set. The other intra-conference game that's traditionally played at a neutral site, Texas A&M-Arkansas, is apparently moving to College Station this year. What that means for the series beyond 2020- meaning, whether Florida gets paid back with a home game in Gainesville, or at the very least gets a 60/40 ticket distribution advantage- remains to be seen.
We had thought something like this was coming, but the ACC's announcement that it would allow for one conference game left the door open for Florida-FSU to happen in 2020, and now that door has been unceremoniously slammed shut. Make no mistake, Florida wanted to play this game, and the loss of FSU on the Gators' schedule is a stinging blow.
The opportunity that Florida would have had to use up their bi-annual trip to Tallahassee in a year that FSU is clearly rebuilding and would have very few or potentially no fans in attendance, and then get the Seminoles back in Gainesville in 2021- presumably in a packed Ben Hill Griffin Stadium- was a highly appealing trade off, and now at least the first half of that trade off is certainly not going to come to fruition. And any opportunity to smack FSU around that Florida loses is sure to leave many Gator fans in a lugubrious, and in some cases even funereal state for some time.
The question now for the Florida-FSU rivalry is, what happens next? Without a game in 2020, the series is scheduled to return to Gainesville in 2021; surely FSU won't be too happy with that idea. The Gators could go to Tallahassee in 2021, but that would leave Florida with just five home games that year, as opposed to six road games and the neutral site game with Georgia; surely Florida would be irate at that prospect. Or perhaps if Florida goes to Georgia in 2020, Georgia would return to Gainesville in 2021 to balance that out. Maybe 2021 would be a good time to give Florida-FSU the neutral site treatment in Jacksonville, Orlando or even Tampa before returning the series to Tallahassee in even years beginning in 2022 so as to not upset the balance of the teams' future schedules?
So many thoughts about the series' future are popping up right now, as this news remains fresh. Naturally, this remains an extremely fluid situation, and of course, this is all based on the assumption that we have a season to begin with, so this story still has many twists and turns left in it, and updates will be added to this story when those twists and turns become canon.