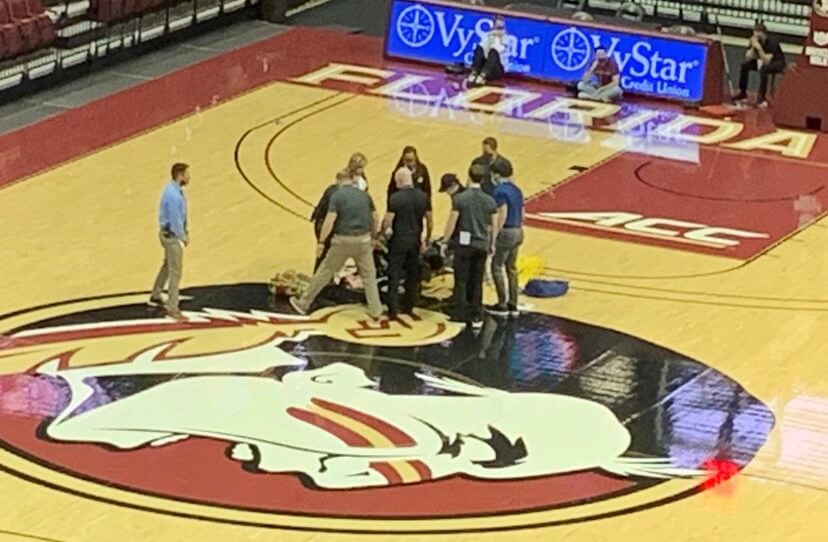 Florida lost its seventh straight game to in-state rival FSU on the hardwood, dropping to 3-1 on the year. Six of those losses have come under Mike White, who entered this sixth season in Gainesville really needing a big bounce back year to regain the trust of fans and boosters alike.
Those things would be the topics on the tips of tongues following the conclusion of the game today had it not included one of the most frightening episodes in recent memory.
Early in the first half, Florida's Keyontae Johnson caught an alley-oop pass from Tyrie Appleby and slammed it down to give Florida an 11-3 lead. He was seen smiling and happily jogging back to his bench for the ensuing media timeout. Moments later, he simply fell to the ground without being touched.
Johnson— the SEC's Preseason Player of the Year— was transported to Tallahassee Memorial Hospital. He was said to be in critical but stable condition by Denver Parler, a Florida basketball team spokesman.
The latest update on his condition— at just a few minutes before 4pm on Saturday— was that Keyontae Johnson will stay in the hospital overnight, and coach Mike White will stay with him. An hour later, multiple reports surfaced that his family was being flown to Tallahassee.
Of course, this is a developing story, so more information will become available when it comes out. And of course, our best wishes go out to Keyontae Johnson.