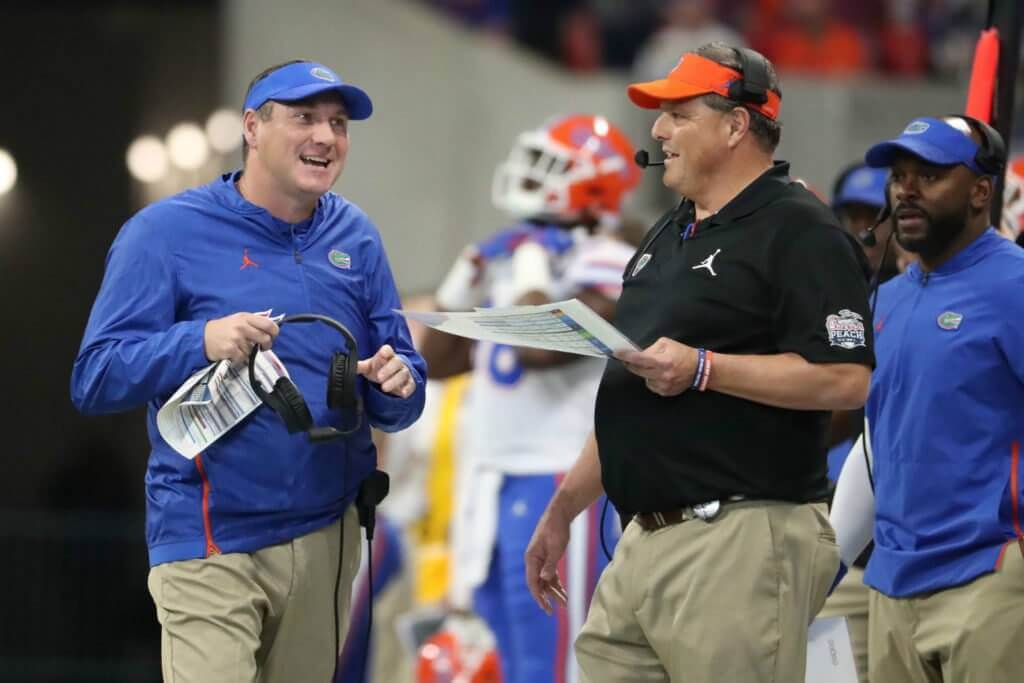 According to multiple reports, Dan Mullen is organizing a notable round of changes to his defensive coaching staff— just not the change that most fans want, by which I mean he seems set on retaining Todd Grantham.
According to Football Scoop, and then confirmed by additional outlets, safeties coach Ron English and cornerbacks coach Torrian Gray are moving on from their positions at the University of Florida. However, Florida does not appear to be contemplating parting ways with defensive coordinator Todd Grantham— who has served as Mullen's DC since his final year at Mississippi State in 2017. Such reports had begun circulating early yesterday evening, but first emerged from behind the curtains of pay walled-message boards this afternoon with Football Scoop's report.
Florida's secondary, aside from Thorpe semifinalist Kaiir Elam, was pretty bad for much of the year. Most notable were the various failures of corner Marco Wilson— who showed clear and tremendous regression from a promising freshman campaign in 2017– and safety Donovan Stiner. So it does make sense for Mullen to look for leadership at those positions elsewhere, as it's wholly within the realm of logic and reason to believe that these coaches did not do everything they were supposed to do in 2020. (English more so than Gray, who has a longer track record of success, but still.)
But none of the three levels of Florida's 2020 defense were especially successful, and the complete and utter discombobulation by the unit eventually cost the Gators in each of their three regular season losses. In the first 113 years of football at the University of Florida, only twice did the Gators allow more than 600 yards in a game. The 2020 defense eclipsed that number in twelve games, allowing Mississippi, Alabama and Oklahoma to achieve that ignoble 600 yard mark in the first, penultimate and final games of the Gators' season.
Worst of all, the game tape displayed a defense that, if you watched a few plays of it with the scoreboard bug cropped out, frequently looked like the worst defense in the country. Players routinely looked lost or unaware of what the play call was. Tackling was an issue from the first game of the season to the last game. Defenders consistently took horrible angles to the ball carrier, oftentimes without help from teammates, and missed tackles tacked four or five yards onto runs at a minimum. Cornerbacks seldom came up to the line to jam opposing receivers, instead opting to provide several yards of cushion for free and easy completions on slant or dig routes— something they're all clearly being coached to do. And the defensive line rarely pushed back at the point of attack, getting bullied for much of the year in the trenches.
Throw all those problems onto a pile, and it seems like the kind of mess that's best fixed by taking a wrecking ball if not a bomb to it and rebuilding from scratch. Except: Florida's defense was actually good in 2019 under Grantham, finishing ranked in the top ten nationally… with, of course, the notable caveat that it too busted coverages at the worst possible times, most notably late in the game against Georgia. But it seems as though Mullen is choosing to lean on 2019 more than 2020, and attempt to fix some of his defense's issues at the local level rather than eviscerating the foundation.
I've been blunt about this: I don't like it. In fact I outright hate it. Loyalty has frequently been mentioned among those in the know as one of Mullen's faults, and that looks to be in play here as he is apparently set to bring back an old friend despite that friend's merit being of questionable value. I also acknowledge that I don't know everything that Mullen knows, and therefore I acknowledge that it's possible— unlikely but objectively possible— that I, along with hundreds of thousands of Gator fans, are all wrong and he's pulling the right lever in sticking with Grantham and his ultra-high risk, high reward scheme for a fourth year. So if these reports do come to pass and Grantham comes back for a fourth year, that does not call for "Fire Mullen!" chants to serenade the Swamp— or his twitter mentions.
But what I will say is that Mullen is undoubtedly taking a calculated risk here in bringing Grantham back. He is unquestionably placing the goodwill he's built with Gator fans on the line by retaining Grantham. If the move blows up in his face and the defense again finishes in the bottom half of most statistical categories in 2021, not only will firing Grantham feel like a prerequisite for Mullen to return in 2022, but the heat beneath Mullen's seat could be at a thermonuclear level heading into 2022 unless his offense can again carry the team to a double digit win total.
And if you think that Gator fans didn't want to be in the position we're in now, pray to whichever deity you believe in that we don't have to arrive at that pre-doomsday juncture a year from now.