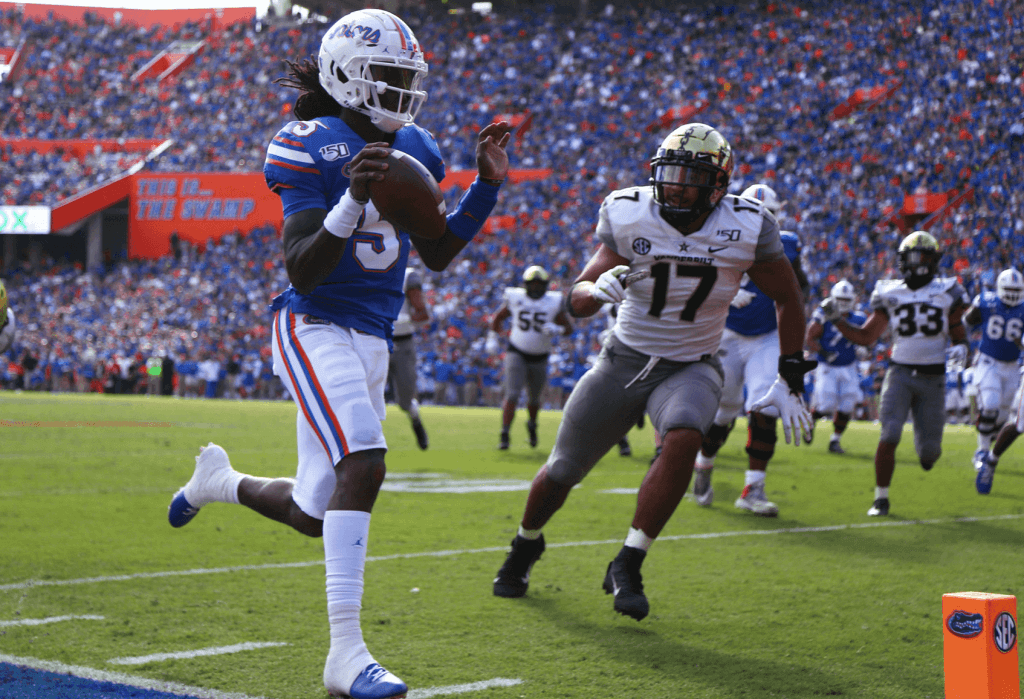 Flash back to almost four years ago, December 20, 2017. It's the day that Emory Jones signed with the Florida Gators, which planted a seed for a career that has, for the most part, remained dormant- until now.
Not too long before a letter of intent was set to be signed, a text was sent from the phone of Emory Jones to Dan Mullen. It read, in part: "I want to be your quarterback." Not "I'm having second thoughts about my commitment to Ohio State," and not, "I'm pushing off my decision until February because I want to visit." No. Emory Jones distinctly told Dan Mullen that he wanted to be his quarterback.
Mullen, of course, was elated to read that news. Shortly thereafter, Emory Jones had signed his letter of intent, and Mullen had signed his first quarterback at the University of Florida.
Three years and nine months have passed since then, a time frame that has seen rather mixed results for Mullen's Gators. Florida has experienced the high of knocking down top ten ranked rivals in Georgia, Auburn, and LSU, reaching three straight New Year's Six Bowls (and winning two of them), reclaiming the state of Florida with a pair of blowouts over FSU and most recently, reclaiming the SEC East. Needless to say, Mullen accomplished a lot of "firsts" in that time frame.
But now, he's about to embark on perhaps his greatest voyage yet: commandeering a Florida Gators offense with his handpicked, personally signed quarterback. Feleipe Franks certainly had promise, and had his moments under Mullen. And Kyle Trask was a Heisman Finalist. Both, though, were leftovers from the Jim McElwain era. Mullen did not recruit nor sign either of them.
So now, for the first time ever, Mullen is going to get to coach a game of football at Florida- not at Mississippi State, mind you, where recruiting comes with a pair of handcuffs due to the program's lack of prestige, but at Florida- where his entire game plan revolves around the talents and strengths of a quarterback that he specifically recruited. That's a milestone, and perhaps the biggest one of his coaching career.
Then there's Emory Jones' side of things. Jones was committed to Ohio State since July of 2016 while Urban Meyer still prowled the sidelines in Columbus and Florida's program was quietly falling apart behind the scenes. But something didn't quite feel right to him as Signing Day approached. He took multiple visits to both Alabama and Auburn in the fall of 2017, and then in late October, the axe fell on McElwain.
One month later, Florida had its new coach. One visit to Gainesville later, Jones had his new school.
But playing time didn't come easily for Jones at first. Or really, at any point since.
Taking advantage of the new redshirt rule, Mullen worked Jones into four games as a true freshman in 2018 to preserve a year of eligibility. That 2018 mini-season did include some nice moments but overall left Jones- and his fans- starved for more action. Conversely, the intermittent struggles of Feleipe Franks throughout the 2018 season resulted in collective howls from fans when he was set to return as the starter in 2019.
Then, fate intervened. Franks suffered a gruesome injury against Kentucky that ended his season. Many fans thought that was going to mark the beginning of the Emory Jones era in Gainesville. Instead, it marked the beginning of a storybook career for Kyle Trask that culminated in a record-shattering 2020 season and recognition as a Heisman Trophy finalist.
All the while, Jones played sparingly, collecting some snaps in brief in-game packages to spell a running game and force defenses to load the box more as the Gators' offensive line struggled to run block throughout the 2019 and 2020 seasons. He's not the type of kid who would ever say it, but certainly, this was not what he envisioned when he signed up to be a Gator.
And so it would have made sense had Jones chosen to transfer out of Florida and find a new home at any point over the last few seasons. Auburn certainly hasn't had stellar QB play in either of the last two seasons, and Jones certainly had an interest in the Tigers back when he was in high school. It would have been disappointing had Jones gone the Cam Newton route- but in a world where everybody would rather play than not, fans would have collectively understood it.
But no. Emory Jones wanted to be Dan Mullen's quarterback. Did he have to wait longer than he had hoped he'd have to? Probably. But Jones knows the old adage of not trading what you want in the long run for what you want right now. He didn't do it, even as opportunities beckoned elsewhere. And now it's time for his reward.
Although his offensive coordinator Brian Johnson is gone- and the ultra-tight relationship they had isn't replaceable, even as well as Jones and Garrick McGee seem to get along- Jones finally sees the day he'd been waiting for straight ahead of him. No more stumbling blocks. No more delays. No more detours. Emory Jones is, at long last, in control of a football team that he's been a part of and learned with for the past three and a half years.
He's waited his turn, he's bided his team, and he's grown up and matured with the team.
So now it's his turn. It's time. And the Florida Gators are his team.