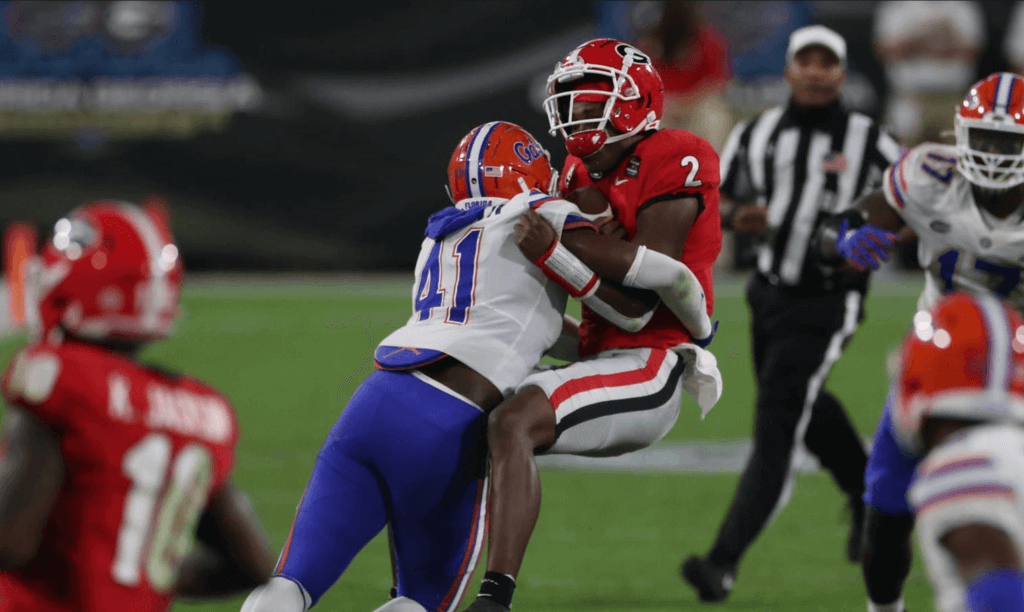 Towards the end of the 2020 season, Florida linebacker James Houston IV began to sense that his destiny lay elsewhere. By New Year's Day, his mind was made up, and so he entered the transfer portal as a graduate transfer.
Jackson State wasn't initially one of Houston's options. But he was always Jackson State's top option, even as he didn't express a mutual interest. In the end, the Tigers' perseverance won him over, and now Houston is headed to the capital of the Magnolia State to play for NFL Hall of Famer Deion Sanders and the Jackson State Tigers in 2021.
"Why Jackson State?" I asked him. After all, Houston had no shortage of offers from Power Five schools, and Jackson State, for all the allure that Sanders brings, is an FCS school. Missouri and West Virginia went after Houston particularly hard, and there seemed to be a good amount of interest from his hometown Miami Hurricanes for at least a little while.
Houston knows the discrepancy in perception between the FBS's Power Five and the FCS. For him, that doesn't mean much.
"It's time for HBCUs to shine," he told me. "Sometimes there's just nothing like going back to your roots. It's time for HBCUs to get the recognition they deserve, both on the field and off of it. It's time to change the narrative of HBCUs."
Houston attributes a cousin of his for convincing him after his initial hesitancy with Jackson State, who contacted him almost immediately after his entrance into the transfer portal. Houston became friendly with the coaching staff at West Virginia, silently committed to the Mountaineers back in March and appeared all set to sing "Country Roads" and don their blue and gold. But when a last minute snag derailed that, Houston was crushed- and there was Jackson State, continuing to express just how badly they wanted him.
That's when Houston knew where he belonged.
"There's just an indescribable family atmosphere there," he declared. "I love it. I love everything about it. They never wavered in their commitment to me, and all the while, my cousin kept saying, 'Hey James. Jackson State. Jackson State. Jackson State.' And when Jackson State really was there for me, I knew that there didn't exist a better place for me."
As for the fact that Deion Sanders happens to be the head coach? Aside from maybe some Florida-FSU… well, disagreements between them, the pairing couldn't be more perfect for Houston.
"That's Prime Time!" Houston exclaimed. "That's Coach Prime! Who could you play for that's better? One of the best players of all time, a top notch scout, and a likable guy on top of all that. The HBCU component, the family atmosphere, their need for a linebacker to come in and play right away, everything about the school was just perfect. The fact that it's Prime Time is just icing on the cake."
On top of the personal connection with Sanders, the football aspect of the match seems congruent, too. Houston also pointed to the ability to play right away at middle linebacker where he's most comfortable, as well as the aggression with which DC Dennis Thurman (a former NFL star himself) has said he'll have Houston play.
Lastly, Houston made a point to tell me that even though he may be finishing his college career elsewhere, he'll always be a Florida Gator.
"I'm not as much leaving Florida as I am beginning a new chapter in my career," he told me. "I'm a University of Florida alum. I have my degree from UF. Florida will always be my school. I have nothing but good memories there and I'll always root for my Gators."
For Houston, it was of top importance to end this piece with one last message to the Florida Gator fans who have supported him throughout his time in Gainesville.
"Thank you Gator Nation for these last four years. I wouldn't trade my time in Gainesville for anything. I'll always do my best to make Gator Nation proud."
And with that, James Houston IV is officially off to Jackson State as a grad transfer to complete his college football career. Best of luck, James!