Ladies and gentlemen, it is my distinct honor and privilege to present to you, the 2020 Florida-FSU chart.
Many of you already know what I'm referring too. For those who don't, "The Chart" is an annual In All Kinds Of Weather tradition that compares the Florida Gators and the Florida State Seminoles in all kinds of statistical categories. And by that, I mean in all sports. Because Florida has so completely and thoroughly dominated FSU across the board- and because Florida is the #EverythingSchool, and the so-called "minor sports" deserve their moment in the sun- this chart includes comparisons of Florida and FSU from football to tennis and everything in between.
Spoiler alert: Florida leads in most of these categories.
The 2020 Florida-FSU chart is fairly similar to last year's edition, albeit with a few new additions. A few things in this chart do require some further clarification. Some of these things I was able to sneak into the graphic as footnotes; others have wordier explanations, and those are explained below.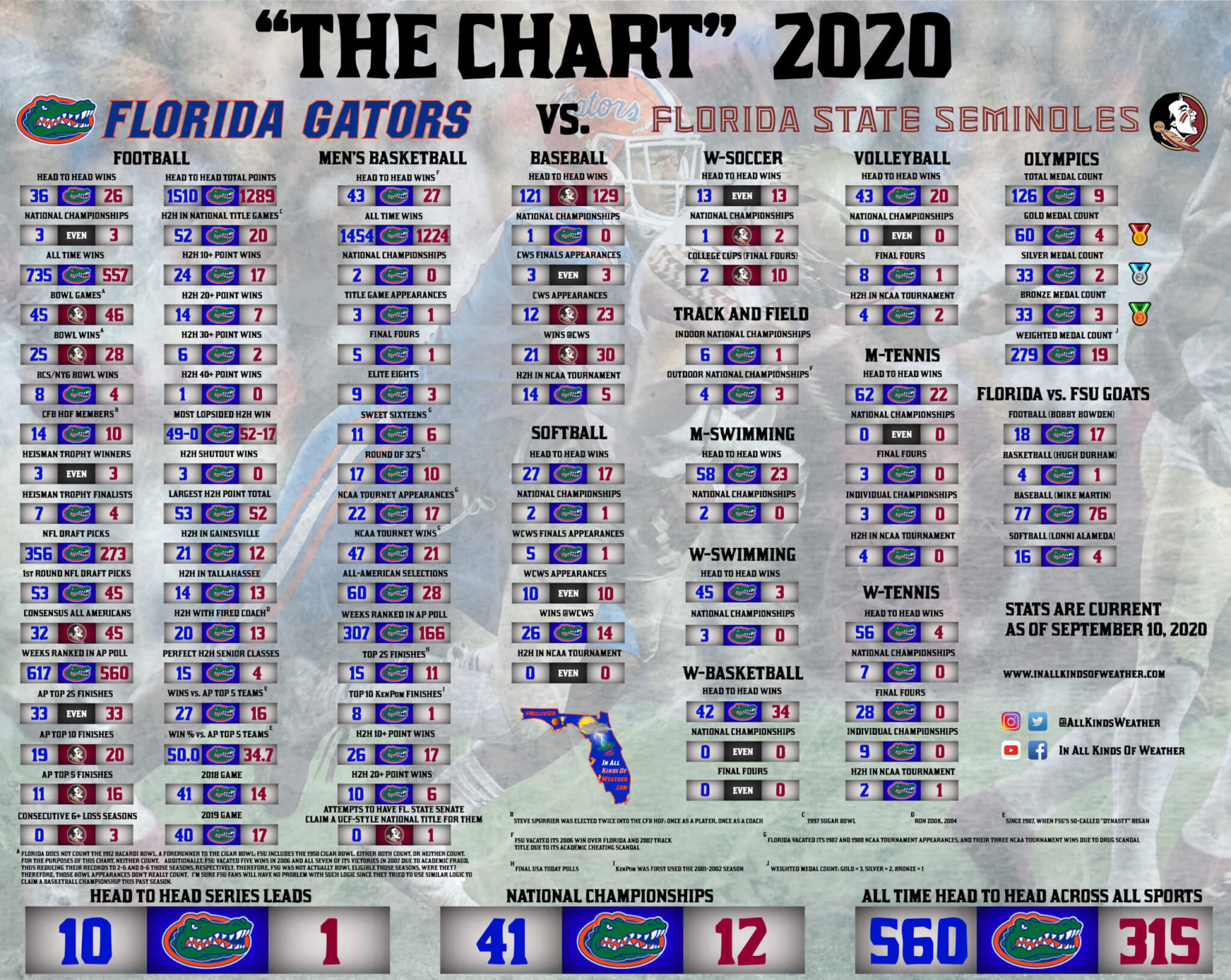 Now, as I mentioned above, a few things need to be addressed (in addition to the things I addressed as footnotes within the infographic itself).
First and foremost, there are some problems regarding the Noles' national championship count. Depending on the degree of ignorance in the FSU fan you ask, they may have up to 19 national championships. Part of the problem is that some FSU fans are either stupid enough to wholly trust Wikipedia, or just don't care enough to do independent research. Every time Florida wins a national championship, and I point out that Florida has (however many that particular title made it) titles to FSU's 11, every FSU fan who debates the point directs me to one place: the "Florida State Seminoles athletics" wikipedia page, where sure enough, FSU is given credit for 19 of them.
Unlike these FSU fans, I actually did some research and looked into them (because they sure as hell aren't going to). The following national championships that FSU claims are legitimate: football in 1993, 1999 and 2013, women's golf in 1981, men's track and field in 2006 and 2008, women's track and field in 1984 (outdoor) and 1985 (indoor), women's soccer in 2014, and men's gymnastics in 1951 and 1952. That makes 11. The other eight that Wikipedia page claims are softball in 1981 and 1982, and women's indoor track and field in 1981, 1982 and 1985, women's outdoor track and field in 1981 and 1984 and cheerleading in 1997. There are various problems with them:
-1981 and 1982 softball
It's true that FSU won AIAW (governing body for women's collegiate sports at the time) softball national championships in 1981 and 1982. There's just one problem. The two titles they claim were both slow pitch softball tournaments, something that Wikipedia page just conveniently forgot to mention. In reality, Utah State was the 1981 national champion in softball, while the 1982 championship was split between UCLA (NCAA) and Texas A&M (in the last year of the AIAW). Even FSU's own athletics site admits that those championships were slow pitch, though they added their own twist to it by claiming that softball was slow pitch at the time, which is wholly false; the two just coexisted at the same time. Anyway, there's no way I'm going to give FSU credit for a national championship in a sport I dominated in high school gym class. Slow pitch softball is like coach pitch baseball. There's no defensive skill involved because anybody with decent hand-eye coordination can crush it over the fence, no problem. I probably hit a home run nine out of every ten times up, and that's nothing special because half my gym class can say the same thing. So yeah, slow pitch softball championships don't count.
-1981, 1982 and 1984 women's indoor track and field/1981 and 1985 women's outdoor track and field
Nowhere else on the internet does FSU claim these national titles. Not in FSU's official media guide (you can find their list of championships on page 33), not on the NCAA's list of outdoor track and field champions or indoor track and field champions, and not even on FSU's track and field wikipedia page. Nice try.
-1997 Cheerleading 
Cheerleading is not a sport. Sorry. Admittedly, some can question whether gymnastics (in which UF has three national championships) is a sport or not, and I'm the first to admit the participants in either require a great deal of dexterity and perseverance to excel, but I draw the line of "is this an actual sport?" at cheerleading.
---
Anyway, there we are. 11 national championships. Five made up out of nowhere, two in a game that's been reduced to intramural, and one in the popular after school activity in high schools across the country. Whenever an FSU fan tries to claim 19 or 20, remind them of that.
And if ever an FSU fan attempts to try to claim that the Seminoles are superior to the Gators in any way, shape or form, a quick removal of this 2020 Florida-FSU chart from your metaphorical back pocket and into their line of sight should remind them of the falsehood of that statement.