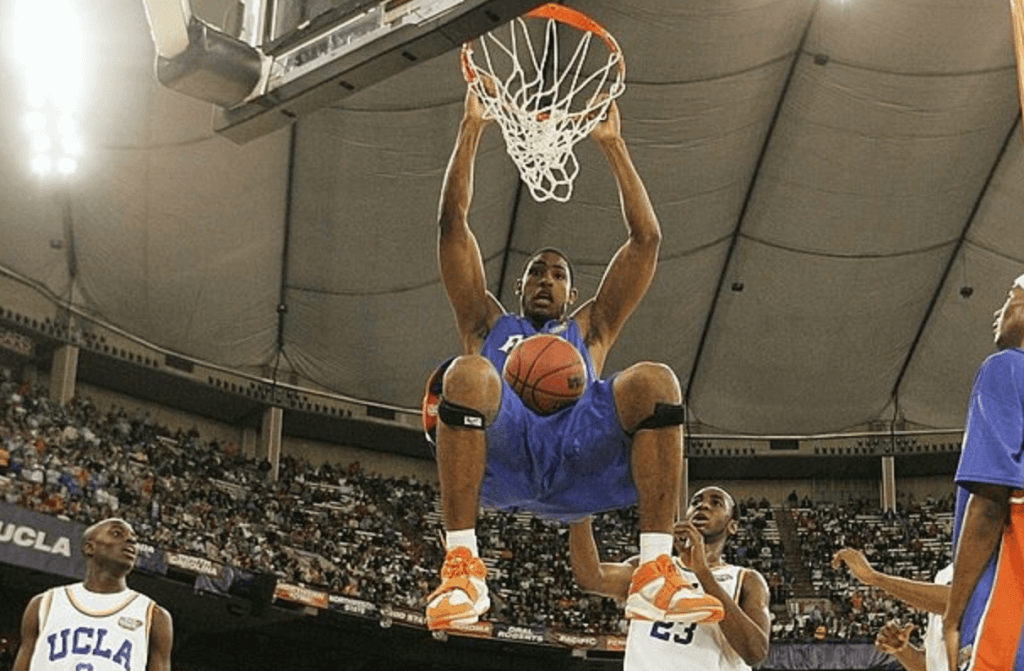 Up next in our #GreatestGatorEver tournament is the 3 Regional. Before voting gets underway, let's take a closer look at the field.
The bracket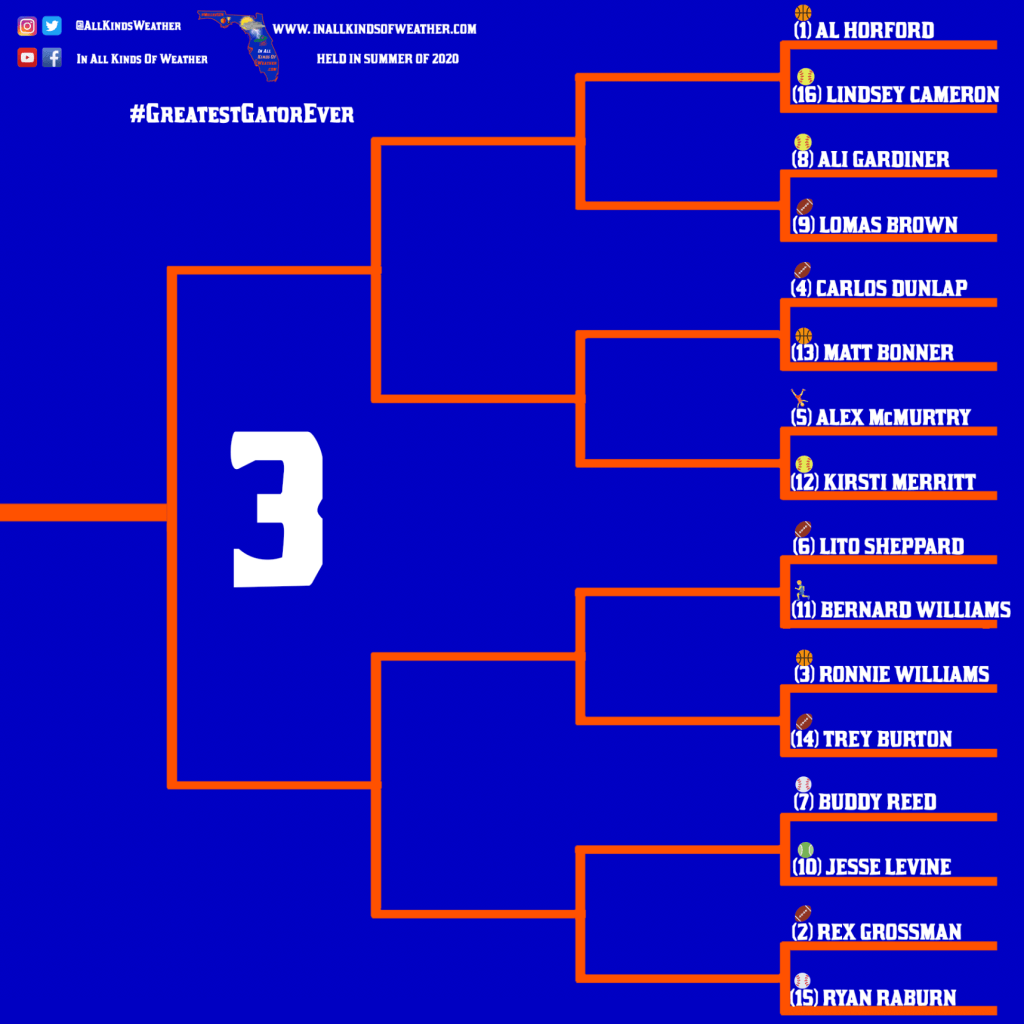 Regional participants
(Players are listed in order they appear on the bracket.)
(1) Al Horford (basketball, C/F- 2005-07). 2006 and 2007 national champion and Final Four All-Tournament team. 2007 consensus All-American. Second all time at Florida with 189 career blocked shots and 16 double-doubles. First round NBA Draft pick (#3 overall, Hawks). Thirteen year NBA career and counting. 5X NBA All-Star: 2010, 2011, 2015, 2016, 2018. 2011 All-NBA selection. 2018 NBA All-NBA Defensive Team selection.
(16) Lindsey Cameron (softball, INF- 2003-06). Tied for eighth all time at Florida with 36 home runs; ninth with 377 total bases.
(8) Ali Gardiner (softball, 1B- 2007-09). Clutch factor: sent Gators to 2009 WCWS Championship Series with walk-off grand slam in WCWS semifinals against Alabama. 2008 All-American. Ninth all time at Florida with .332 career batting average.
(9) Lomas Brown (football, OT- 1981-94). 1984 consensus All-American. 1984 Jacobs Blocking Trophy winner. 1984 team captain. First round NFL Draft pick (#6 overall, Lions). 18 year NFL career. 7X Pro Bowl: 1990, 1991, 1992, 1993, 1994, 1995, 1996. Super Bowl XXXVII champion with Buccaneers.
(4) Carlos Dunlap (football, DE- 2007-09). 2008 national champion; 2009 BCS Championship Game defensive MVP. Led 2008 team with 9.5 sacks. Ten year NFL career and counting with Bengals. 2X Pro Bowl: 2015, 2016. 81.5 career sacks in the NFL and counting.
(13) Matt Bonner (basketball, 2000-03). 3X All-SEC selection: 2001, 2002, 2003. 11th all time at Florida with 1,570 points. 12 year NBA career. 2X NBA champion: 2007, 2014 (Spurs).
(5) Alex McMurtry (gymnastics- 2015-18). 2015 national champion (team). 3X individual national champion: 2017 all-around and UB, 2018 V. 2017 and 2018 all-around All-American. 12X event All-American: 2015 V, BB; 2016 V, BB; 2017 V, UB, BB, FX; 2018 V, UB, BB.
(12) Kirsti Merritt (softball, OF- 2013-16). 2014 and 2015 national champion. 2014 WCWS All-Tournament team. 2015 and 2016 All-SEC. Team USA member in 2021 Tokyo Olympics.
(6) Lito Sheppard (football, CB). Clutch factor: down 17-9, he intercepted Georgia's Quincy Carter and returned it 60 yards to kill a Georgia scoring drive and set up a Florida score. 2000 first team All-American. 2000 and 2001 first team All-SEC. Ten year NFL career. 2X Pro Bowl.
(11) Bernard Williams (track- 1997-00). 2X individual NCAA champion: 2000 100m sprint and 4X100m relay. 2000 (Sydney) Olympic 4X100m relay gold medalist. 2004 (Athens) Olympic 200m sprint silver medalist.
(3) Ronnie Williams (basketball, F- 1981-84). Florida's all time points leader (2,074). Only player to lead Florida in points in all four seasons of eligibility. 4X All-SEC selection, 1981-84.
(14) Trey Burton (football, QB/TE- 2010-13). Clutch factor: threw a touchdown pass in Super Bowl LII on "Philly Special" play. Only Gator to ever score six touchdowns in a single game (vs. Kentucky, 2010). Super Bowl LII champion (Eagles). Seven year NFL career and counting.
(7) Buddy Reed (baseball, OF- 2014-16). 2015 and 2016 SEC All-Defensive team. Fourth all time at Florida with 11 career triples.
(10) Jesse Levine (tennis- 2007). 2X All-American: 2007 singles and doubles. 2007 SEC Freshman of the Year. Won at least one round of all four Grand Slam event main singles draws (Australian 2008, 2013; French 2012; Wimbledon 2009; US 2009).
(2) Rex Grossman (football, QB- 2000-02). 2001 Heisman Trophy runner-up. 2001 consensus All-American. 2001 SEC Player of the Year. Florida's all time single season passing leader with 3,896 in 2001. Fourth all time at Florida with 77 career passing touchdowns; fifth with 9,164 career passing yards. First round NFL Draft pick (#21 overall, Bears). Eleven year NFL career.
(15) Ryan Raburn (baseball, OF- 2000). 12 year MLB career; .253 batting average, 93 home runs, 358 RBI.
The favorite: (1)Al Horford
It was actually a difficult call between Horford and Wuerffel for the #2 overall seed; I went with Wuerffel because he won his sport's most prestigious honor. But Horford isn't just the overwhelming favorite in this Regional, he's also a sleeper to do some real damage on the national stage of this bracket (the Sweet 16 and beyond) if he does indeed get there. Between being the architect of the two best Florida teams in history and working on an NBA Hall of Fame induction, he's got a real case to take down some of the football legends he'd face along the way. Beating Grossman in the Round of 32 won't be easy, but he should still be considered the favorite to do so and advance.
The second favorite: (2)Rex Grossman
In the context of this tournament, Grossman is another one of those Matt Elam or Jonathan India types in that he basically wrote his resume with one collegiate season. But man, what a season it was: no Gator quarterback in the school's 115 years of football has ever thrown for as many yards as he did in 2001. Not winning a national championship that year and subsequently getting himself benched in the Orange Bowl dinged him a little in the seeding process, but it's difficult to argue that any Gator has ever had a better season than he had- and I'm very much including the school's three Heisman Trophy winners in that statement. The fact that he himself was robbed of that award won't hurt him, either. He should reach the Regional final with ease and set up a war with Horford for a spot in the Sweet 16.
The sleeper: (4)Carlos Dunlap
Oh, Carlos. If only you hadn't gotten yourself suspended for the 2009 SEC Championship and helped Florida win a third national title in four years, you'd be a top 16 overall seed. Everything else is there for him, though: Dunlap has been a consistently terrifying havoc wreaker throughout his college and pro days, he's got one national title with the Gators in which he won the BCS Title Game's Defensive MVP Award, and he's got a pair of Pro Bowl appearances. He probably won't beat Horford in the Regional semifinals, but he might make that matchup very, very interesting if he can get there.
The dark horse: (5)Alex McMurtry
If the "gymternet" comes through for her, McMurtry is capable of making things fascinating in this Regional. The accolades are definitely behind her, so it just becomes a matter of which sport's fans rally the strongest for their athlete. McMurtry should win her first round matchup against Merritt before the gauntlet starts: if chalk holds elsewhere, she'd have to face Dunlap, Horford and Grossman in succession in order to reach the national circuit. That is not exactly something she would be favored to do. But the gymternet has already pulled off one monster upset in the first round (a low (10) seed Kennedy Baker beating a high (7) seed Lawrence Wright), so anything is possible.
The Cinderella candidate: (14)Trey Burton
Other than the six touchdown game against Kentucky in 2010, Burton doesn't really have the tangible achievements to be in this tournament. Instead, he's in here because he's clutch, gritty, and versatile. Because of all that, he also happens to be a fan favorite and therefore capable of doing some major damage in this Regional. It's hard to fathom him pulling an upset over Grossman in the Regional semifinal, but if you're looking for a 14 seed to turn his side of a bracket upside down, this is your guy.