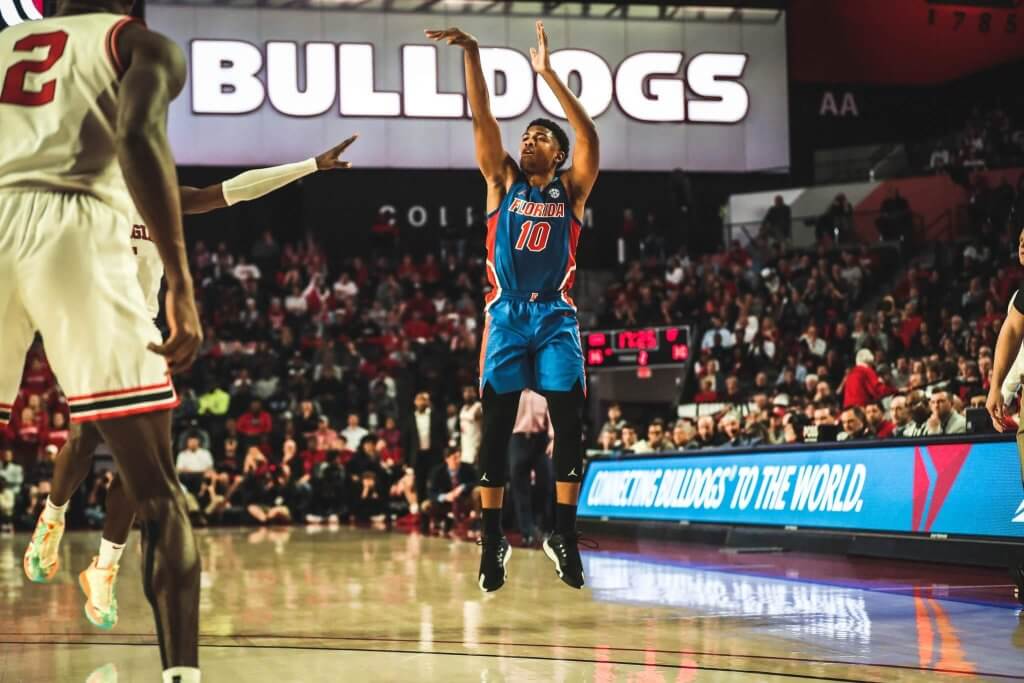 Georgia wanted to win to send their seniors (and likely Anthony Edwards) out on top in their Stegeman Coliseum finale. Florida needed to win in order to ensure themselves a spot in the NCAA Tournament.
In the end, the team that needed it won. Or more accurately, survived.
In a largely ugly affair that featured multiple long scoring droughts for both sides, each team shooting less than 70% from the free throw line and sixteen Georgia turnovers, Mike White's Gator basketball squad overcame another ugly start to claw back into the game, and then turned it on late to secure a season sweep of the Bulldogs with a 68-54 win in Athens. The victory adjusts Florida's record to 19-11 on the year, and 11-6 in the SEC; should the Gators beat Kentucky on Saturday in their regular season finale, they will be the #2 seed in the SEC Tournament regardless of anything else that happens around the league. More importantly, the Gators avoided adding another so-called "Quadrant II" (read: really bad) loss to an NCAA Tournament resume that's already got three of them on there (at Missouri, Mississippi State and at Mississippi), and they ultimately didn't let one bad performance against Tennessee turn into two.
The 54 points Georgia managed to score easily qualifies as the Bulldogs' worst offensive output of the season. Tom Crean's squad has scored 90 points or more in seven different games this season, including each of the last two before they ran into the Gators' zone defense. Perhaps even more frustratingly for the home crowd, the Bulldogs could only muster 35 points over the game's final 35 minutes.
That's not to say the Gators played forty minutes worth of the type of basketball that will win multiple games in the NCAA Tournament, though. Not even close.
Evidently, Florida decided that one gigantic comeback win over their border rivals this season wasn't enough. The Gators didn't let the deficit get to 22 this time, though they did let it get to thirteen midway through the first half in a start that looked like a real life instant replay of the first half against Tennessee. With the score tied at six apiece, Florida entered one of its patented scoring famines as Georgia gradually built up a 19-6 lead. It took five minutes and fourteen seconds of game action for Noah Locke to break the spell with a jumper.
Then Florida's zone defense began to take its toll on the Bulldogs, as then it became Georgia who couldn't buy a point. The Gators pitched a shutout over the next seven minutes as they slowly climbed back into the game, eventually tying it at 25 on a nifty reverse layup from Keyontae Johnson. The Bulldogs would recover enough to take a 30-28 lead into the intermission.
After a quick bucket from Scottie Lewis ten seconds into the second half, the Gators went cold again, this time not being able to score a point in three minutes. In the meanwhile, Georgia rebuilt a six point lead.
But then following a Rayshaun Hammonds turnover, as if someone flipped a switch, Florida suddenly looked like a completely different team the rest of the way. Not only did the Gators' shots start to fall- Florida scored 38 of its 68 points in the final seventeen minutes- but the already effective zone defense ratcheted up several notches, too. In those same final seventeen minutes, Georgia turned the ball over nine times- including on four straight possessions in what turned out to be the key segment of the game.
The teams exchanged the lead twice in the second half until the Gators went ahead for good on a pair of Andrew Nembhard free throws. That made the score 47-46 with seven and a half minutes left. On Georgia's next possession, Hammonds turned it over again; Locke wasted no time exploiting that donation by burying a three. Next, it was Anthony Edwards' turn to get careless and hand the ball back to the Gators, and again Locke made Georgia pay by knocking down a three to make it 53-46. Hammonds then made it back to back to back turnovers for himself by getting his pocket picked by Keyontae Johnson. Florida cashed that mistake in for a dunk by Johnson, and in less than two and a half minutes, the Gators had gone from down one to up nine. Yet incredibly, Georgia still wasn't done handing out goodies. Sahvir Wheeler promptly lost it to extend the Bulldogs' streak of consecutive possessions turning it over to four. This time, Florida couldn't exchange the gift for a score, but it didn't matter. The damage had been done. The game had been broken open.
There was the faintest, slightest glimmer of doubt when Georgia got a four point possession as a result of Johnson getting whistled for a flagrant foul to cut the deficit to 55-50. But that was followed up by Johnson instantly redeeming himself with a three from the top of the key, Florida getting a stop when Edwards' contested layup wouldn't go down at the other end, and Lewis converting on a layup to push the Gators' lead to ten with two minutes to go. For good measure, Locke drained another three moments later to put it away.
The key now for Florida is to try to play at the level they played in the last seventeen minutes all the time, or at least the overwhelming majority of the time. Not much is proven by beating Georgia, even on the road; the Bulldogs are a paltry 5-12 in the SEC and even needed a buzzer beater to defeat Division II opponent Chaminade back in November. The teams that Florida will need to defeat in order to launch a deep run in the NCAA Tournament are all much, much better. And that starts on Saturday against a Kentucky team that's very likely to come out to Gainesville with nothing less than its best effort after a shocking home loss to Tennessee on Tuesday night.
That's not to say the Gator basketball team should be completely devoid of credit, either. Other than letting Edwards take off down the lane for an uncontested dunk once, Florida played top tier defense the entire way. Tom Crean and the Bulldogs had no answer for that zone all game, and sure, some of the turnovers were self inflicted, but at the same time, credit goes to the players for executing it and Mike White for ordering it.
But this Gator basketball team still has so many questions to answer before it becomes wise to objectively trust them. For example, what's White's next move if he deploys the zone and the opponent simply shoots over it? What happens the next time Florida embarks on another one of its copyrighted "Gator basketball level ice cold" stretches against a team that has more than one bona fide threat to beat you the way Anthony Edwards is for Georgia? And most importantly, this team has seldom gone more than two games in a row this year of playing quality basketball before they regress to the mean and post an unflattering result; what's going to happen to make that suddenly change now after this pattern has repeated itself on loop for four months?
I do realize it's possible that this win over Georgia could finally be the lightbulb-flicker moment that Florida has been searching for all season long, where everything just clicks and the team finally begins to at least partially validate its preseason hype. I also realize it's considerably more likely that the result merely confirms that most strategies have a way of working better against bad teams than they do against good teams and that it's nothing more than a peak on the dizzying sine wave pattern of results this Gator basketball team has put together this year.
One way or another, we'll find out soon enough.