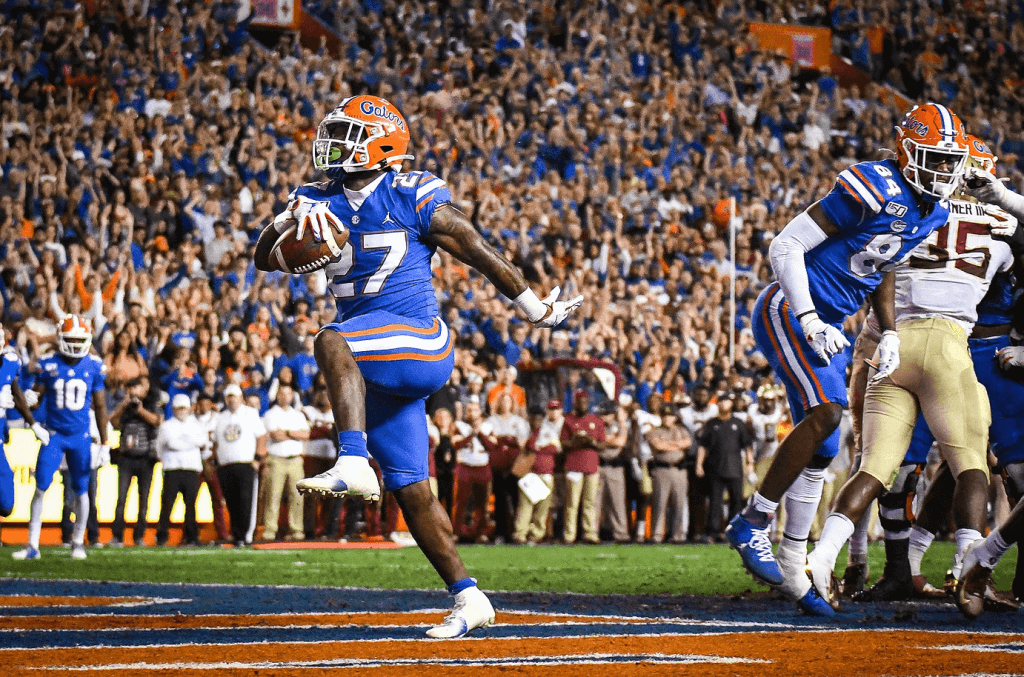 Last week, I started the run-through of projecting Florida's post spring depth chart with the quarterbacks. Today, let's move ahead and do the same with the running backs- a position group that's admittedly not the easiest to nail down.
The leader: Dameon Pierce
For a running back room that could realistically name any of three guys as the bell cow, Pierce is probably the best bet to earn that distinction. Thus, for as much competition as there's going to be in summer ball for that RB1 slot, Pierce figures to be the guy who enters those practices with the inside track to it.
Somehow, despite logic telling us how unlikely this is for a non-Vanderbilt SEC team, Florida was absolutely atrocious in the running game for the second year in a row in 2020. (In fairness, Florida was a pass first team… it's just that usually the term "pass first" doesn't necessarily have to mean "run once in a blue moon".) But of what small amount of production there was on the ground, Dameon Pierce was responsible for a large chunk of it.
The junior from Bainbridge, GA put up solid stats considering the nature of the offense and the run blocking struggles of the offensive line. Pierce carried the ball 106 times last year for 503 yards and four touchdowns in 2020. He also caught seventeen passes for 156 yards in the Gators' Air Raid-esque offense. And though there aren't simple stats for this, tape shows he can block, too. So he can certainly play on all four downs, as he can pretty much do whatever you need him to do at a high level.
But now in his fourth season, without Kyle Trask and his array of aerial weaponry to carry the entire team, Pierce is going to be seeing quite a few more touches, even if he winds up splitting the workload, which will at last provide him with the opportunity to display why Florida wanted him in the first place. He's Florida's best power rusher with a knack for breaking tackles- he shed 23 tackles on his 106 carries a year ago- and is strong enough to convert short yardage situations.
Because of the speed Florida has elsewhere, the experience he brings with a new quarterback lining up beside him, and his ability to play on all four downs thanks to his versatility, it's my guess that Pierce will enter the fall as the RB1.
The second in command: Nay'Quan Wright
Most of the relatively small amount of ground production that Pierce didn't amass in 2020 came from Nay'Quan Wright, a redshirt freshman out of Miami who accumulated 213 yards on 54 rush attempts. Wright, who will enter his third season with that freshman classification, figures to get a large chunk of the carries even if he isn't the RB1.
He's not quite the blocker Pierce is as of now, which is partly why I see him backing him up for the time being, but that could certainly improve between now and September 4th and he's dynamic enough as a rusher to warrant plenty of meaningful touches. He's much stronger than his 5'9, 197 lb frame would have you believe, but he's much more comfortable evading tacklers than he is plowing through them.
Wright is also a dependable pass-catcher out of the backfield, which is a must in Dan Mullen's most natural offense. He caught 19 passes for 219 yards a year ago, most of them of the screen or flare variety, but then used his elusiveness to break tackles and tack on a few extra yards per reception. That added ability as a receiver could be where Wright really shines in 2021.
Regardless, whether it's Pierce, Wright or Malik Davis who gets the lion's share of the touches- or even if Florida does the "running back by committee" thing- Wright will be a featured piece of this offense.
The co-dark horses: Demarkcus Bowman and Lorenzo Lingard
Many Florida fans were certain that Bowman, from the Gators' backyard in Lakeland, would be a Gator… until he committed to Clemson. But one sleight of hand trick later and here we are.
The truth is, there's not a ton that's known about Bowman beyond his high school tape. He logged nine carries for 32 yards in 2020 at Clemson, all against The Citadel and Wake Forest, before entering the transfer portal and choosing Florida. Then he missed a lot of time this past spring with what has been rumored to be a knee injury.
But what we do know from his high school days, and the limited amount of him we've seen since, is that he is unfairly talented. He's fast and doesn't lose many footraces. He's got ridiculously quick and agile feet, and can cut on a dime. He's got great vision. He's extremely strong and scouts say he's a solid blocker. Simply put, he's one of the most highly touted running backs to come out of high school since recruiting services became a thing, and he's a Gator now. Assuming his "injury" (or whatever it was that kept him out of most of spring ball) doesn't become a long term deal, he'll play plenty in 2021.
Joining him in pretty much all those categorizations is fellow transfer Lorenzo Lingard, a year after he swapped Miami green for Florida blue. While perhaps not quite as prized a recruit as Bowman (and that's because Bowman was considered something of a unicorn), Lingard is still a tremendously gifted athlete and a natural runner.
Lingard got a few carries last year, but appears to have taken a step forward this spring. He busted off several long runs in skeleton drills and 11-on-11s, and looked very comfortable going out for passes when the time came for him to do that. As a runner, he checks every box: he's fast, has quick feet, great lateral movement, great vision, great elusiveness and great acceleration.
It may be difficult for either or both of these guys to see significant reps due to the depth that's presumably ahead of them, but if they're not stars in 2021, they will be in 2022 and beyond.
Don't forget about: Malik Davis
In his Florida career, Malik Davis has persevered through a 4-7 season, a head coaching change, a season ending knee-injury, being bypassed on the depth chart for carries by several different running backs, and losing a fatal fumble in a rough loss to Texas A&M this past season. It seems like a lifetime ago that Davis broke a huge run against Tennessee in the Swamp in 2017, and had his euphoria cut short when the ball was punched out at the one. Because so much has transpired since then- and for Davis, much of it wasn't good.
But now it's 2021, and here stands Davis, ready to go for a fifth year in orange and blue. Davis, as the battle tested veteran, knows he's getting no sympathy from Dan Mullen for his trials and tribulations. He's not even going to play because he's "earned it". He's going to play because he can be an extremely useful piece to this offense. It just might not be at running back.
Davis probably isn't as good of a natural four down running back as the two guys I have listed above him, or even as good as Demarkcus Bowman or Lorenzo Lingard, but he's plenty good enough to merit looks in the backfield. But he could really be useful in the slot, perhaps in a vein similar to Kadarius Toney. I included him with the running backs because that's the position he's always played, but don't be surprised if he lines up as a true receiver. His feet are quick and precise, his hands are strong, and his ball skills are pretty impressive for somebody who didn't grow up playing a position that required this.
And yet, maybe I'm wrong in thinking that his 2018 knee injury ended the possibility of seeing Davis ever run with the ball like he did in 2017. Maybe he can get back to that 2017 form. One way or another, though, I'm pretty confident in saying that he'll be a crucial part of this offense.