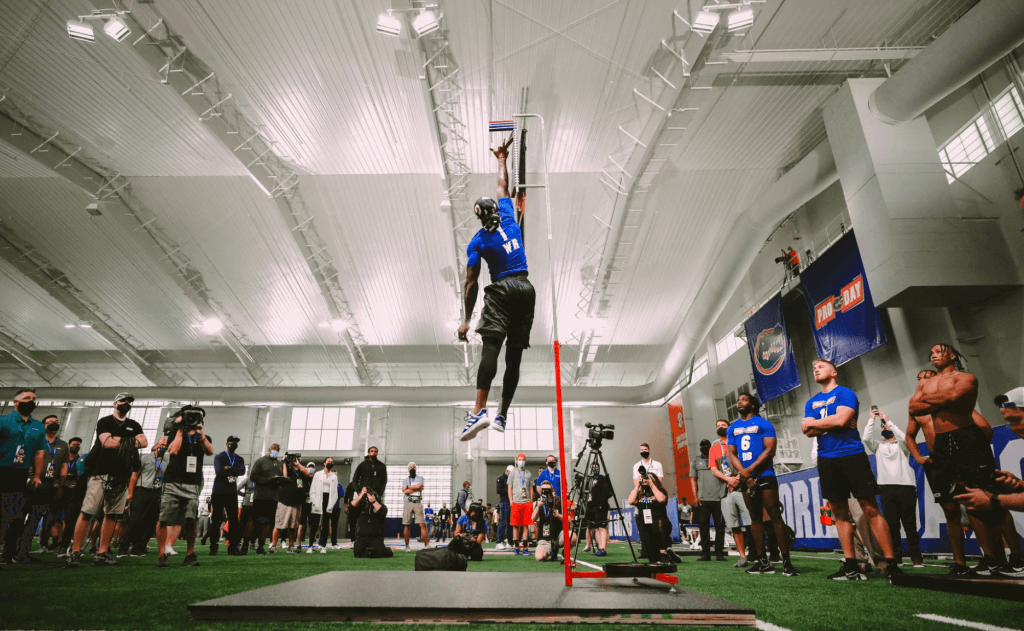 Due to the cancellation of the Gators' spring football game, the Florida Gators Pro Day was the closest thing to live football we're going to get this offseason. Luckily for the fans- and much more importantly, themselves- several now-former Gators put on a show.
Because this Florida Gators Pro Day isn't the NFL Combine, all results are considered to be unofficial, which basically just means that the numbers and measurements cannot be added to Combine record books. This is the only chance the scouts are going to get to evaluate potential draftees in person, so whatever moves to players' stocks were going to happen this offseason that weren't due to off-field incidents were going to happen today.
31 of the 32 NFL franchises (all but the Los Angeles Rams) were represented at the Florida Gators Pro Day. Most notably, former Florida coach Urban Meyer returned to his old stomping grounds representing his new team, the Jacksonville Jaguars (a sentence that feels weird no matter how many times I type or read it). And whichever player each team came to Gainesville to primarily watch, chances are the pro teams' representatives left impressed.
First and foremost, cornerback Marco Wilson deserves a dose of acknowledgement. He may have committed the single stupidest on-field act I've ever seen with that infamous shoe throw against LSU, but he made a tremendous case for the NFL today with some impressive numbers.
He posted a 43.5 inch vertical leap, which would have been tied for the ninth best all time at the NFL Combine. He also benched 225 lbs. 26 times, put up an eleven foot, four inch broad jump and ran an unofficially timed 4.34 40 yard dash. Scouts are mixed on Wilson: his 2020 game tape didn't help him, and that shoe throw really didn't help him, but the appeal with him has always been physical talent that can can override some of his mechanical weaknesses. So today was big for him, especially after the way he's been vilified since December. Good for him.
Tight end Kyle Pitts was the man most people came to see, though, even for those who represent teams with no chance at drafting him. And he didn't disappoint. It started with him being measured with an 83.375-inch wingspan- again, all unofficial, but that would be the longest recorded wingspan for a pass-catcher in nearly a quarter century- and then he started working out.
Among the results Pitts produced: he benched 225 pounds 22 times, broad-jumped ten feet, nine inches and a 4.45 time in the 40-yard dash. Pitts was already considered a lock to be a top ten, maybe even top five pick by most scouts before today; he's too big to put a cornerback on him and he's too fast to put a linebacker on him, which makes him a natural nightmare mismatch. Safe to say that his Pro Day certainly didn't do much to hurt those projections.
Then there was receiver Kadarius Toney, who provided some numerical context to his video game type shiftiness. He was clocked at 4.39 in the 40 yard dash, and like Wilson, put up an eleven foot, four inch broad jump. Toney's one of those guys scouts can watch a few times on film and not even bother to watch him at a Pro Day because his physical gifts are so obvious, but those numbers figure to help him even more.
The other top-tier NFL Draft prospect in high demand was receiver Trevon Grimes, and he too was impressive. His ball skills and sure hands are what have him as high on teams' draft boards as he is, but he went out and proved he's pretty fast, too, running a 40 yard dash that was variously timed anywhere between 4.35 and 4.42.
As of publication, those are all the numbers available. Twelve other Gators worked out today at the Pro Day: DT Kyree Campbell, S Shawn Davis, LS Brett DioGuardi, DL Marlon Dunlap Jr., OT Stone Forsythe, OG/C Brett Heggie, K Evan McPherson, DB Nick Oelrich, DL Tedarrell Slaton Jr., S Brad Stewart Jr., S Donovan Stiner, and of course QB Kyle Trask.
Florida also opened its Pro Day to recent former players to help them get more attention. Four such players took advantage and worked out with the prospective members of the 2020 NFL Draft Class: DL Adam Shuler, TE Kalif Jackson, OL Martez Ivey and S Matt Elam.