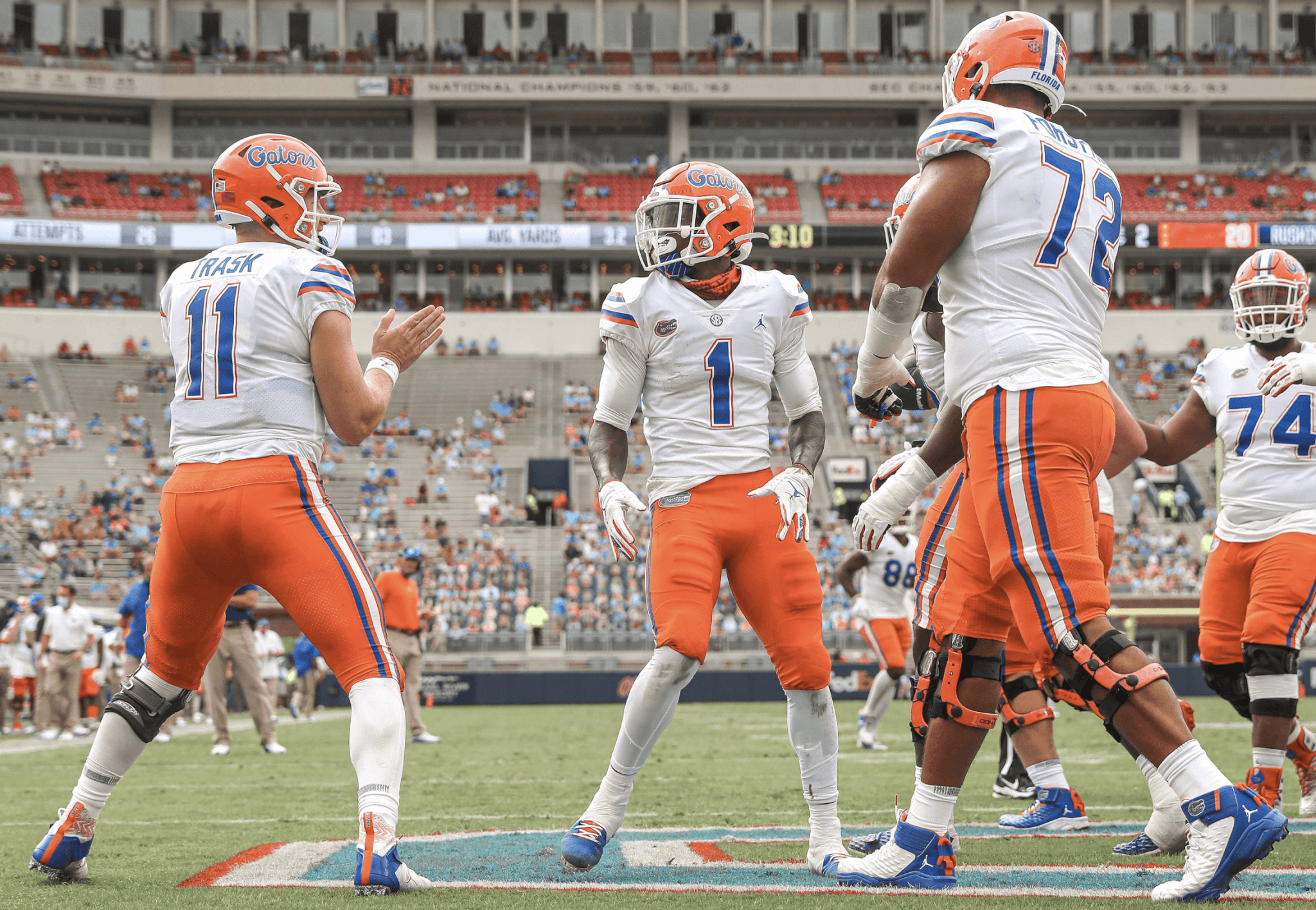 Our "helmet stickers" segment is back for a second season! For those of you who don't know, the simple explanation of this piece is that many football teams hand out little decals or stickers to players for doing things right in a game; the Gators don't, so I do it on their behalf. Because win or lose, it's nice to call out players for doing something right.
And new to this year's edition: the top four plays of the game, which can also be interpreted in this context to be the four plays that yielded the most hard-fought or well deserved helmet stickers, will be put to a vote on our twitter page. The play that the most people believe was the Play of the Game will be tagged as such. Meanwhile, the four nominees for that title are highlighted in red.
Anyway, with Florida's 51-35 win over Mississippi in the rearview mirror, let's take one final look back at the win and hand out some helmet stickers. You can rewatch the entire game (and therefore see the plays for yourselves) here. You can also listen to our team's analysis of the game here.
So, who earned the accolade this week?
12:04 1st quarter: Gervon Dexter for his TFL. Welcome to Gator Nation, Gervon! Way to announce yourself by blowing through the line and creating a negative play on your first series.
10:40 1st quarter: Brenton Cox for his 4th down sack. In a game full of momentum swings, Cox- the Georgia transfer- made the first one by invading the backfield and dragging down Matt Corral to turn the ball over to Florida on downs.
10:35 1st quarter: Brett Heggie for his driving block. No better time to go full Michael Oher on an opposing defender than against the school he used to play for. This one's worth watching several times, because Heggie- who was clearly amped for the season to begin- using a human being as a blocking shed on the first snap of 2020 is just awesome. Even on a modest gain by Dameon Pierce.
9:18 1st quarter: Kyle Trask for buying time and throwing to Pitts. Take what the defense gives you, right? Except Trask didn't have anything there to take. So he made something by rolling to his left and giving Pitts the chance to break toward the sideline for a seemingly easy completion.
5:56 1st quarter: Kyle Trask X2 for his play fake and Kyle Pitts for his TD. Most touchdowns (unless they're really bad decisions that Florida just gets lucky on) are going to get helmet stickers. Trask gets his second of the drive here with an easy lob off a play-action to his (really really really really really good) tight end.
5:12 1st quarter: Ventrell Miller for his sack. Sacks, like touchdowns, are usually going to result in auto-helmet stickers. But Miller made the most out of this one by flinging Corral to the ground for an enormous loss of eleven yards.
2:59 1st quarter: Brenton Cox X2 for his TFL. A TFL is as good as a sack in my book, so the same rule is in effect here. Immediately following an ill-advised interception from Emory Jones, Cox grabs his second helmet sticker of the day by eating everybody in his way and throwing them all to the turf like dominoes on top of each other.
2:34 1st quarter: Brenton Cox X3 for his PBU, Gervon Dexter X2 for his interception. Teamwork works. Cox racks up his third sticker by getting a big paw up and shooting down Corral's pass mid-takeoff. The subsequent presence of mind by Dexter to pick the ball out of the air and effectively counteract Jones' pick.
1:23 1st quarter: Kadarius Toney for his 50 yard run. Welcome to the segment, KT! No longer just a human joystick, Toney delivered a truck-stick move that would have made Tim Tebow proud and took off for a 50 yard run to set Florida up deep in Ole Miss territory. (Play of the Game nominee A)
:57 1st quarter: Kyle Trask X3 and Trevon Grimes for their 22 yard touchdown connection. Trask did a good job selling the play-action here, so he gets one for that, but this touchdown was mostly Grimes. The man fans call "Ocho" out positioned his overmatched defender and grabbed the ball for the score.
:15 1st quarter: Brenton Cox X4 and Zachary Carter for their TFL. I've never been a fan of players each getting half a stat when they both were required to make something happen. So Cox and Carter each get a helmet sticker for driving Snoop Connor into the ground for a loss on the final play of the first quarter.
8:17 2nd quarter: Ventrell Miller X2 for his big hit on Tylin Knight. Hello again, Brandon Spikes.
6:20 2nd quarter: Kadarius Toney X2 for his broken tackle. Catching a pass on a crossing route a few yards short of the sticks, Toney suddenly stopped short, allowed two Rebels to crash into each other, and easily picked up the first down.
3:15 2nd quarter: Kyle Trask X4 and Kadarius Toney X3, for their 16 yard touchdown hookup. Look at Toney running routes! Great throw by Trask and great job by Toney to use his agility to create separation. Helmet stickers for both of them.
:49 2nd quarter: Malik Davis for his broken tackle and run after the catch. Welcome back, Malik! The resilient senior took a seven yard gain and promptly doubled it by pressing his foot into the turf and executing a duck-juke move to pick up the first down late in the half.
:31 2nd quarter: Kyle Trask X5 and Kyle Pitts X4 for their 21 yard connection. Beautiful throw over the middle from Trask, and Pitts gets a helmet sticker too for simply being unfairly good at getting open. Without this big chunk play, Florida may have let the half run out.
:25 2nd quarter: Pitts X5 for his diving catch. This wasn't a bad throw from Trask, particularly not across his body, but only a remarkable effort could have resulted in this pass getting caught. And Pitts get the helmet sticker here for making that remarkable effort and reeling in another 20 yard catch.
:11 2nd quarter: Kyle Trask X6 and Kyle Pitts X6 for their 16 yard touchdown connection. You can't defend the perfect pass. That includes you, Ole Miss. Navigating both a pair of Rebel defenders and the sideline, Trask fit this ball through a hole the size of a car window and put it in a spot where only Pitts could get it. Meanwhile, Pitts fought off a double team, made sure to stay inbounds, went down for the purposely low back-shoulder throw and had the presence of mind to keep his knee from hitting the ground before crossing the goal line. (Play of the Game nominee B)
14:33 3rd quarter: Kyle Trask X7 and Kyle Pitts X7 for their 71 yard touchdown strike; Dameon Pierce for his block on the play. With the Rebels down for the count at halftime, the pair of Kyles teamed up to land another devastating blow the instant they tried to get up. Enter a rainbow from Trask, a stiff-arm from Pitts and an easy trot across the goal line and a three score lead for Florida. And how about Pierce, the forgotten hero of the play, completely owning the end man off the line of scrimmage with a mid-air pancake block? (Play of the Game nominee C)
13:43 3rd quarter: Malik Davis X2 for his punishing 23 yard run. I'm not giving Davis a helmet sticker simply because he ripped off a big gain. Rather, I'm giving him one because of the way he lowered his shoulder at the end of it and really fought for the final four yards.
11:55 3rd quarter: Trent Whittemore for his effort on a third down conversion. The gutsy Gainesville native turned what at first seemed like a check down from Trask into a lunging, diving effort for the line to gain to pick up a 13 yard gain on third and twelve.
9:38 3rd quarter: Evan McPherson for his 55 yard field goal. I'm not giving McPherson a helmet sticker because he made a field goal in a high powered shootout where the more points, the better. No, I'm giving him one because he made a 55 yard field goal in said situation… right down the middle.
7:21 3rd quarter: Emory Jones for his 22 yard run. Right on the heels of a missed field goal by Ole Miss's Luke Logan, the man dubbed "EJ5" took the snap and bolted through the line for a huge gain to completely change the field position. The blocking was solid, but this helmet sticker goes to Jones for the vision and speed required to dart through the B-gap and make a big play out of an averaged sized hole.
5:11 3rd quarter: Evan McPherson X2 for his 37 yard field goal. Remember the days when Florida fans looked away when a field goal was about to be attempted? Helmet sticker number two of the day goes to McPherson for splitting the uprights with an axe for the second time in the game.
5:06 3rd quarter: Andrew Chatfield and Amari Burney for their TFL. John Rhys Plumlee had absolutely nowhere to run off the right side here, in part because Chatfield and Burney were feeling left out of this helmet sticker segment. Here you go, guys.
4:32 3rd quarter: Mohamoud Diabate for his TFL. Back to back plays, back to back helmet stickers handed out. Diabate covered a lot of ground here, flying in from the right side of the line (from the offense's perspective) to drag down Jerrion Early for a one yard loss on the left side of the line.
:29 3rd quarter: NayQuan Wright for his 25 yard catch and run. The rookie out of South Florida was just too good to keep off the field, and he showed why here. As Joe Tessitore put it, "Look at these moves from NayQuan Wright!" Here's the first of many for #6.
13:00 4th quarter: Evan McPherson X3 for his 23 yard field goal. See the synopsis of the last helmet sticker McPherson got. Plus, this one was from an ugly angle.
12:47 4th quarter: Ventrell Miller X3 for his TFL. Ealy never had a chance on this screen pass because Miller diagnosed it immediately and was there milliseconds after the ball was.
5:20 4th quarter: Kyle Pitts X8 for his 17 yard TD reception. Trask made a dangerous gamble here, lofting a ball into the back of the end zone where his intended target was double teamed. Or at least it would have been a dangerous gamble had his intended target not been Kyle Pitts, who beat both defenders for the ball and even wrestled it away from one of them for the score. Trask had a phenomenal day, but this one was all Pitts. (Play of the Game nominee D)
And last but not least, be sure to check back later for the Play of the Game!