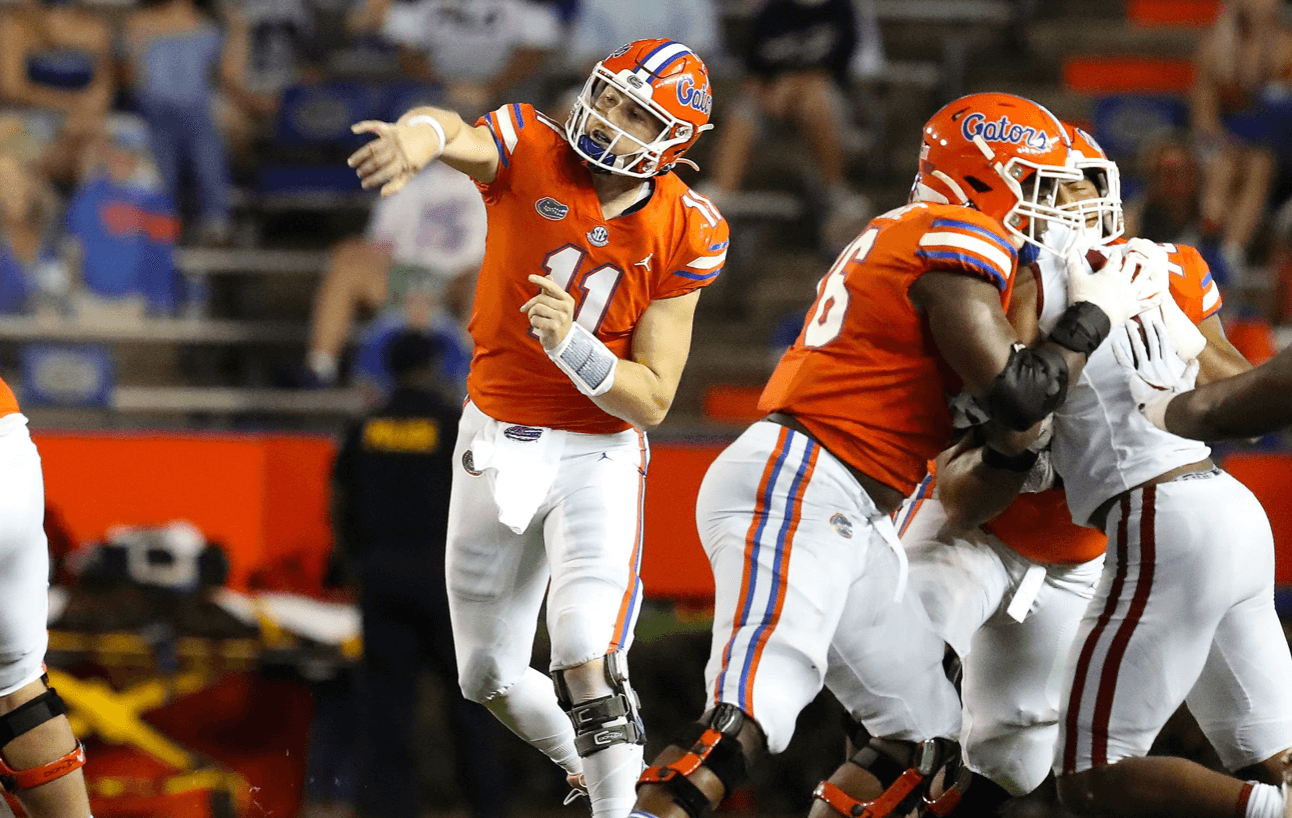 Feleipe Franks' dramatic return to the Swamp was the story of the day when his Arkansas Razorbacks faced off against #6 Florida in the Swamp. But it was his long-time understudy, Kyle Trask, who dominated the night.
Trask continued his push for a Heisman Trophy by tossing a half dozen touchdown passes for the second time in a game this season, Florida's defense added a "scoop n score" touchdown for good measure and the Gators slopped the Hogs, 63-35. With the win, Florida improves to 10-2 against Arkansas all time. More importantly, the Gators also improve to 5-1 on the season— and draw one step closer to Atlanta for the SEC Championship Game.
Franks- the Florida starter in 2017, 2018 and the first three games of 2019- didn't play badly. He completed 15-19 passes for 250 yards and a pair of scores. But when he wasn't on the field, all he could do was stand on the sidelines and helplessly watch as his former team gave his new team a first class view of just how dominant they are.
Trask and Florida began the game by dissecting Arkansas' defense on a 14 play, 75 yard drive that ended with a score on screen pass to Trevon Grimes. Franks fought back by lofting a 47 yard touchdown pass to Mike Woods past Kaiir Elam, but then the Gators promptly ended any pretense of a fight. Trask tossed four touchdown passes in the second quarter on four consecutive drives.
First came a busted coverage and a walk-in for Grimes on a 23 yard pitch and catch. Then came a tremendous 21 yard grab by Justin Shorter in which he climbed the ladder, beat his defender to the ball and managed to get both feet down inbounds. Arkansas took advantage of a missed assignment and a bad angle on an 83 yard touchdown run by Trelon Smith, but Trask replied to that with touchdown number three of the quarter (and four of the game) to Jacob Copeland in the corner of the end zone. And for good measure, Trask lofted one to Keon Zipperer- filling in for Kyle Pitts at tight end- who tiptoed along the back line of the end zone and got his feet down for the score to make it 35-14 at the half.
Arkansas, though, didn't go down quietly. Franks directed a nine play drive that Rakeem Boyd finished off with a 12 yard touchdown run to cut the score down to 35-21, and then the Hogs forced a punt. But facing a third and three on their next drive, Florida corner Marco Wilson cut down Blake Kern short of the first down line and forced a punt. The Gators then melted four minutes off the clock and rebuilt their three score lead with a short touchdown run from Emory Jones, and that was pretty much that.
Even the things that went wrong for Florida's offense went right. A flea-flicker that Dan Mullen dialed up appeared to have disastrous consequences when the ball hit the ground on the pitch back from Dameon Pierce to Trask. But Trask calmly picked up the ball and heaved a bomb for Xzavier Henderson, who made an incredible backpedaling grab for a 43 yard gain. That set up the Shorter touchdown, and gave Florida the breathing room it would enjoy the rest of the way.
The fourth quarter was more of a party than a game. With the score 49-21 heading into the final frame, Gator players just added to their highlight tapes. Trask tossed his sixth touchdown pass of the game and the second of the game to Keon Zipperer. Defensive lineman Zach Carter picked up a fumble on a botched exchange and strutted 35 yards to the house for his first collegiate touchdown. And Emory Jones got some real work in commanding the offense, directing a 12 play, 75 yard touchdown drive that he capped with a touchdown to Henderson- his first as a Gator. Following that last touchdown, Chris Howard- the backup kicker who'd stepped in admirably in place of Evan McPherson against Missouri- then came on and got his name in the scoring column by connecting on the extra point.
When it was all over, Florida players and coaches formed a line to talk to Franks, and took turns hugging him and wishing him well, completing the great storyline of his return to his former home with one last nice moment for him. But then Franks left for the locker room, leaving Trask and a few reporters to be serenaded with "Trask for Heisman!" chants by the few thousand fans still left.
Asked about those chants by ESPN's Allison Williams, Trask shrugged. "It's pretty cool, but at the end of the day, we're just taking it one week at a time, trying to go 1-0 every week."
It certainly is pretty cool. It's also noticeable that Trask's numbers so far have been on pace or exceeding those of Heisman winning quarterbacks in recent seasons. In fact, his 28 touchdown passes through six games are the most of any quarterback in SEC history.
But it's Trask's unwillingness to talk about that in great detail that should provide the most promise. Because historically, it's that attitude that most often sees a season end with the presentation of some hardware- both on an individual basis and a team basis.