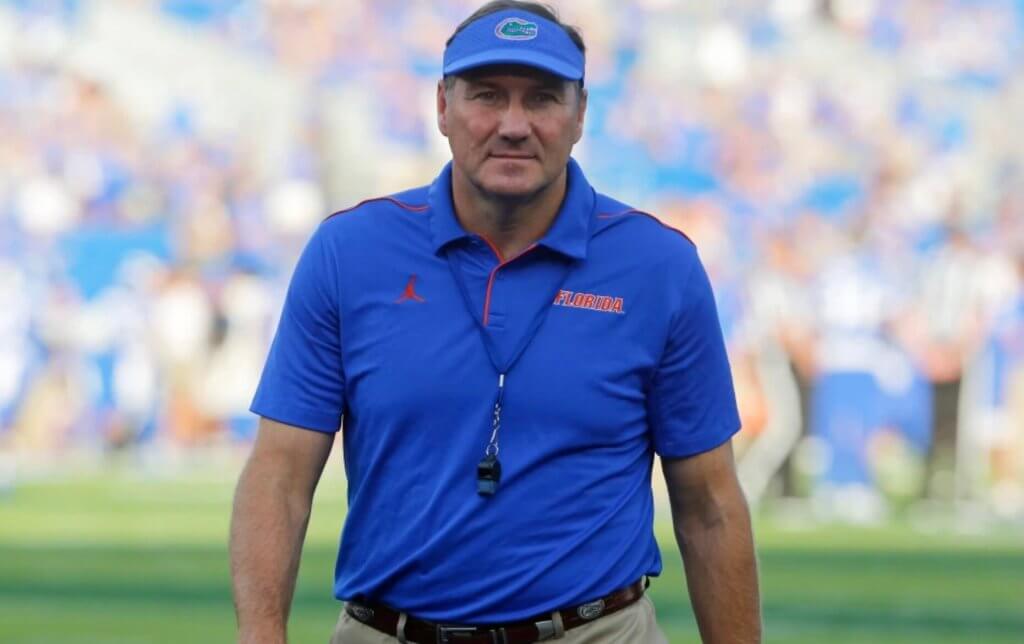 (Photo credit: Mark Zerof, USA Today)

By all accounts, the job that Dan Mullen has done as the Florida Gators head football coach has been a net positive. The way the 2020 season ended took a bit of the shine out of his first 2.75 seasons, but even with that three game losing streak he now carries into 2021, it simply isn't being objective to say that he has not done a superb job lifting the Gator football program out of the subterranean trench that Will Muschamp and Jim McElwain dug for it.
To sum it all up in a sentence: "night and day difference," now-departed Florida linebacker James Houston IV told me in an interview for that above linked piece. "With everything."
And beyond the tangible results, this Gator football program under Dan Mullen looks the part. They're playing in New Year's Six Bowls every year, they're ranked in the top ten more weeks than not, and this past year they finally took that leap forward and beat Georgia to win the East. Sure, the four main pieces of that team- Kyle Trask, Kyle Pitts, Kadarius Toney and Trevon Grimes- are gone, but with that leap from second to first in the East combined with the 10-3 to 11-2 improvement from 2018 and 2019, there's evidence that Dan Mullen can not only take this program to a state of relevance, but can build on his prior steps with the team and continue the growth every season. (Or at least in most seasons.)
That said: while nobody is questioning the fact that Mullen has made Florida relevant again, questions are beginning to formulate about whether he can take the Gators from simply being relevant to the top of college football. Because both the eye test and history indicate that this ship may have already sailed.
Florida had an ultra-rare opportunity with its 2020 team. Tight end Kyle Pitts was a unanimous first team All-American and widely assumed to be a lock to be taken in the top ten of next month's NFL Draft, wide receiver Kadarius Toney was named a finalist for the Paul Hornung Award and is considered a mid-to-late first round pick, and quarterback Kyle Trask was a Heisman finalist and could slip into the first round too.
The last time Florida has had three members of an offense taken in the first round? That would be the historic 2008 offense, when Percy Harvin went 22nd in the 2009 NFL Draft, and Maurkice Pouncey and Tim Tebow went 18 and 25, respectively, the following year. Even if Trask doesn't get taken in the first round, the point behind the statistic still stands: Trask, as a super accurate passer who was up for the Heisman Trophy, with two surefire NFL talents at his disposal, commandeered a truly special offense that may never be replicated. And yes, by saying that, I am subtly hinting at the fact that Trask now holds the Florida single season records for both passing touchdowns and passing yards. So, yeah. That's as special as special gets.
You don't replace that kind of talent. Guys like Kyle Pitts, who are too big for corners to cover, too fast for linebackers to keep up with and too athletic for defensive hybrid players to stay with, don't grow on trees. Nor do people who can juke an entire opposing team out of their shoes like Kadarius Toney. And sure, there do exist super accurate passers like Trask out there in pretty much every recruiting class, but finding one with the perseverance and grit of Trask is a tall order.
Any one of those three departures alone would be a big loss. Replacing them all at once? An offense is almost certainly going to take a step back. So it's considered best practices to maximize their talents while you've got them all together and win trophies with them.
But Florida didn't. All the Gators have to show for that once-in-a-generation offensive trio was a lone SEC East Title in three years- in part because Dan Mullen chose not to play Trask in 2018. If Florida couldn't win the SEC or reach the College Football Playoff once in three shots with that rare triad of talent, what would it take?
What's more: entering his fourth season in Gainesville, history isn't on Mullen's side now, either.
A look back through the SEC says that if a head coach doesn't win the league within his first three years, he probably isn't ever going to.
In the league's early days, it wasn't so uncommon. Tulane's Red Dawson managed to be part of a three way tie atop the league standings in 1939 in his fourth year with the Green Wave, then in the SEC. Bear Bryant won his first SEC crown at Kentucky in his fifth year in 1950. Bobby Dodd split the SEC Title at Georgia Tech in 1951, in his seventh season; two years later, Harold Drew won it in his seventh year at Alabama. Auburn's Shug Jordan (seventh year) and LSU's Paul Dietzel (fourth) then pulled it off in back to back years in 1957 and 1958.
But after the 1950's, that list starts to get more sparse: Bear Bryant went to Alabama and split the league title in his fourth year in 1961, Doug Dickey did it at Tennessee in his fourth year in 1967, LSU's Charles McClendon did it in year nine in 1970, Charley Pell did it in year six at Florida in 1984, Johnny Majors did it the following year at Tennessee in his ninth season there, Phil Fulmer won his first SEC Title in his fifth year in Knoxville in 1997, Tommy Tuberville pulled it off in year six at Auburn in 2004, and that's the end of the list.
So to recap: only thirteen times ever, seven times since 1959, and not once since 2004, has any head coach won the SEC for the first time in his fourth year at the school or later. Or another way to phrase that: thirteen times ever, seven times since 1959 and not once since 2004 has the SEC football championship been won by a coach in his fourth year or later at that school.
Obviously, history has no physical bearing on the present or future, as zero of those players and only a handful of coaches are still in the SEC equation today. Every streak and drought has to end, and for every rule there are exceptions. And Dan Mullen has already bucked historical trends by coaching two star quarterback prospects Dak Prescott and Kyle Trask to stardom at the collegiate level, and set them up for more NFL success than they probably thought was possible. It just means that it's yet another obstacle for Mullen to overcome. Because all those decades of history aren't an accident. They mean something.
But to be able to beat history, one needs specific, boilerplate personnel at his disposal. Since Tuberville last pulled off the "I won the SEC for the first time in my fourth year or later!" feat in 2004 and the SEC started to really dominate college football, there's been a pretty simple formula for winning the league. You really only need two things: a dominant quarterback, and a defense that's either extremely dominant (preferred) or can reliably force turnovers (a backup option that leaves no margin for error, but still doable). Both don't have to be elite. But one does, and the other has to be able to at least pull its weight.
And for all that Dan Mullen lost after the 2020 season, his 2021 team- and future teams- may nonetheless check both boxes, which at the very least keeps realistic hopes of winning the SEC afloat.
For starters, Emory Jones will finally get his chance to run the show after sitting on the bench for three years. The excitement around Jones mainly stems around one thing: he finally gives Mullen a chance to operate the offense with somebody who's more naturally suited for it. Mullen, as a good coach, knows how to tinker with his offensive scheme to fit the personnel he has, which is how he help make Kyle Trask into a Heisman Trophy finalist, but as is the case with any coach, his unit works best when it's got pieces most closely tailored for it.
Jones isn't the passer Trask is. But he's a far better runner, and more than good enough as a passer to make defenses respect his arm. That dual-threat ability unlocks an entirely different dimension of Mullen's offense that was only on display in small doses in the past- when Mullen would insert Jones into the game with the distinct purpose of running it, signifying that it was coming.
Now, though, as the presumed full time starter, Jones will be in the game to do more than just run. You never really know what you have in a quarterback until you see him at the controls for more than a few plays at a time, so for all the hype that's built around Jones to this point, it's worth a quick reminder that he hasn't justified that hype yet. But between his talent and Mullen's ability to develop quarterbacks, it's certainly conceivable that Jones could be an SEC winning quarterback- even with a defense that may not be stellar.
Which is really the big question. And it's where things get more complicated.
It's no secret that many Gator fans- a generalization that includes myself- are pretty fed up with defensive coordinator Todd Grantham. Fed up or not, though, Mullen does seem to be sticking with Grantham at least for the upcoming 2021 season, and possibly beyond. Grantham is, by nature, a high risk, high reward guy, and his defense usually reflects that. He's willing to give up yards in exchange for getting some sacks and turnovers; the problem is, when he doesn't have a specific havoc wreaking guy on defense like a Jon Greenard or an excellent secondary, his defense won't give you the "high reward" end of that spectrum and will just get burned. Like in 2020.
But while forcing turnovers is generally considered a less safe method of operation than, for lack of a better way to put this, just being a good defense, it can still work. Auburn in 2010 didn't have a great defense, but it had one that knew how to make big plays. The Tigers' defense forced multiple turnovers in the final three games of the season against Alabama, South Carolina in the SEC Title Game and Oregon in the BCS Title Game.
And though this statement may admittedly come at least in part due to blind faith, it's difficult to believe that Florida- yes, even with Grantham- can be as bad defensively in 2021 as it was in 2020. The question becomes how much better the defense is in 2021.
There are plenty of new pieces, including a pair of veteran defensive tackle transfers, a young but extremely talented new corner opposite Kaiir Elam in Jason Marshall, and assuming all goes smoothly between now and September, playmaking linebacker Diwun Black will finally get to suit up for his dream school. So there's at least some reason to believe it can get the job done- maybe not as the headliner (because let's face it, under Dan Mullen, that will always be his offense), but as a supplement.
So let's tie that all together.
It is objectively frustrating to watch such a talented trio of athletes like Kyle Trask, Kyle Pitts and Kadarius Toney spend three years together playing for Dan Mullen, and leaving school without an SEC Title or CFP berth to show for it. When you have that kind of talent on your team, you simply have to win with it. If you don't, questions will arise about if you ever will. And those questions are only furthered by the fact that history tells us if you can't coach your team to an SEC Title within your first three years at a school, your chances to subsequently do so decrease significantly.
But just because history- both ancient and recent- doesn't indicate strong odds for Dan Mullen to take Florida that last step from simply being an SEC contender to an SEC champion, that doesn't mean he can't defy that history and do it.
Here's hoping he does.
Research done by Ben Kreitner was used in this article.