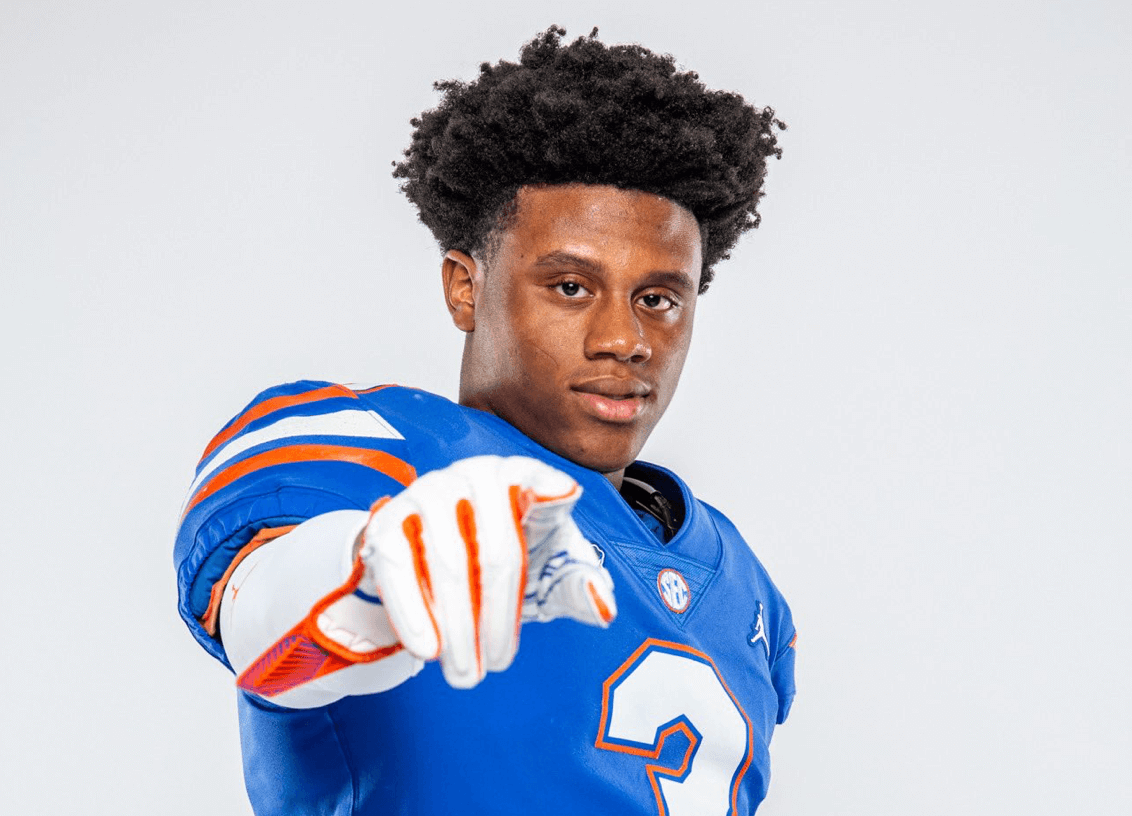 Florida is officially on the board at Miami Palmetto High School with the addition of Jason Marshall. And of the five extremely highly touted prospects in the 2021 recruiting class to hail from Palmetto, the Gators might have broken through by landing the best one of all.
Marshall, a prized consensus five star cornerback recruit, announced his decision on twitter:
It's Up🐊#committed pic.twitter.com/A3uap8zx1S

— Jason Marshall Jr. (@jasonjr3_) August 9, 2020
Clear about an hour to read Marshall's offer list, because essentially, every team that has legitimate championship aspirations on a yearly basis offered him. This list includes, but is by no means limited to: Alabama, Georgia, Clemson, LSU, Michigan, Ohio State, Oklahoma, Penn State, Oregon, USC, and FSU. Oh, and of course, let's not forget the most satisfying school's offer to laugh at as being unsuccessful in this case: hometown Miami, which just days ago landed Marshall's teammate Leonard Taylor and also has fellow Palmetto commits Savion Collins and Brashard Smith committed.
As for just how good he is? I have to confess that I'm giddy with excitement as I type this, because it was only just this morning that I watched his highlight tape with no inkling that a commitment to Florida was impending. So I just got to watch it again in order to provide an analysis of what exactly he brings to the table… and it's even more impressive to watch the second time in a day. You can watch it yourself here.
Right off the bat, his insane athleticism and nose for the football jump off the screen. He's just got a natural inclination for where the ball's going to be and combines that with sensational tracking skills and an impressive vertical leap, which likely (at least in part) comes from Marshall double-letting in basketball at Palmetto. Those instincts and incredible athletic abilities make him a fairly safe bet to see the field right away as a freshman. And the best part about him is that he's still nowhere close to being a finished product. After a few months of Nick Savage & Co. working with him, the prospects of what he could be able to do on the field are legitimate cause for fanbase-wide salivation.
With all that in mind, the addition of Marshall gives Florida's 2021 a major boost in the Rivals recruiting rankings, moving the Gators all the way up to #3 nationally. Meanwhile, after falling out of the top 10 in the 247 rankings following the commitment of Taylor to Miami, the Gators are back in the top 10 there too with a new ranking of #9.
On top of what a boost it was to add Jason Marshall to Florida's class, it comes as a double dose of pleasure when you add the fact that the Gators really stuck it to Miami with this one. Not only does Marshall come from the Hurricanes' backyard, and not only were three of Marshall's teammates at Palmetto already committed to the Canes, but 247's Crystal Ball predictions were rolling in for Marshall to join them all at UM as recently as last weekend. Manny Diaz and the Hurricanes were thought to be favored to land at least four of the Palmetto Panthers, if not even monopolize the so-called "Palmetto Five," but now the Gators have stuck their hand in there and taken one away who wasn't even really considered to be that likely to choose Florida.
The battle for Palmetto is far from over, too. Four star safety Corey Collier is still at large, with many considering him a Gator lean. And now with Jason Marshall on board, it's not completely out of the question for Florida to potentially flip one of the three Panthers currently committed to Miami.
So while the college football season may be a bit of a question mark right now, recruiting for the Sunshine State's flagship college football program hasn't been this heated in a long, long time.