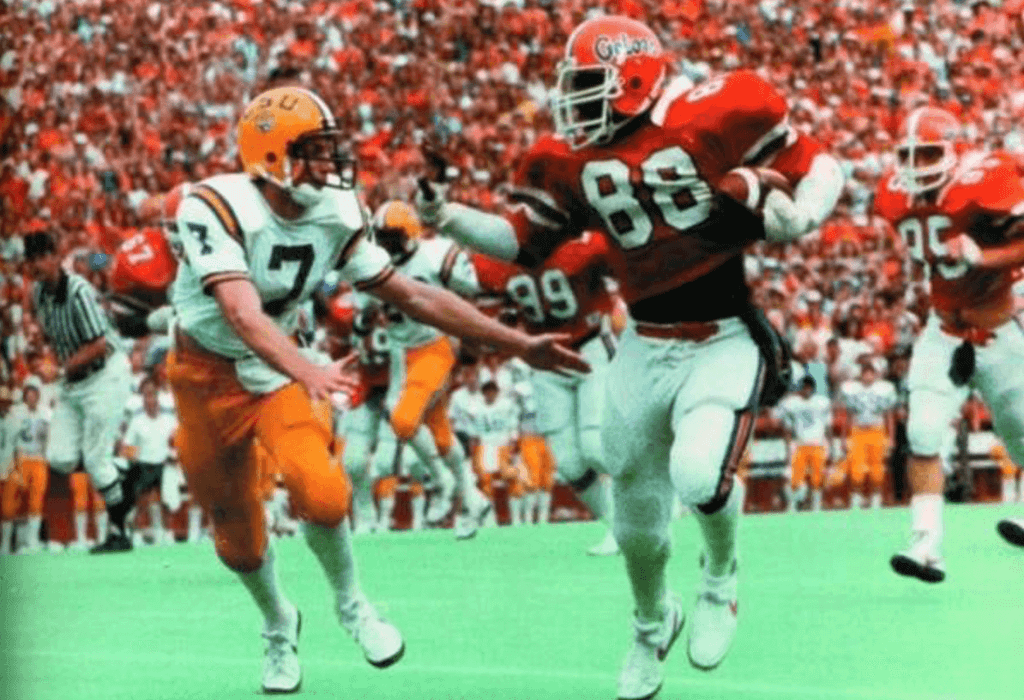 The sixteenth and final Regional of the #GreatestGatorEver tournament gets underway later tonight. Thus, our Regional previews conclude with a look at the 15 Regional:
The bracket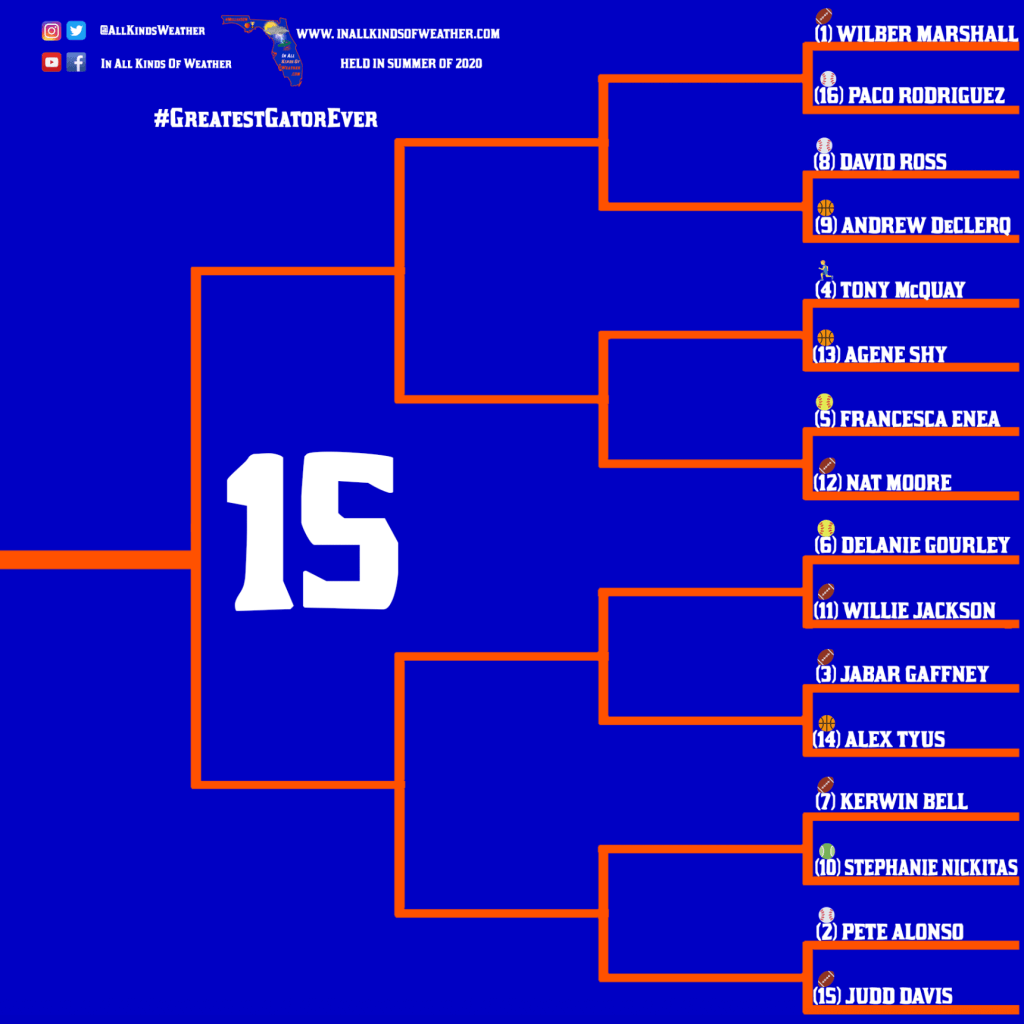 Regional participants
(Players are listed in order they appear on the bracket.)
(1) Wilber Marshall (football, LB- 1980-83). 1982 and 1983 consensus All-American. Florida Ring of Honor member. Fifth in Florida history with 23 sacks; ninth with 343 tackles. College Football Hall of Fame member. First round NFL Draft pick (#11 overall, Bears). 12 year NFL career. Super Bowl XX champion with Bears; Super Bowl XXVI champion with Redskins. 3X Pro Bowl: 1986, 1987, 1992. 1992 NFC Defensive Player of the Year.
(16) Paco Rodriguez (baseball, P- 2010-12). 2012 All-American. Second in Florida history with 2.19 ERA (since aluminum bats). Four year MLB career with Dodgers.
(8) David Ross (baseball, C- 1998). Led Florida to 1998 College World Series with 19 home runs and 69 RBI on the year. 15 year MLB career. 2X MLB World Series champion: 2013 (Red Sox), 2016 (Cubs).
(9) Andrew DeClerq (basketball, C- 1992-95). 1994 team captain (Final Four team). 3X All-SEC: 1993, 1994, 1995. Third in Florida history with 958 career rebounds; ninth with 23 career double doubles; 27th with 1,309 career points.
(4) Tony McQuay (track- 2009-12). 3X national champion (team): 2011 indoor, 2012 indoor, 2012 outdoor. 3X 400m national champion: 2011 indoor, 2012 indoor, 2012 outdoor. Fastest 400m time in Florida history: 44.49s (2012 Olympic trials). 2X Olympic 4X400m relay medalist: 2012 (London) silver and 2016 (Rio) gold.
(13) Gene Shy (basketball, F- 1973-76). 1976 All-SEC selection. 1976 team captain. Seventh in Florida history with 679 made field goals; tenth with 1,573 career points.
(5) Francesca Enea (softball, OF- 2007-10). 3X All-American: 2008, 2009, 2010. 2008 WCWS All-Tournament team. Second in Florida history with 221 career RBI; third with 61 home runs; sixth with .629 slugging percentage; tied for tenth with 142 runs scored.
(12) Nat Moore (football, WR- 1972-73). 1972 All-SEC. Thirteen year NFL career with Dolphins. Led NFL with 12 touchdown catches in 1977. 1977 Pro Bowl.
(6) Delaney Gourley (softball, P- 2014-17). 2014 and 2015 national champion. 2016 and 2017 All-American. Threw four of fifteen no-hitters in program history. Second in Florida history with .162 opponent batting average; fourth with 610 career strikeouts; fifth with 1.36 career ERA; eighth with 66 career wins.
(11) Willie Jackson (football, WR- 1990-93). 3X All-SEC: 1991, 1992, 1993. Third in Florida history with 162 career receptions; sixth with 24 receiving touchdowns and ninth with 2,172 receiving yards. Nine year NFL career.
(3) Jabar Gaffney (football, WR- 2000-01). 2001 first team All-American. Second in Florida history with 2,375 career receiving yards; fourth with 27 receiving touchdowns; ninth with 138 receptions. Eleven year NFL career. Only receiver in Florida history with multiple 1,000+ receiving yard seasons.
(14) Alex Tyus (basketball, C/F- 2008-11). Tenth in Florida history with 115 career blocks; 25th with 1,333 career points.
(7) Kerwin Bell (football, QB- 1984-87). Clutch factor: Led Florida back from 17-0 down to defeat Auburn in 1986. 1984 SEC Player of the Year. 1985 and 1986 All-America honorable mention. Sixth in Florida history with 7,585 career passing yards; seventh with 56 passing touchdowns.
(10) Stephanie Nickitas (tennis- 1996-99). 1996 and 1998 national champion (team). 2X NCAA individual doubles champion: 1996 and 1997. 6X All-American: 1996-99 doubles, 1998 and 1999 singles.
(2) Pete Alonso (baseball, INF- 2014-16). 2014 SEC All-Freshman team. 2016 unanimous All-American. 2019 MLB Home Run Derby champion. 2019 NL Rookie of the Year. 2019 MLB All-Star. Set MLB rookie record with 53 home runs in 2019.
(15) Judd Davis (football, K- 1992-94). Sixth in Florida history with 82.1% FG percentage; tenth with 32 made field goals.
The favorite: (2)Pete Alonso
Alonso had a very, very good Florida career, but his 2019 rookie season in the MLB with the Mets vaulted him up from probably about a seven or eight seed all the way near the top sixteen overall (#18 overall). As such, he's paired with the #15 overall seed Marshall for bracketological congruence. And he's also the clear cut favorite to win this Regional, even as a #2 seed: no rookie in Major League Baseball history has EVER displayed the kind of power throughout the course of a season as him, and he just did it last year. Recentism teams up with a supremely promising future here, and he's got to be the favorite to advance to the Sweet 16.
The second favorite: (1)Wilber Marshall
He may have played awhile ago, but Marshall's name is not a forgettable one for Gator football fans. Mainly because it's on the Ring of Honor at the top of the Swamp. The phenomenal college career he had along with the sensational NFL career he put together makes him a tough out for a baseball player- even one who is as currently dominant as Alonso. That makes for a fascinating potential Regional final between two of the best twenty athletes to ever play a collegiate sport for UF.
The sleeper: (3)Jabar Gaffney
Gaffney was a few minutes away in Super Bowl XLII with New England or simply one more season at Florida away from being a top sixteen overall seed. As it stands, no championship ring and no Florida record held him back, but he's still a threat to both Marshall and Alonso because of his dominant 2001 season. There may never have been as explosive a tandem as Rex Grossman and Jabar Gaffney in Gator football history, so expect the guy on the receiving end of that to receive a lot of votes in this bracket.
The dark horse: (6)Delaney Gourley
Gourley has something nobody else in this Regional does: a pair of national championship rings in a team sport. And both came this decade. So she'll give Gaffney a battle if she can get past Jackson in the first round. Should she upset Gaffney, she'll have her hands full with Alonso in the Regional semifinals, but those back to back titles in 2014 and 2015 could at least make voters think twice before pulling the metaphorical lever.
The Cinderella candidate: (8)David Ross
Ross only played one year at Florida, but what a magical season it was. He led the Gators deep into the College World Series in 1998, which some consider one of the best Gator teams of all time. He followed that up with a journeyman MLB career that netted him a pair of World Series rings, the second of which broke a nearly century long curse involving a pet goat. Of course as an 8 seed he's naturally got the toughest road, but if you're looking for an 8 seed to reach the Regional semifinal, he's as likely a candidate as any.