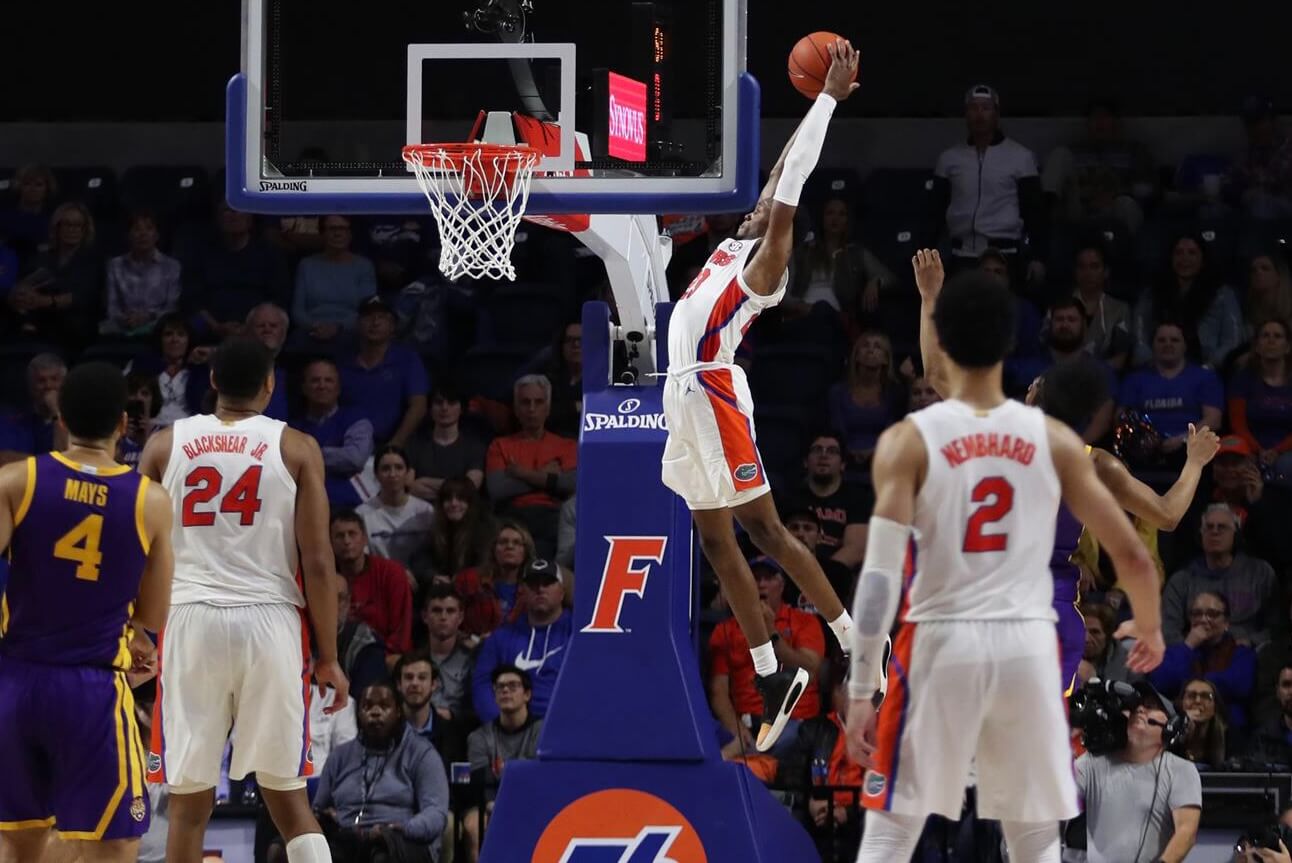 Florida's basketball team got a sort-of-but-not-really-surprising boost today, as shooting guard Scottie Lewis announced that he will be coming back for his sophomore season.
Lewis, a ridiculously athletic kid from southern New Jersey, arrived in Gainesville last fall with a tremendous amount of hype as the highest rated freshman signee in school history not named Bradley Beal. A McDonald's All-American in high school, Lewis boasted incredible athleticism on both ends of the floor. Because of that, many expected Lewis to take off as a player his freshman year and then take off for the pros afterward.
But that never materialized. Lewis's freshman year was a frustrating one, especially on offense. He would intermittently flash signs of why he was so highly regarded in the first place, but struggled most of the year and finished with an underwhelming 8.5 points per game and 3.6 rebounds per game. That threw a monkey wrench into his post-freshman-year decision.
A source close to the team told me that Lewis spoke to someone he trusted and was presented with an ultimatum: "Would you rather play another year of college ball? Or would you rather play in the G-League?" Having had it spelled out for him that the NBA was not an option in the near future, Lewis pondered those options some. The NBA, as he made clear in the picture of his tweet, is his dream. But he also legitimately loves school.
So for Lewis, the decision was based on one major factor. With a return to school potentially being just as short a bridge between this current point in time and the NBA as declaring for the Draft and immediately being redirected to the G-League would be, it would only make sense for him to choose the route that he enjoys more. And though the assumption that he was always a one-and-done guy left a bit of lingering doubt before his announcement, he ultimately did make the move that makes the most sense.
The question now is what Florida looks next year. Getting Scottie Lewis back was big, but there are two more announcements still at large: Keyontae Johnson and Andrew Nembhard. I'd hate to give a way-too-early outlook on the 2020-21 season without knowing the fate of 40% of the starting lineup, but if even one of them comes back, next year becomes very, very interesting.