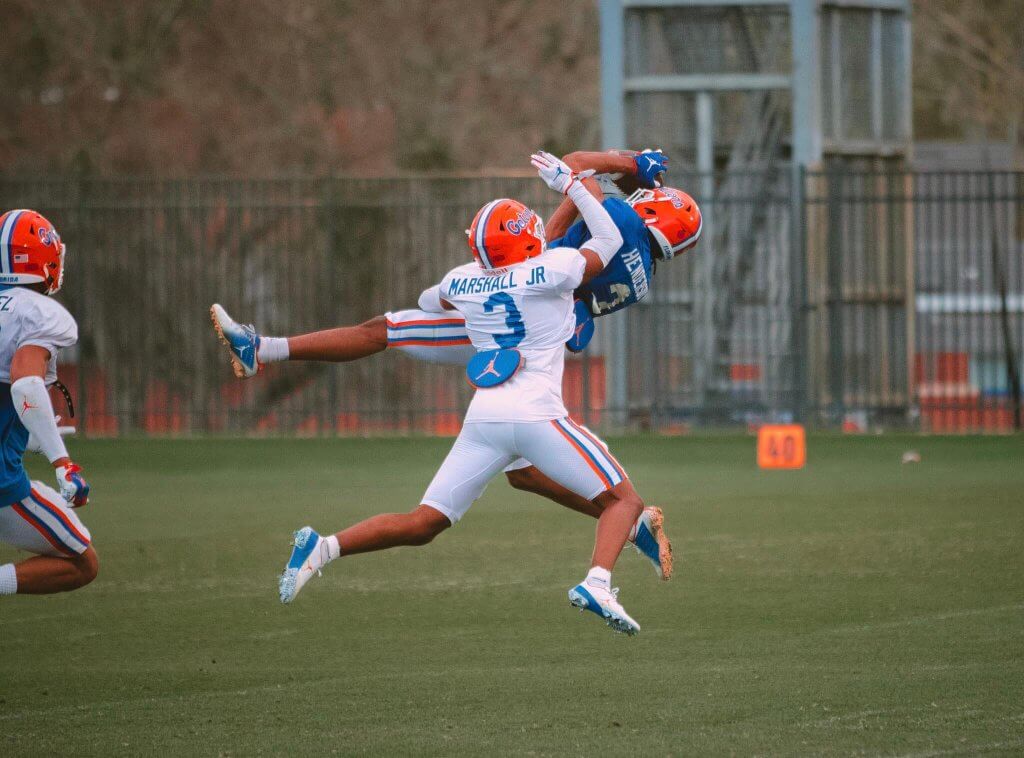 For the second time this week, the Gator football program virtually opened its practice to the public on its Instagram page, giving fans an up close look at the team in its second week of spring (really winter) practice- a luxury that we did not have last year.
Here are the videos I captured from today's open practice, courtesy of the Gators' digital media team.
First things first. Warmups. The first piece of video I got was of Gator quarterbacks getting warmed up with some easy tosses to assistant coaches.
The Gator football digital media person (or whoever was running the live stream) then moved over for a look at the defensive line going through some of its warmup drills. Note: #21 is defensive tackle Desmond Watson, and he is enormous.
After watching the defensive line deliver some punches to the tackling sled, it was back to the quarterbacks, where we got to see new QB coach Garrick McGee, as well as Dan Mullen himself, coach up their quarterbacks on their throwing mechanics.
Then it was back to the defensive line, which as we know features a lot of new pieces. Here's some footage of DL coach David Turner overseeing some walkthroughs of the linemen's assignments on some plays.
Next up was a trip to the indoor practice facility (AKA the IPF) to watch the receivers run sharpen their route running skills.
Then it was back outside to watch the quarterbacks and running backs work together. It's been no secret that Dan Mullen loves using his running backs in the passing game, particularly against Georgia, and here they were seen working on getting their timing down pat on some screen passes.
After that, it was back to the defensive line. (The Gator football digital people running the live stream took requests from fans regarding which position groups they wanted to see, and the defensive line was a popular one.) Here's some more footage of the defensive line learning their gaps and assignments on certain plays.
Then it was on to Florida's receivers to watch them work on their route running.
Next up: a trip to the running back station to watch them get some footwork reps in.
Back to the offensive line, and a look at OL coach John Hevesy coaching up his guys.
The next piece of footage I got was a DB drill, where the Florida defensive backs practiced getting their hips turned around as they run in coverage.
The last video I got with the position groups before 7 on 7s began was a nice look at defensive line coach David Turner coaching up his linemen on some techniques.
The first play I got in 7 on 7 work was this beautiful touch pass to freshman tight end Nick Elksinis. The video was shot too far away to see the number on the orange jersey of the quarterback, but it appeared to have been thrown by Anthony Richardson.
That was easily the most exciting 7 on 7 rep I got, but here were some of the other ones I got.
Here were some more.
Some more:
And here was the last batch of 7 on 7 reps I got.
Florida will be back with another open practice on Friday afternoon for those who are interested. They'll be streaming live footage on Dan Mullen's instagram account (@coachdanmullen) as well as their team account (@GatorsFB).