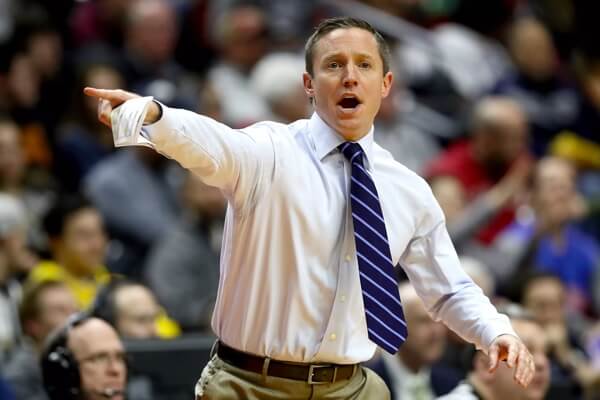 For much of Saturday's game against Tennessee, Florida couldn't score. When they finally remembered how to score, they couldn't come up with the critical stops.
In other words, it was a typical basketball game for Mike White's Gators on the heels of an impressive win. And it leaves people with an interest in this team unable to justifiably trust it.
On Saturday, Florida went almost eleven minutes without a single bucket, Tennessee's John Fulkerson took over the game late and the Vols held off a furious late rally to beat Florida, 63-58. With the win, Tennessee coach Rick Barnes improved to 5-1 head to head against Mike White. Florida, meanwhile, dropped to 18-11 on the year, and 10-6 in the SEC.
Most notable is the fact that the result hurts Florida more than it helps Tennessee. At 16-13, and with several ugly losses on their resume, the Volunteers need to win the SEC Tournament in order to reach the NCAA Tournament. Florida, meanwhile, just undid a lot of the goodwill it bought with the NCAA Tournament Selection Committee by ripping apart LSU last Wednesday, and made it difficult to justify raising them any higher than a 9 seed with just two weeks until Selection Sunday.
With that said, the loss itself doesn't damage Florida too much. The Gators aren't really in serious danger of missing the NCAA Tournament unless they completely implode and lose every remaining game over the next two weeks- which Saturday did open the door for. But what's more damaging is the fact that this team is running out of chances to show that it can handle success, and string together enough impressive showings in a row that it becomes reasonable to trust them in the NCAA Tournament.
The course of this year has taught us that this squad operates on a pattern not dissimilar to Newton's Third Law: for every step forward this team takes, there will soon be a similarly sized step backwards. There's been little, if any, overarching growth from game one to game twenty-nine, only frequent and easily predictable ups and downs. They'll bounce back from a bad loss or two and look like they've figured things out for a game or two, but then they'll subsequently pull an about-face and plummet back down to earth with a horrid performance. Rinse, and repeat about six or seven times, and there you have the makeup of this 2019-20 team.
Remember how winning the Charleston Classic tournament in November was supposed to be a turning point for this team? In the Gators' very next game against Marshall- a team that's currently .500 in Conference USA and #179 in the NET rankings- Florida played like it was half asleep and needed a furious second half comeback to survive in the O'Dome. Florida looked even worse two games removed from Charleston than they did one game removed, getting obliterated 76-62 (and it was't even that close) by a Butler team that's currently projected as a #8 seed in the Big Dance.
Remember how the two game stretch that featured a massive comeback against Alabama and the subsequent road win over South Carolina was supposed to be a turning point for this team? Florida promptly traveled up to Missouri and got shredded 91-75 in a game that a voice no less than Mike White admitted his team simply wasn't prepared for. Missouri, for the record, is one of the worst teams in the SEC, sitting a game below .500 on the year.
Remember how blasting Auburn was supposed to be a turning point for this team? The Gators then turned right back around and lost their next three games, two of which came at home. Florida saved the worst in that stretch for last, dominating a Mississippi State team that's currently projected as an NIT team for a half before letting their sixteen point lead completely slip away in a shocking 78-71 loss in Gainesville.
Remember how the second 20+ point comeback of the year against Georgia was supposed to be a turning point for this team? White's team followed that up by getting demolished 68-51 by a Mississippi team that they'd easily handled in Gainesville not even a month earlier. The Rebels currently sport the same 14-15 record that Missouri does.
And remember how getting payback against LSU just last Wednesday was supposed to be the turning point for this team? How it was supposed to be the, "Alright, we know we've said it before, but THIS is truly the game where things turn around" statement win? Well… we all know what happened next.
The amazing thing is, both the highs and the lows are complete team efforts. In the bad performances, everything usually goes to pieces at once: the spacing is bad, boxing out and thus rebounding is an afterthought, the team as a whole is careless with the ball, the shots don't fall, and the defensive effort just isn't there. And when the Gators play well, it's usually because they shoot well, defend ferociously, value the basketball, get aggressive in the paint and hold their own in- if not win- the rebounding battle, and are always all in the right position.
Of course, all college basketball teams go through peaks and troughs. Uncharacteristically bad nights happen for good teams, and uncharacteristically good nights happen for bad teams. That's how upsets happen.
But if the pattern of peaks and troughs repeats itself enough times where a college basketball team already has a double digit figure in the loss column before the calendar even flips to March, and those losses are spread out throughout the course of the season, the troughs cannot reasonably be construed as bad nights. Instead, they become half of the DNA of an inconsistent team that just isn't wise to trust. That's what distinguishes this year's Florida team from this year's Duke or Kentucky teams, and that makes it very, very difficult for fans to rationalize placing any true belief in the team moving forward. More importantly, it leaves a team entering the NCAA Tournament in the position of having to do something it hasn't managed to do all season long: step up, play its best basketball and then maintain that level of play over a period of several consecutive games. Which is precisely where this Florida team stands.
The good news for Florida is that they still have one last chance to really build up some momentum before the NCAA Tournament, with two regular season games plus the SEC Tournament still to go. The bad news is that we've thought this team has turned the corner so many times before, only to watch them regress to the mean, that there's no substantial evidence on which to base belief that they will actually do so.
But that's what this team has to do if it doesn't ultimately want to be remembered as a mammoth disappointment.