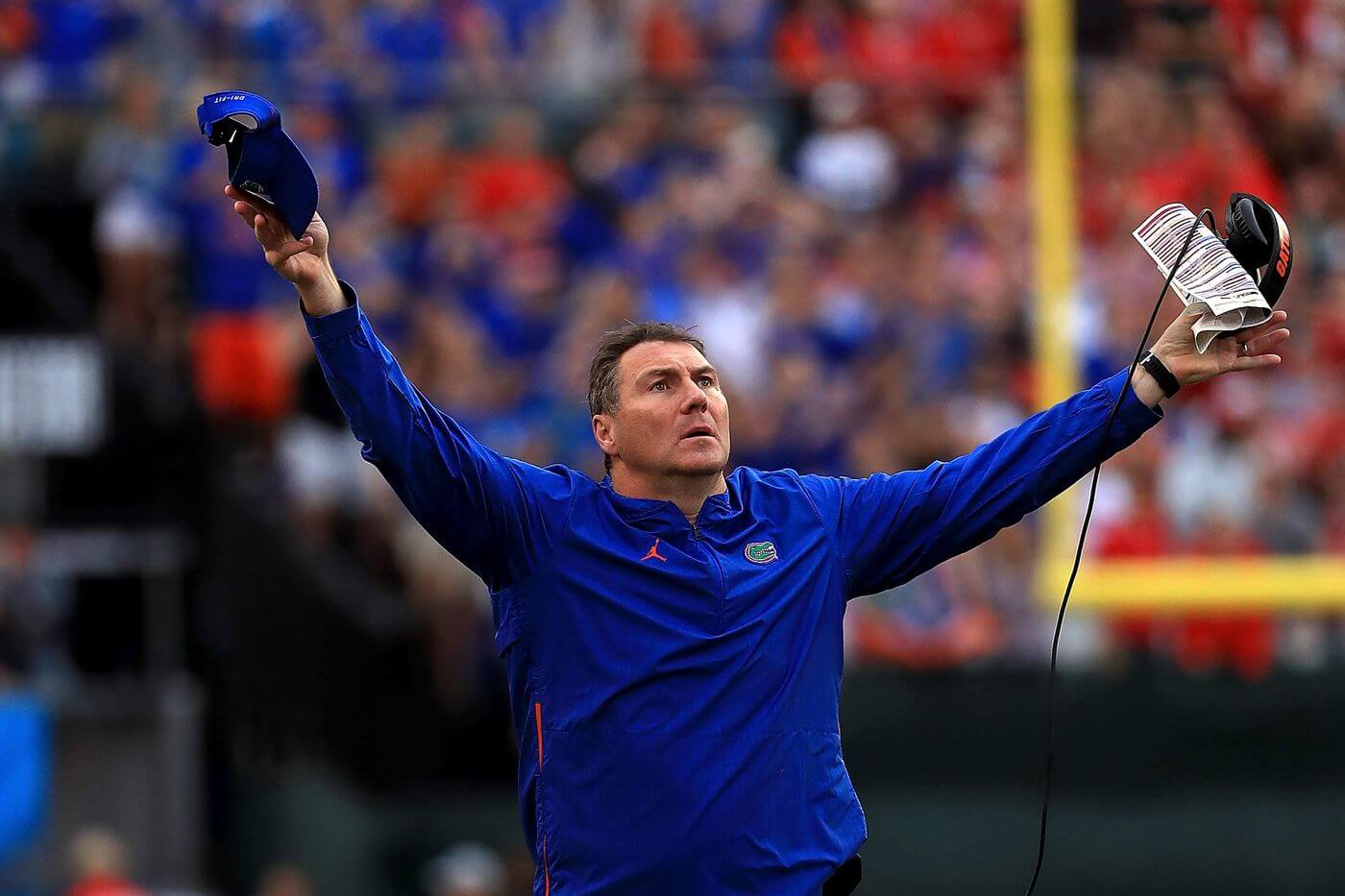 These are the facts.
When the Gators take the field on Saturday, it will be the fourth time Dan Mullen has faced Kirby Smart as a head coach. Dan Mullen is 0-3 in those previous three games.
And this is a widely shared opinion that the passage of time may retroactively turn into a fact: losing a fourth time to Georgia might, just might, create a black cloud over Dan Mullen's tenure at Florida that may never go away.
Not only is Georgia the Gators' biggest rival in their division and conference, but Georgia has been in Florida's path to get to Atlanta the previous two seasons and seems to be the only thing standing in Florida's way again this year. This game has featured bad blood, gaudy celebrations, dirty hits, timeouts saved for the end of a blowout victory, fights, and just general hatred. And that hatred extends from the field to the parking lot.
As far as rivalries go, this game is on the same tier as Army-Navy, Ohio State-Michigan, Texas-Oklahoma, or Alabama-Auburn. Or take your pick of any of the other high-stakes, nationally must-watch rivalry games. The only difference is that this rivalry has been the de facto play-in game for a trip to Atlanta for a large portion of the last two decades. Only the Iron Bowl can say the same thing, and even that rivalry can't say that with as much conviction as the game many call the World's Largest Cocktail Party, as Auburn has seesawed back and forth between national relevance and a laughingstock in that span.
This year features a Gator team that has one of the best offenses in the country and a defense that, until this past game against Missouri, was playing awful. But this past week did provide us with hope that Florida's defense can still be very good.
For one thing, the return of Kyree Campbell proved to be exactly what the Gators needed. He provided juice on the defensive line in the pass rush and run stop. And it's more than just him. For the first time all season, the Gator defense forced multiple negative plays on the same set of downs on multiple occasions. That was partly Campbell's doing, but Jeremiah Moon, TJ Slaton, James Houston IV, Brenton Cox and Andrew Chatfield all had a hand in that as well.
On Georgia's side, they are… banged up, to be kind. Their best defensive back, Richard LeCounte is out after being involved in a motorcycle accident on Saturday night. One defensive tackle- Julian Rochester- is confirmed to be out, and another starting DT- Jordan Davis- has been reported to be out by various outlets. On top of that, linebacker Quay Walker is not expected to play, and safety Lewis Cine is doubtful.

For Florida's offense, with Georgia missing that many starters on defense? The excuses are gone. The Gator offense has been nothing short of a machine this year and there simply is not a good reason the Gators can't hang 40 on the Dogs. On the defensive side of the ball for the Gators, we finally saw the defense we expected to see all along last week.

And Georgia's offense has been less than great this year. Georgia quarterback Stetson Bennett has been very underwhelming in the passing game; though Georgia does have elite running backs that can shred any defense they play. So this game will be won in the trenches. The winner of the mano-y-mano combat between the Gators' defensive line vs. the Bulldogs' offensive line has the inside track to winning the game for their team, and thus, putting their team on the inside track for Atlanta the way this rivalry has a history of doing.
And the winner of that battle will also go a long way toward determining the legacy of Dan Mullen, who has to treat this game like a playoff game, like the season depends on it— mainly because it does.

No, Mullen won't be on the hot seat with a loss. But there's a middle ground between that and being able to accept a loss to Florida's biggest rival on an annual basis that kept the Gators from accomplishing all that they set out to accomplish before the season. Florida just can't lose this game if they ultimately want to compete for championships the way that Dan Mullen has said he understands is expected of the program.
So with all that nuance in place, the meaning of this game is actually very simple. The season hangs in the balance and for better or worse, Dan Mullen's long term future is riding on it.