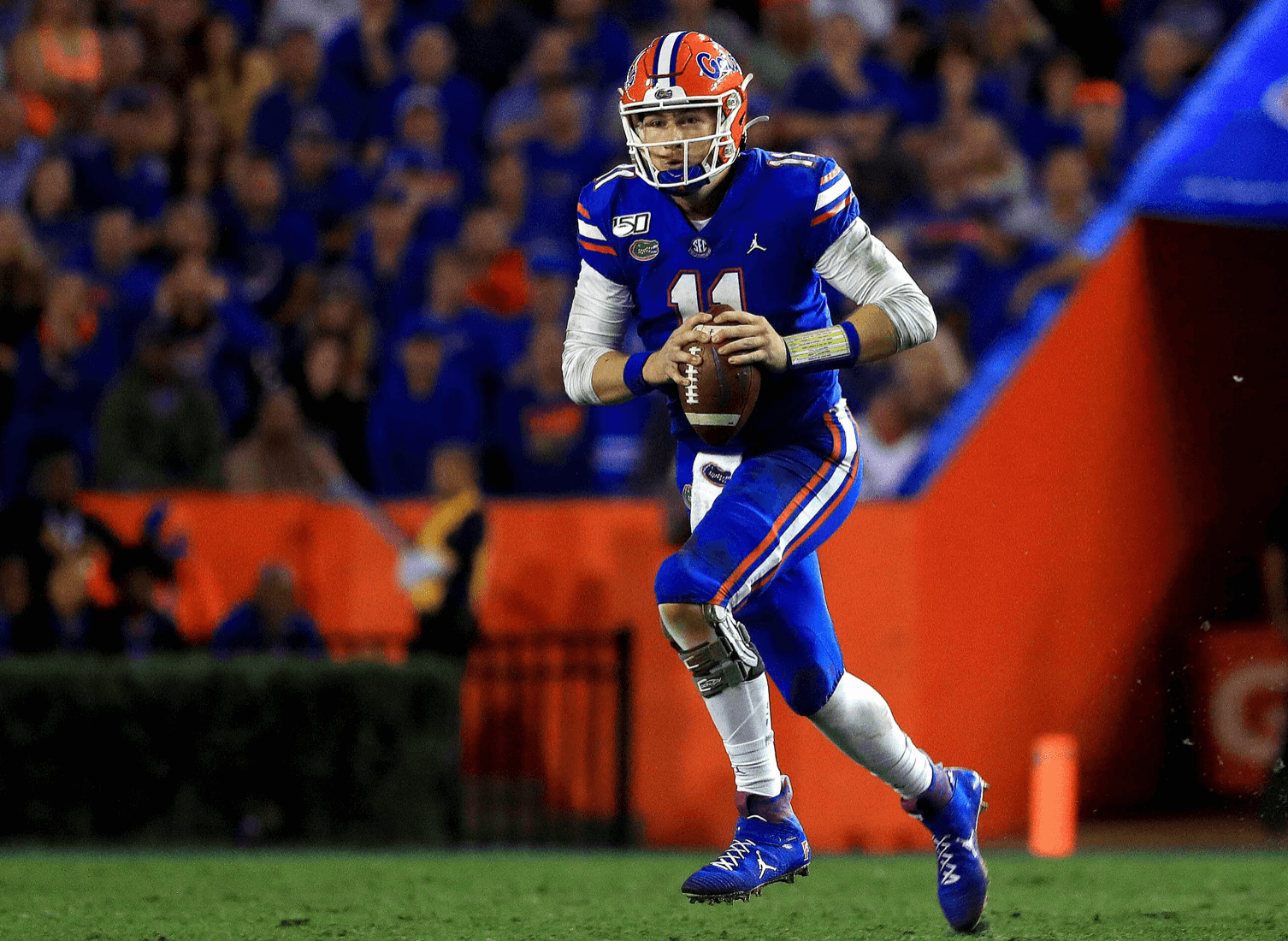 With kickoff at long last in sight, it's time to break down the 2020 Gator football roster, position by position. Who's back, who's going to start, how good are they, and so on.
Man, it's great to finally be talking about that again.
So with that said, let's start with the most important position in the game: quarterback.
The leader: Kyle Trask
Pretty obvious, right? We all know his story by now: a two star recruit from Manvel, TX, damned to forever ride the bench with Feleipe Franks, Luke Del Rio, Austin Appleby, Malik Zaire and Emory Jones also occupying the same QB room as him at various points in his career. Then things happened and Trask was thrown into duty, ice-cold off the bench, down double digits at Kentucky and the rest is history. Now, though he hasn't had a full offseason taking first team reps, he has had summer ball to get coached up by Dan Mullen and Brian Johnson and so it's fully reasonable to expect him to take a mammoth leap forward in his second year at the controls. Will he take the step forward from "good quarterback" to Heisman Trophy winner like Joe Burrow did from his first to second years? Maybe. It's not something you should rush out to lay hundreds of dollars on, but he's got the core things you look for in a QB of that caliber: intelligence, accuracy, command of the offense, and yes, even a little mobility. This is his job until further notice.
The second-in-command: Emory Jones
I did a good bit of research on this before making this statement, so no, it's not hyperbole. With the Big 10 and Pac-12 not playing, Emory Jones is the best backup quarterback in America. (Oklahoma's Tanner Mordecai and Clemson's Taisun Phommachanh are both supremely talented, but wholly unproven). That means that he's simply too good to keep off the field, and what we're likely to see this year is more extensive work for Jones than we saw last year. That doesn't mean Trask's job is in any sort of peril, but Jones' speed unlocks a whole new dimension of the Dan Mullen offense and adds an extra "skill position" that defenses have to account for. And we saw him take command of the offense when Trask got hurt against Auburn, meaning that he's officially worth trusting in crunch time.
The sleeper: Anthony Richardson
As much as I love Richardson's potential, (and I love it enough to think he's as logical a 2023 Heisman Trophy prediction as any at this way-too-early-to-predict-that stage) I can only fathom two scenarios where he plays for the 2020 Gator football team: in a game that's already well decided and Jones has gotten his turn to shine, or if both Trask and Jones get sick or injured. That's it. 2022 and beyond? Totally different story. This year? I'm just not seeing it. That said: coaches have raved about his progress in camp this summer, both in terms of mechanics and in terms of his grasping the offense. In an apocalyptic scenario where you have to go to the third quarterback on your depth chart, you could do a lot worse than Richardson.
Position overview
Florida doesn't just have one of the better college quarterbacks in America as its starter. The Gators are as stockpiled at quarterback as they've ever been since Mullen's first stint in Gainesville, when he had Tim Tebow, Cam Newton and John Brantley in the same meeting room. As much as I hate to say this, with the way 2020 has played out so far, you absolutely have to assume that an injury or sickness will hit a key part of your roster, and plan to move forward accordingly. After all, the Gators haven't gone a single season without having to use its backup quarterback in a situation they didn't plan to since 2008A. And if that pattern continues in 2020, that depth is really going to come in handy. Of course, only one QB can play at a time, but look for Trask and Jones to reprise their Leak-and-Tebow roles from 2006 to the tune of even greater success in 2020.
Position grade: A
In the name of objectivity, I'm pretty stingy with A+'s in these annual position breakdowns. I only really give them to positions that return an All-American or multiple All-SEC selections from the previous year. But this is an absolutely loaded QB room.  You simply couldn't ask for a better quarterback depth chart than what the 2020 Gator football team has.
A2009: Tebow injured vs. Kentucky; 2010: no established QB; 2011: Brantley injured vs. Alabama and FSU, Brissett benched vs. Auburn; 2012: Driskel injured vs. Louisiana; 2013: Driskel injured vs. Tennessee, Murphy injured in practice; 2014: Driskel benched vs. Tennessee, Harris suspended due to sexual assault allegations; 2015: Grier suspended due to PED use; 2016: Del Rio injured vs. North Texas and Arkansas; 2017: Franks benched vs. Michigan and Kentucky; 2018: Franks benched vs. Missouri; 2019: Franks injured vs. Kentucky, Trask injured vs. Auburn