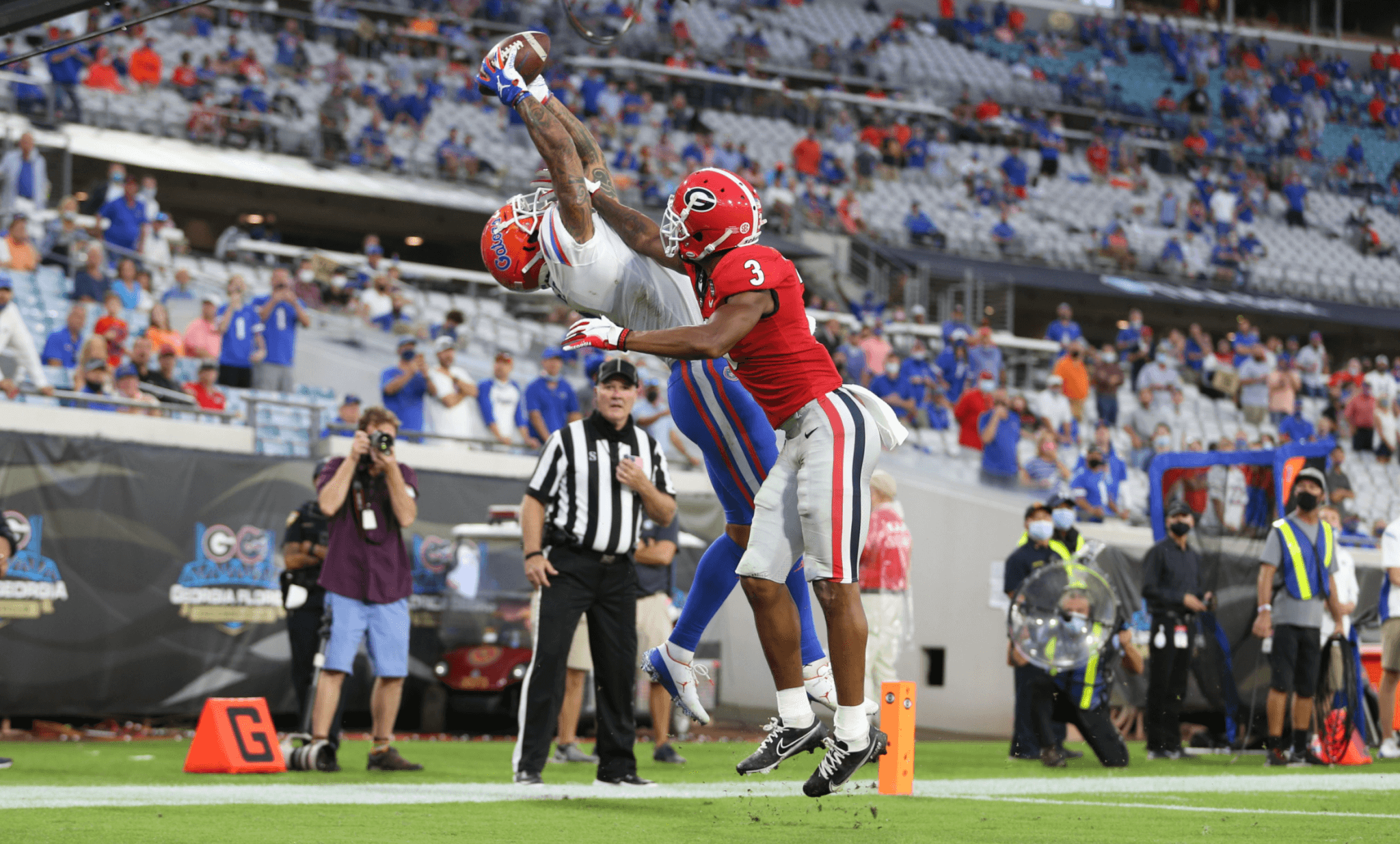 Florida's euphoric win over Georgia is still sinking in, but it's time to go through the film and look at this game from an academic standpoint.
You can rewatch the game here.
First order of business: a blanket helmet sticker is awarded to every member of the team for partaking in a huge win over a rival. We're going by my high school team's rules for handing them out, remember, and whenever we would beat a highly ranked team or our crosstown rival, we would give every single player a pretty helmet decal.
But who else earned a helmet sticker?
1st quarter 11:41: Dameon Pierce X2 for his cutback run. Starting to his right, there seemed to be nothing there. But one nifty reversal of field later, and Pierce found a first down.
1st quarter 10:20: Kyle Trask X2 and Keon Zipperer X2 for their 39 yard hookup. Hello, wheel route. We'll see you again later. This was Florida's first of many explosive plays through the air on the day. Not to mention the first glimmer of hope. Zipperer appeared to be set to block on the play, while Trask helped further sell the notion of a running play with a good play-action before Zipperer broke into a route and Trask pulled the ball back and let it fly. Well sold by both.
1st quarter 8:25: Kyle Trask X3 and Justin Shorter X2 for their 14 yard scoring connection; Kyle Pitts X2 for his block. Trask was in trouble here, but managed to find a tiny crease in the pocket to step into. That bought him another second. Meanwhile, Shorter was coming free on a well run crossing pattern. That allowed Trask to make Tim Tebow proud with an impromptu jump pass to Shorter, who easily turned the corner and took it the rest of the way to get Florida on the board. And who says Kyle Pitts can't block? He sure could on this play, clearing a jetway for Shorter to score through.
1st quarter 5:01: Kyle Trask X4 and Malik Davis X3 for their 22 yard connection. The wheel route returns, although this was one of the few times all day Georgia actually defended it well. But Trask slipped the ball into a tiny window, and Davis made a diving grab on it to set Florida up at midfield.
1st quarter 2:55: Kyle Trask X5 and Kyle Pitts X3 for their 33 yard hookup. This was a great throw by Trask, but the throw paled in comparison to what Pitts did to come down with it. True, safety Tyrique Stevenson did slip, but Pitts had outmaneuvered him even before that. (Cough cough: this is why Pitts should win the Mackey Award!)
1st quarter 1:48: Dameon Pierce X3 for his 2 yard touchdown run; Brett Heggie X2 and Jean DeLance X2 for clearing a hole. Scoring a touchdown is pretty much an automatic helmet sticker, so Pierce gets one for the touchdown. But this one was all Heggie and DeLance. These two guys (61 and 56) bulldozed the entire right side of the Georgia front out of the way (well, the right side from the offense's perspective, anyway), making Pierce's job easy.
2nd quarter 12:15: Kyle Trask X6 and NayQuan Wright X2 for their 50 yard connection. Another wheel route that Georgia didn't bother to defend. This time, Wright lazily started jogging into the right flat- and Georgia bought his sell of not being a threat. Wright right then broke into a dead sprint down the sideline, and Trask found him in stride for a gain of half a football field. Well thrown ball by Trask, and a well sold route by Wright.
2nd quarter 11:45: Kyle Trask X7 and Kyle Pitts X4 for their 25 yard touchdown hookup. Another reason why Pitts should win the Mackey. Pitts, as Kirby Smart would lament after the game, wasn't open. Tyson Campbell had good coverage on the play- by which I mean he was flagged for pass interference- and Pitts just went up and took the ball away for the score. And Trask gets a helmet sticker too because he knew that he had a touchdown if he let his tight end have a chance at the ball, and he put it in a place where only his star teammate could get it.
2nd quarter 10:30: Kyree Campbell X2 and Ventrell Miller X2 for their TFL. Zamir White never had a chance. Florida's tag-team of Campbell and Miller beat him to the gap he was supposed to run through. And when that happens, the play is likely not going to work.
2nd quarter 9:39: Kyle Trask X8 and Malik Davis X4 for their 37 yard hookup. You'd think at some point, after getting beaten by wheel route after wheel route, Georgia would make adjustments and try to stop getting scalded by them. They didn't and it happened again on the first play of the drive, this time for 37 yards to Davis. Great ball by Trask and great route and catch by Davis.
2nd quarter 7:50: Kyle Trask X9 and Kemore Gamble X2 for their 24 yard touchdown connection. I can only say how amazed I am at Georgia's inability to cover a tight end or running back running a simple vertical pattern so many times before you guys get tired of reading it. Whatever. Here's another helmet sticker for Trask and one for Gamble for the touchdown- and Florida's first lead all day.
2nd quarter 5:45: Dameon Pierce X4 for his 35 yard catch and run. The good news for Georgia: they finally covered the wheel route. The bad news: they couldn't make the tackle. Trask doesn't get one on this play because it was all Pierce, catching a simple five yard pass, shaking a defender and continuing on for a 35 yard gain.
2nd quarter 1:51: Evan McPherson X2 for his 50 yard field goal. In his first live action in over a month, McPherson showed no signs of rust, drilling this 50 yarder straight down the middle with at least a dozen yards of distance to spare.
2nd quarter :16: Kyle Trask X10 and Trevon Grimes, X2, for their 14 yard touchdown connection. Definitely a great throw by Trask here, so he gets a sticker for that, but the athleticism Trevon Grimes showed here isn't even fair. Tyson Campbell has decent coverage, but Grimes climbs the ladder, high points the ball, and comes down inbounds. That's an NFL catch right there.
3rd quarter 11:54: Evan McPherson X3 for his 51 field goal. Again, McPherson didn't just make this kick: he put it in the middle third between the uprights, and with several yards to spare. You couldn't place it much better than that.
3rd quarter 10:22: Kaiir Elam X2 for his interception. Sure, this was more of a bad throw than a spectacular play by Elam, but he was alert enough to make the play and make Georgia pay for Stetson Bennett IV's terrible throw.
3rd quarter 3:55: James Houston IV X2 for his big hit on D'Wan Mathis. Younger Gator fans who weren't alive  for or cognizant of the Brandon Spikes hit on Knowshon Moreno in 2008 had a chance to watch a pretty impressive reenactment. Mathis took off and tried to get some yardage with his feet, but Houston promptly cut his run short with a violent hit that stopped him dead in his tracks for a gain of less than one. Georgia would score on the drive, but this play is going on Houston's highlight tape, let's put it that way.
4th quarter 8:00: Marco Wilson X2 for his PBU. A sluggish second half means a long gap between plays that result in helmet stickers, but Wilson is as fitting as any to break that drought. Wilson- who has to stew over a rough performance against Texas A&M by sitting out against Missouri- came up huge with a pass breakup on third and long to force a Georgia punt midway through the fourth.
4th quarter 7:50: Kyle Trask X11 for his improvisation and Malik Davis X5 for his incredible catch. To their credit, Georgia did finally attempt to cover the wheel route, but they would have needed thirteen defenders and a long pole to stop this catch from happening. Trask felt pressure, stepped up in the pocket and fired this ball to a place where only Davis could get it- if he contorted his body 180 degrees and went up high for it. And he did.
4th quarter 6:15: Kadarius Toney X2 for his 21 yard catch and run. This was not one of Toney's better days, and yet he still managed to have a major impact with this critical conversation of a 3rd and nine that allowed Florida to bleed more time off the clock. Whatever realistic shot Georgia had to get back into the game was gone when Toney put his foot in the ground and executed one of his physics-defying jukes to gain more yards.
4th quarter 4:05: Shawn Davis X2 for his interception (and return). Normally, batting the pass down is considered best practice when it's fourth and long and you're camping under the ball more than twenty yards past the line of scrimmage, But Davis turned into a punt returner here, returning the wounded duck 36 yards deep into Georgia territory and thus taking the pressure off of Florida to have to move the ball much.
4th quarter 1:43: Evan McPherson X4 for his 34 yard field goal. Of course McPherson had to end the day with a make after his first miss of the year.
4th quarter :07: Amari Burney X2 for his interception. Checkmate.