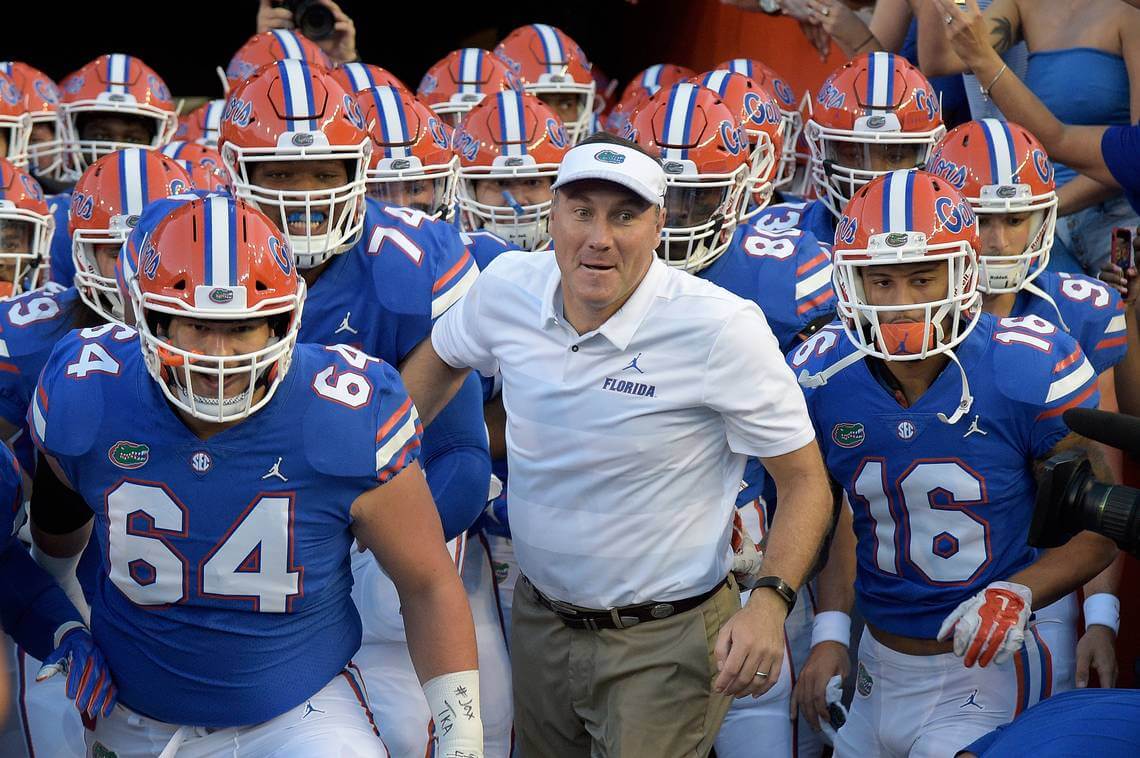 The Gators' recruiting recent endeavors can be summed up with a synopsis not unlike a bunch of little kids swinging away at a dangling piñata. After much time and effort hacking at it to no avail, one well-placed swing and the fruits of their labor suddenly began raining down on them.
As such, it was time to give our recruiting Big Board a massive overhaul.
Player
Hometown/School
Position
Avg ⭐️ ranking
Odds
School(s)
Jason Marshall
Miami, FL/Miami Palmetto
CB
⭐️⭐️⭐️⭐️⭐️
90%
Terrence Lewis
Hollywood, FL/Miami NW
OLB
⭐️⭐️⭐️⭐️⭐️
<5%
Leonard Taylor
Miami, FL/Miami Palmetto
DT
⭐️⭐️⭐️⭐️⭐️
20%
Maason Smith
Houma, LA/Terrebonne
DT
⭐️⭐️⭐️⭐️⭐️
10%
FLA LSU ALA UGA
Marcus Burke
Jacksonville, FL/Trinity Christian
WR
⭐️⭐️⭐️⭐️
95%
Tyreak Sapp
Fort Lauderdale, FL/STA
DE
⭐️⭐️⭐️⭐️
90%
Ahmari Harvey
Tallahassee, FL/FSU School
S
⭐️⭐️⭐️⭐️
5%
FLA MIA

AUB

UGA
Bryce Langston
Ocala, FL/Vanguard
DE
⭐️⭐️⭐️⭐️
55%

FLA

 LSU FSU UGA
Carlos Del Rio
Powder Springs, GA/McEachern
PRO QB
⭐️⭐️⭐️⭐️
>95%
Tunmise Adeleye
Bradenton, FL/IMG
DE
⭐️⭐️⭐️⭐️
60%

FLA

OHST ALA TA&M
You can check it out in its entirety here. Do note that this year's Big Board is structured a bit differently than prior years; most notably, different priority tiers are set on different pages. You can toggle through the priority tiers via the menu at the top of each page.
So, what's new in our mid-August update?
Well, for one thing, a whole host of new commitments 
now have that Gator head adorning the "schools" tab. Florida has picked up nine different commitments since our last update. Two of them I had listed as top targets: cornerback Jason Marshall and wide receiver Marcus Burke. Three others were labeled as "high priority" targets for Florida: defensive back Kamar Wilcoxson, defensive tackle Desmond Watson and safety Corey Collier.
Aside from the new commitments, Florida seems to be in hot pursuit of two more top targets: Tunmise Adeleye, a recent Ohio State decommit, and Bryce Langston, both defensive ends. Adeleye is rumored to be high on Florida now that his IMG teammate Kamar Wilcoxson is onboard (among other reasons). Langston, for his part, was a former Gator commit who backed off that pledge in the wake of the now-infamous Chris Steele saga, but has been trending up on the Gators as well.
Florida also has its hand in the recruitment of a few more players in the high priority category. Safety Terrion Arnold has been quietly gathering some steam toward Florida, and the Gators aren't out of it yet with outside linebacker Xavian Sorey. And don't count the Gators out in terms of flipping a few players currently committed elsewhere.
For those unfamiliar with recruiting, I should point out that this Big Board is simply a gauge of who Florida is going after on the recruiting trail (or in a few cases, should be). There's no way Florida can or even wants to land everybody on this list, or even half the kids on it; this is simply a breakdown of which recruits the Gators are interested in and vice versa.
For the Gators to land four of its top ten targets in a recruiting class would be very, very good. Land another one to make it half of their top ten targets, and that would qualify as a great job by Dan Mullen and his staff; any more and this officially becomes a sensational class given its depth and quality from top to bottom. And with nearly half of the Gators' class coming from either the "top targets" or the "high priority" tabs, it's clear as day that Florida did not settle in order to fill out its class, but identified who it wanted early on and landed a large portion of them.
Of course, there are still a few months to go in this cycle. But as it stands now, Florida's staff has, for the most part, taken care of business with this class.