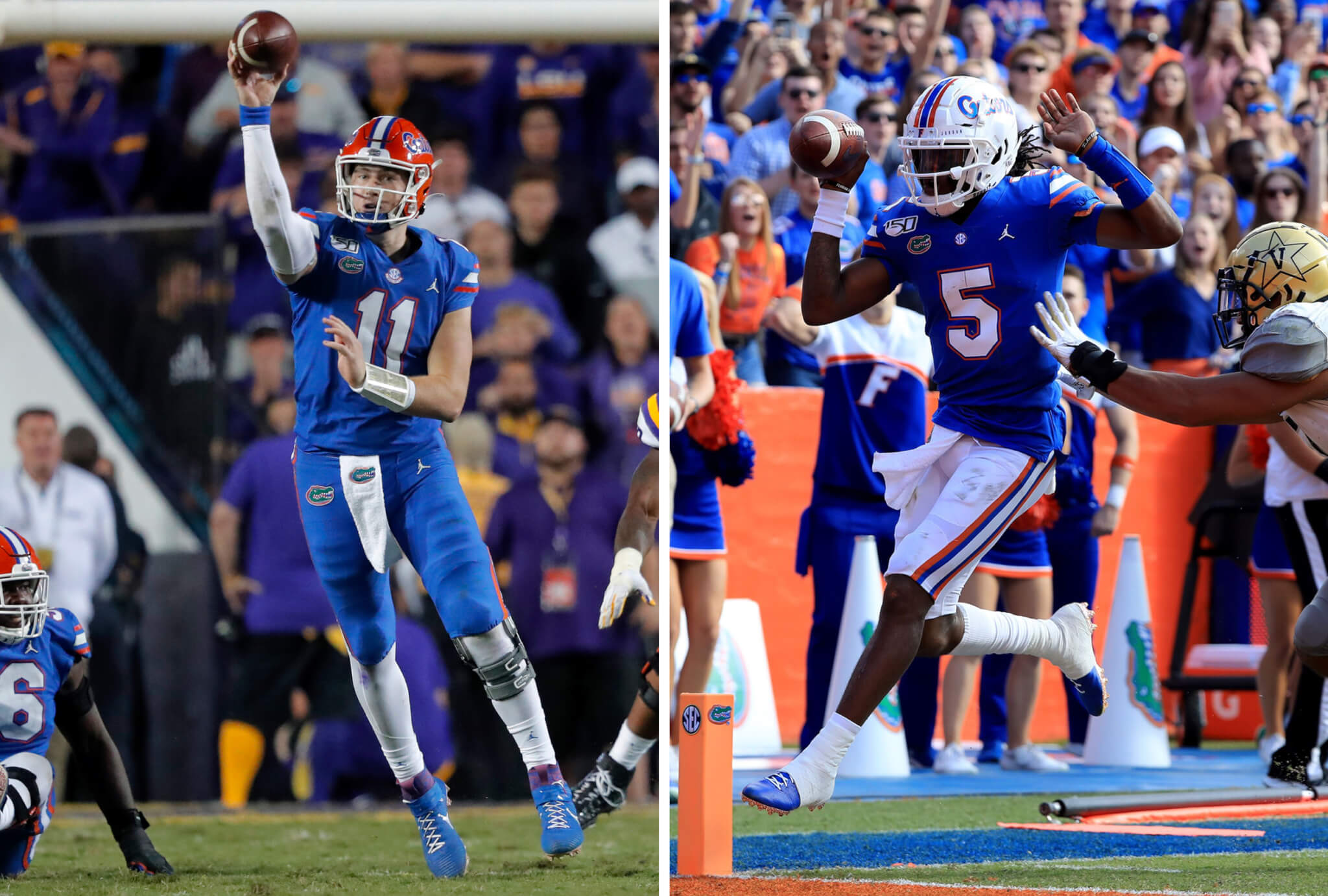 The "Kyle Trask Emory Jones" debate is in full swing.
Yes, thanks to the COVID-19 pandemic that has, among other things, lengthened college sports fans' offseason, the fanbase-wide argument regarding who should be the starter at the most important position of Florida's most popular sport has already heated up to late-August form. And contrary to what those who strongly take one side or the other on this issue say: no, the answer isn't as simple as one or the other. I plan to delve deeper into the X's and O's of both playing with both Trask and Jones in a film room session later in the offseason, but for now, it's important to remember what, exactly, is being debated.
Let's start by establishing what makes this quarterback debate different from those Gator fans have engaged in in years past. For starters, Florida has two quarterbacks that are capable of running the team from July to January and winning at least eleven games. We know this because we've seen it.
After seven years of riding the bench, we watched Kyle Trask step onto the field and calmly lead Florida to a comeback win over Kentucky, and only get better from there. There were hiccups along the way, but he led Florida into LSU's Death Valley and nearly pulled off a daring nighttime robbery, matching Heisman Trophy winner Joe Burrow strike for strike until the defense wilted in the fourth quarter and Trask finally made a late mistake. And though he wasn't great in a loss to Georgia, he bounced back to lead Florida to four straight wins to cap the season, including a weird Orange Bowl game (more on that in the film session) that gave the Gators their second consecutive New Year's Six Bowl win and top ten finish. There's still room for him to grow, but for the most part, it's safe to say that we pretty much know what we've got in him: he's a very good, albeit not great, college quarterback. And that's not to dismiss the possibility of him coming out of nowhere with a Heisman worthy season the way Joe Burrow did, but we can finally sleep well knowing that in the worst of circumstances, he's the best proven quarterback Florida has had since Tim Tebow who isn't named Will Grier.
Meanwhile, we haven't seen nearly enough of Emory Jones to anoint him as the second coming of Cam Newton. But we have seen enough of him to know that he's capable of making big throws in key situations, and we also know that he's a highly dangerous weapon in the running game. That latter piece is something Trask does not bring, and it's critical to keep that in mind because a quarterback who's even an adequate-to-good passer and an explosive runner is more of a natural fit to succeed in Dan Mullen's offense than Tom Brady or Peyton Manning would be. He's also young, with lots of room to grow, and the thinking is that he would quickly get better if he were the full time starter because of the trial-by-fire hypothesis. Those two things are likely why there are many people clamoring for Jones to start as there are.
And this is a stark departure from the debate Gator fans were having last year. There's no need to continue to harp on Feleipe Franks' struggles given that most of the fan base has already exhausted its vocabulary on him, myself included. But Franks was the ultimate grab bag of possibilities as a quarterback, and that statement could be backed up by two years of tape that featured similar quantities of incredible and incredibly bad plays in each game. Whether or not an individual fan would be willing to admit it publicly, I get the sense that deep down, most if not all fans have always understood the Gators' limitations as a program with him as the starter. The argument to keep him as the starter in 2019 had more to do with the fact that he had experience, and the conjoining hope and blind faith that it would translate into better results, rather than actual game film that shows promise, consistency and improvement all at the same time as is the case with Trask.
This year's debate is different. We saw Trask come in cold off the bench and lead Florida back to victory in the face of certain death against Kentucky. We saw Jones come in cold off the bench and use both his arm and his legs to keep the offense humming in a tense game against Auburn until Trask was able to return. And throughout the year, we saw the two work in tandem in a vein similar to Chris Leak and Tebow in 2006. So whatever Dan Mullen elects to do with his quarterbacks, we've got past results that we can reference to boost our confidence in the offense. (Because let's face it, publicizing our confidence in our teams is about 85% of what sports fans do on social media. It's called "capping.")
The most important thing to keep in mind, though, is that Mullen probably already knows who his starter is going to be on September 5th when Eastern Washington rolls into town. Even in his worst performances, Trask has done nothing to merit losing the job. What's more, thanks to the cancellation of spring practices, Jones has lost out on a lot of the practice reps he could have used to make up some ground. And if you look past Mullen's coach-speak lines like "there's competition for starting spots every day," it becomes clear that he's a big believer in the old adage, "if it ain't broke, don't fix it." He rarely makes personnel changes unless it's for a specific package or look in a given situation. And he has no reason to believe he can't win a national championship with Trask given that Trask wasn't really responsible for either of Florida's two losses last year. So if he has what he believes is a national championship winning signal-caller, why should he bench him?
By the same token, we also have no reason to not believe that Jones won't continue to be an integral piece of this offense. With a few exceptions (and it's worth pointing out that those few exceptions were rather disturbing), the offense usually transitions smoothly from Trask to Jones and vice versa. Mullen trusts Trask with a larger portion of the offensive playbook, so he gets most of the snaps. Jones' sudden entrance into the game at any given point forces the defense to have to account for another runner, but he's proven to be enough of a threat with his arms that opponents can't just ignore it. When defenses appear to adjust from aligning against a pocket passer to a dual threat, Mullen goes back to Trask, his more trusted and experienced passer to throw them off once more. That was the game plan last year and there's no reason to believe it won't be again this year barring an injury.
Additionally, all signs point to Jones being the starter in 2021. He's almost certainly not going to be unseated by what I'm assuming will be a redshirt freshman in Anthony Richardson or a true freshman in Carlos Del Rio, not with three years in Mullen's system- two years of heavy relief work and a third year of live cameo appearances- in his background. Taking a redshirt year in 2020 and transferring after four games is off the table because he already took a play-four-games-and-redshirt year in 2018, and because he'd likely have to sit out yet another year before becoming the starter. And short of the unforeseen, there's no logical reason for him to transfer anyway since he probably knows the starting QB job at Florida lays one season away anyway.
And all of that is part of why these debates, while healthy as long as they remain focused on football and grounded in reality, become detrimental the more heated they get. Pointing out tendencies or plays is fine, but when the discussion devolves into ripping the bad reads or decisions either Trask or Jones has sporadically made, it becomes a waste of time given that the topic of debate has probably already been settled- and rightfully so.
The reality is that for the first time in over a decade, Florida has not one but two different quarterbacks that I legitimately believe that Dan Mullen can win with. Those who have been Gator fans before 2019 clearly remember a time when the problems surrounding the Gators' quarterback position were much darker and gloomier than this. As far as QB issues go, having to decide between two good ones is as good as it gets.