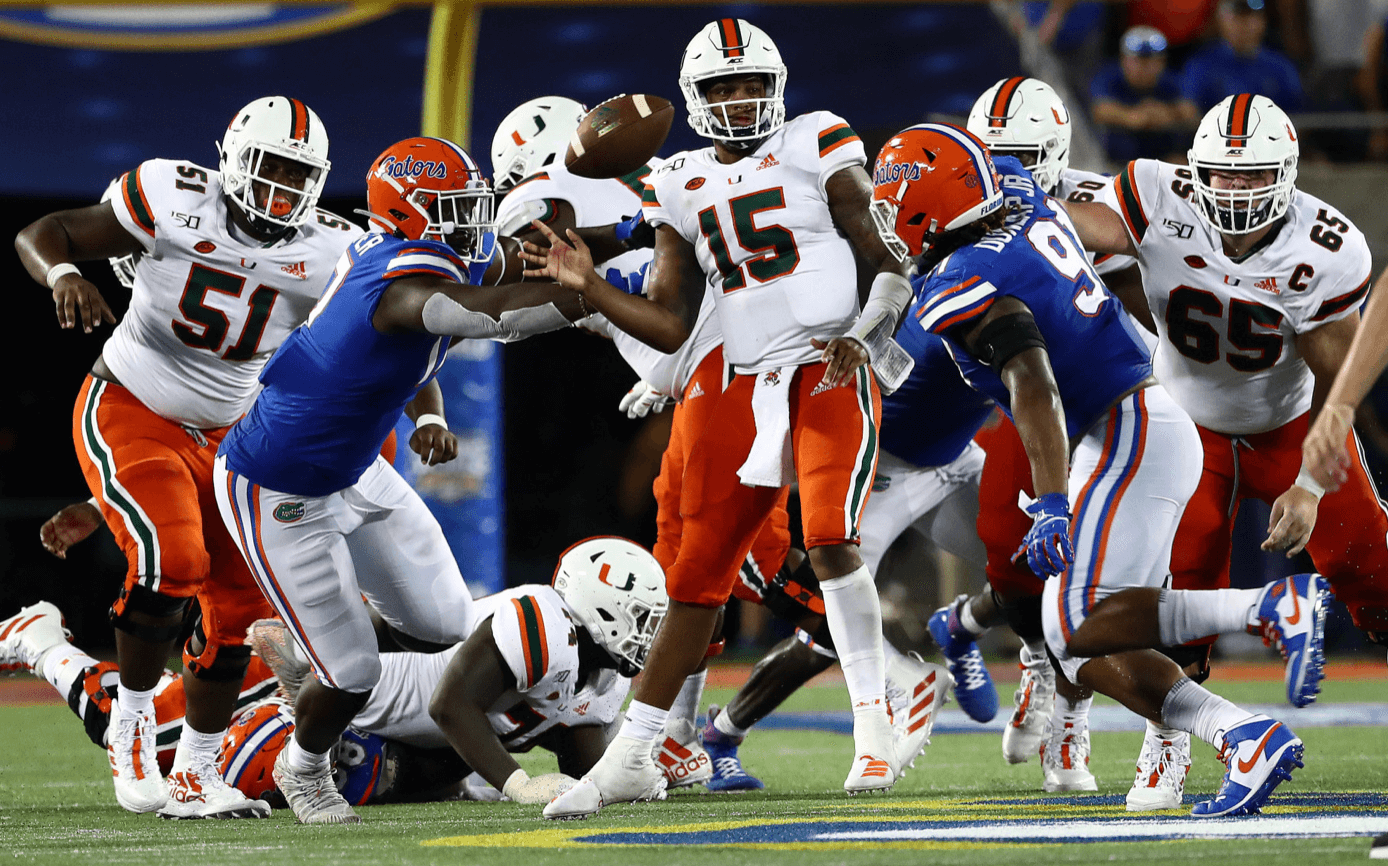 Having completed our offensive position previews, today we move to the defensive side of the ball. And as is the case everywhere in the SEC, it starts up front.
Previously previewing: quarterbacks | running backs | wide receivers | tight ends | offensive line
The leader: DT Zachary Carter
Don't be fooled by the DT label on the depth chart. Carter can line up at end, the hybrid "BUCK" spot or even at linebacker and produce. Carter, the Gators' returning leading sack artist from a year ago (4.5), moves to an inside role this year where he'll be expected to anchor the line. Though more naturally suited to line up outside, Carter is plenty versatile enough to handle the position change thanks to his strength and quick hands, allowing others who maybe aren't quite as flexible to play in the outside positions they're more comfortable at. This guy has a nose for the football and figures to be an imposing presence in the trenches as opponents try to stop an interior lineman with a linebacker's athleticism.
The second-in-command: DE Brenton Cox
Too bad for Kirby Smart that he never knew what he had in Cox, a five star signee out of Stockbridge. But one man's trash is another man's treasure (which, by the way, is the only acceptable context in which to refer to Cox as "trash"), and Dan Mullen was more than glad to take him off the Bulldogs' hands. Cox has wowed coaches with his performance this offseason, so much so that the staff elected to give him the revered #1 jersey that's "reserved for ballers," as Mullen put it. Like Carter, I would have thought Cox would be better suited for the BUCK spot due to his linebacker-esque skill set, but the other end of that is that he's tremendously athletic and can wreak havoc up front. Florida is going to miss Jon Greenard, but Cox may be even more physically gifted and therefore shouldn't miss a beat as the Gators' resident gameplan-assailant.
The sleeper: DT Gervon Dexter
I fully expect Florida's line to do a little bit of shuffling at some point in 2020, but even if I'm wrong on that count and Dexter remains a backup the whole year, keep an eye on him as the season progresses. Dexter obtained five-star status at the last possible moment in his recruiting process and has impressed coaches and teammates alike this offseason. His size and strength are all but unmatched for a freshman and he poses an immediate matchup problem in the trenches for even the veteran offensive guards and centers. He'll play, possibly a lot, and here's betting that when he does, people will notice him.
The dark horse: BUCK Jeremiah Moon
What Brett Heggie is to Florida's offensive line, Moon is to the defensive line. He's a redshirt senior, and thus a seasoned veteran who's experienced both the highs and lows of the past four years. Also like Heggie, Moon has some inter-positional flexibility, meaning he could potentially see time at defensive end or linebacker if circumstances dictate it. Unlike Heggie, though, Moon has played intermittently during his time in Gainesville and shown flashes of promise here and there, but now looks to put it all together in 2020. While opponents will likely key on Carter and Cox, Moon will have his opportunities to shine.
Others to watch for: NG TJ Slaton, NG Marlon Dunlap, DE Andrew Chatfield, BUCK Khris Bogle, BUCK David Reese, DT Kyree Campbell
Slaton is set to join Carter, Cox and Moon as starters on the front line of the defense. The rest of the guys listed above therefore join Dexter in the "he won't start, but watch out for him to make plays in reserve roles" category. Florida's depth on the defensive line will allow them to frequently rotate guys in and out of the game, and when they do, look for their backups to not miss a beat. Dunlap is a senior who had a hand in some of Florida's sack parties against in-state rivals last year, and Chatfield, Bogle, and Reese are youngsters who have done nothing but earn praise this offseason. It's never good to see a starter get injured or sick, but if there's one position where Florida can afford it more than others, it's on the defensive line.
Position overview
Turner and the Gators were already prepared for life without Jabari Zuniga, who only played a third of last season, but the loss of Greenard really, really hurts. And yet somehow, thanks to superb recruiting and Kirby Smart's ill-fated misevaluation of Brenton Cox, Florida's defensive line might be even better in 2020 than it was in 2019. Cox converting his hype into proportionate results will be key, of course, but with guys like Carter, Slaton, Moon and Dunlap lining up near him, Florida has an array of proven playmakers on the defensive line and promising young talent behind them. These guys will be good in 2020. Really good.
Position grade: A-
Florida doesn't return the most production on its defensive line in the SEC, but the surplus of playmakers here makes it an obvious strength of this team. DL coach David Turner has amassed quite an impressive position room both in terms of talent at the top of the depth chart and in terms of depth. The heavy personnel rotations he figures to make means that the Gators' defensive line is all but guaranteed to stay fresh throughout the course of the game, and with so many talented youngsters set to get their feet wet, this defensive line is built to succeed- not just this year, but for the long haul.