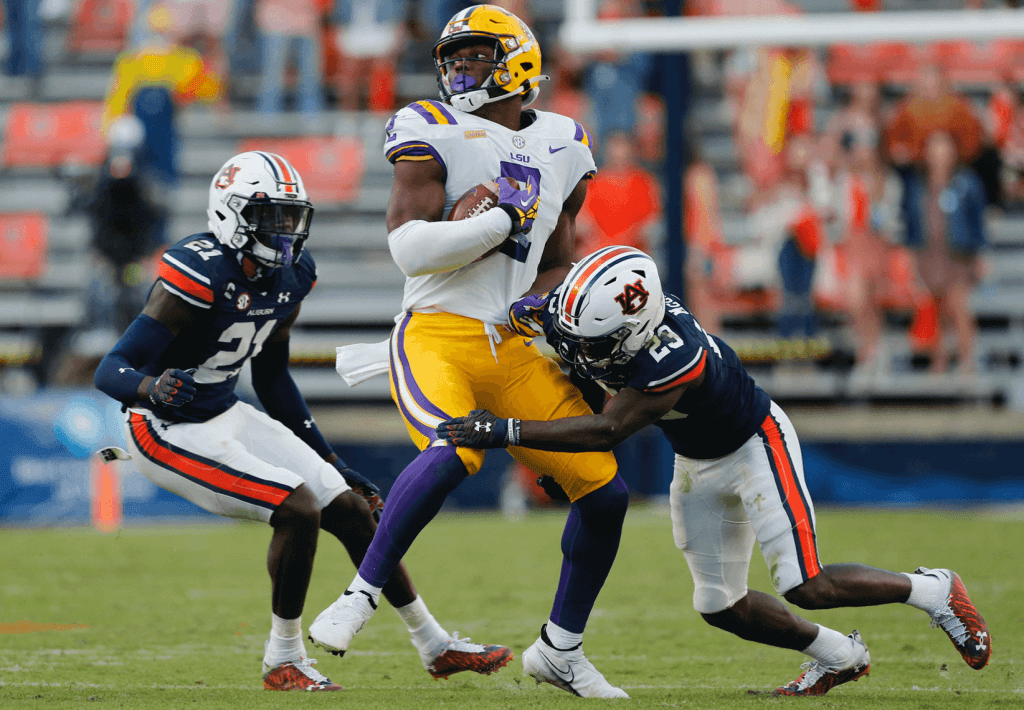 It was four weeks ago that LSU tight end Arik Gilbert announced that he would transfer to Florida.
On the surface, the move seemed to make sense. He wanted to be closer to where he grew up in the Atlanta suburbs. Gainesville isn't exactly around the corner, but it is just a four and a half hour drive as opposed to a plane ride to Baton Rouge. Plus, there was the pedigree from Tim Brewster of developing tight ends, and even with Kemore Gamble and Keon Zipperer on the roster, Gilbert seemed a lock for instant playing time.
Tensions grew, though, when Gilbert didn't enroll immediately and the Gators started spring practice without him. Fans began reasoning that the longer it took for him to enroll, the more reason there was to be fearful that he may not make it to Gainesville at all. And then today, fans' worst fears were realized when Gilbert himself announced that he was re-entering the transfer portal, and would look to continue his college football career elsewhere.
With the announcement came the introduction of all kinds of theories from every corner of the internet. Some are speculating that he wasn't going to make it into UF academically. Others have begun wondering if there was a bag (read: money) involved. And so on. Of course, we don't know any of that, and so it's best to let those rumors stay just as they are: as rumors.
But what we do know is that Gilbert is now back in the transfer portal, and barring a Kamar Wilcoxson level third crazy turn in his re-recruitment process, he will not play for the Florida Gators.
And that's most decidedly not good, albeit not a fatal loss: Florida still has two of the five or six best tight ends in the SEC in Zipperer and Gamble, who both produced respectably a year ago despite having to battle Kyle Pitts- and each other- for targets and catches. The Gators also added Nick Elksinis in this past recruiting class after flipping the Jacksonville native from Penn State, and he's quietly put together a stellar spring so far and could be an instant impact freshman. So Florida was never exactly hurting at the tight end position by any means before Gilbert committed to Florida, and thus isn't exactly hurting there now either.
Nonetheless, while Arik Gilbert never suited up for a single practice and would have only been a luxury as opposed to a necessity, it stings. This was a luxury that Florida had thought it was going to have and now will not, and therefore Emory Jones- and the Florida staff- now does not have a security blanket in the offense that it had banked on having when Gilbert committed.
In other words, life will move on for the Florida Gators, but not without a sigh and a roll of the eyes- and hopefully, a serious internal look into how this happened, and what steps can be taken to ensure it doesn't happen again.