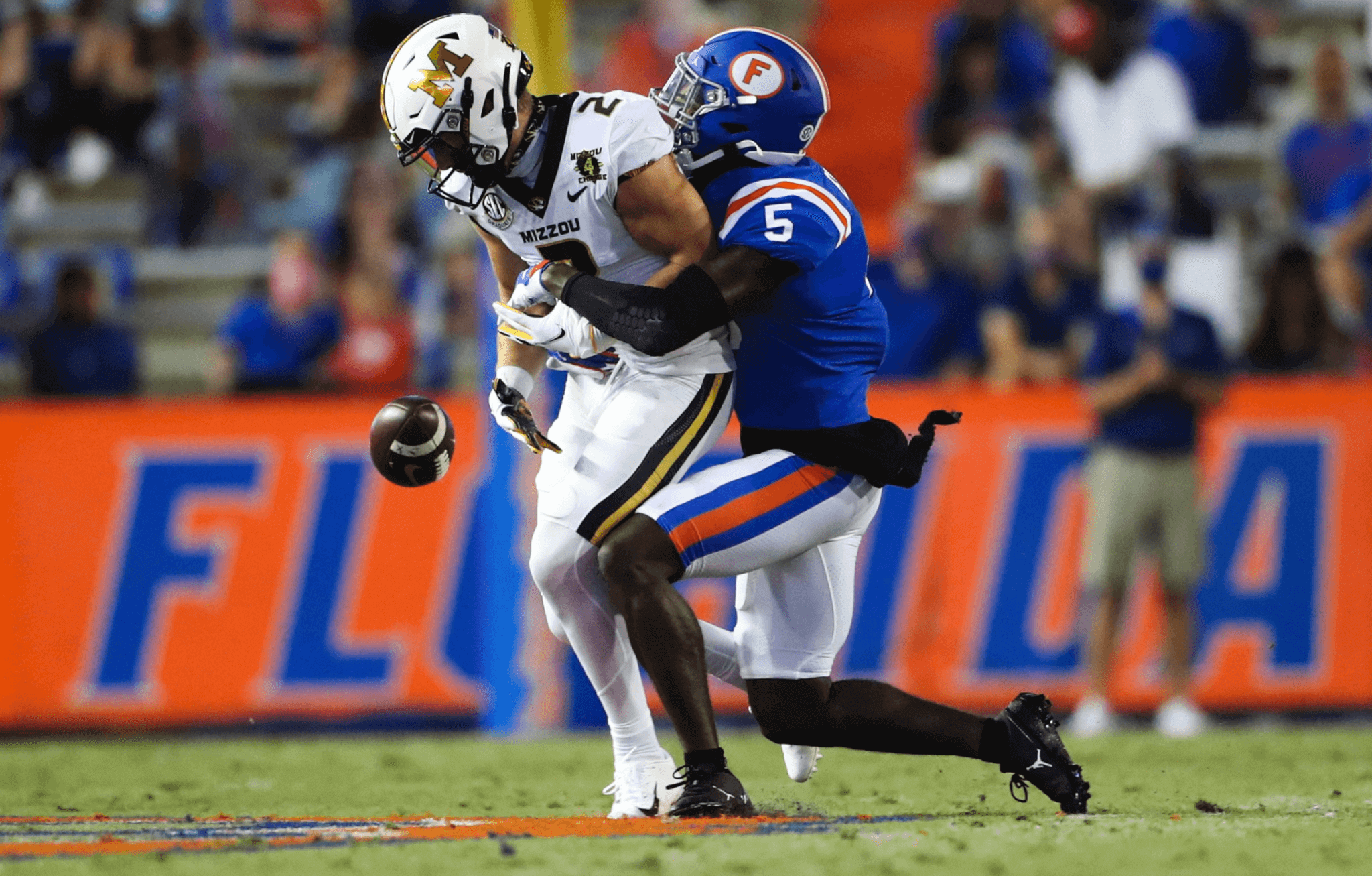 Florida bounced back from a rough loss to Texas A&M three weeks ago with a statement win against Missouri. What stood out in the process?
The defense isn't great, but it's getting better.
Even without three starters in the secondary (and without Zachary Carter in the second half after he got ejected for his part in a bench clearing brawl) the Gators' defense looked the best it has all year. Missouri gained just 248 yards of offense on the night, and a good chunk of that came in garbage time when the game was long over. Florida's depleted secondary did get baked a couple of times- including once when Jalen Knox beat Rashad Torrence II and dropped what would have been a touchdown pass- but for the most part the youngsters stepped up and answered the bell. Similarly, the front seven did allow some yards on the ground early, but locked down in the red zone and kept Missouri out of the end zone. If the defense plays like this, Florida has a real shot against Georgia.
Kyle Trask is officially a Heisman contender
We're at the point now where even the dumbest of social media trolls have to acknowledge this. Trask isn't just worthy of Heisman talk, he's probably one of three or four frontrunners right now after yet another strong showing: 21-36, 345 yards and four touchdowns. He did throw a pick six (on which he was hit as he threw, so it wasn't even really his fault), but other than that he did nothing to dissuade that kind of hype. Trask has now thrown for eighteen touchdowns in his first four games of the 2020 season- a new SEC record. And, oh yeah, he's winning games along the way.
Tempers might cost Florida against Georgia
Offensive linemen (and teammates, period) are going to protect their quarterback, and when Trask took a late hit on the final play of the first half, the Gators charged the Mizzou sideline and a little party started. But the Gators may have gotten more than they bargained for. Pushing and shoving quickly turned to punched and even a throat grab and squeeze from a partially obscured Missouri player. Now the matter falls into the hands of the SEC office, which has the jurisdiction to suspend players for their next game… which in the Gators' case, is against Georgia for all the marbles in the SEC East.
Round of applause for Chris Howard!
How about some appreciation for the backup kicker? Many Gator fans were nervous when Evan McPherson was announced as inactive for the game, as one doesn't have to look too far back into Gator history to remember a time where the kicking game was an adventure. But Howard- the little known backup kicker- stepped in and did a great job. Howard drilled field goals of 28 and 32 right down the middle, and connected on all five extra points without incident. If McPherson can't play again next week, Florida has to feel at least a little better with its kicking situation sans McPherson than they did coming into the day.
The verdict: Florida's not where it wants to be yet, but it's getting there
The bad news: Florida let Missouri get some early pressure on Trask and pick up some yards between the twenties, and stalled in the red zone on its first two drives before the pick six on the third. The good news? Florida turned in easily its best performance of the season on defense, and its most complete game overall. And even if it turns out that the Gators are going to be missing some players due to suspension next week, Florida did such an admirable job playing shorthanded today- albeit against an overmatched opponent- that it shouldn't be a death sentence by itself next week, not with the team finally getting back into a groove and several new faces stepping up into key spots.