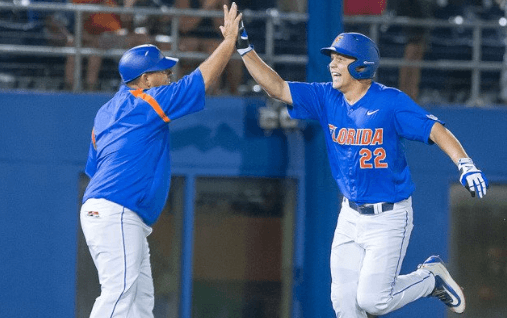 It wasn't that long ago that many were wondering if the Florida baseball team was on track to fall out of the top 16 in the country, and lose the chance to host postseason play. Or worse, flame out immediately in the NCAA Tournament thanks to their listless bats.
Oh, how quickly things can change.
A 3-1 week that included finishing off the season sweep of FSU and a series win over a traditionally pesky Vanderbilt club has erased all that. The Gators actually fell from #10 to #12 in the D1Baseball Top 25 poll this week, and only moved up one spot from #16 to #15 according to BaseballAmerica, but it's about more than that. It's about sudden offensive explosions this past week, when Florida scored 10, 10 and 20 runs in three of their four games, despite mysteriously getting shut out in the other one. It's about the entire Gator lineup coming through with big hits in big spots.
Most importantly, it's about the potent offense we've been hearing about- and wondering about- since this offseason finally stepping up to match the top notch pitching and defense.
As fun as it is to beat FSU, in anything, that midweek win alone should not have been taken at face value. The Seminoles are spiraling out of control, and are in danger of missing the NCAA Tournament entirely if they don't pick it up soon. But when the ten run output from that game is then combined with ten and twenty run outputs, the latter of which was a school record against Vanderbilt, it becomes more of a realistic thought that Florida's offense has finally found its groove. Thus, it becomes fair to expect more of this team- or at least what we expected when the season began.
For starters, JJ Schwarz is not having the year he was expected to, which is fine, in a vacuum, since he gets treated much more carefully and doesn't get as many good pitches to hit as he once did before he was well known. But what's more concerning is that only two of the Gators' regulars (meaning more than 50 at bats so far this year) are hitting over .300. And while it's never a bad thing to have guys like Nelson Maldonado and Ryan Larson hitting over .300, it doesn't exactly bode well for the supposedly offensively loaded Gators that the bottom of the order is completely carrying the team.
There's plenty more to be worried about, too. Schwarz actually leads the team in the home run category (along with Jonathan India), but that's not a positive because he's only got four through the first 36 games. The Gators have consistently left men on base in clutch situations this year, which has directly led to their demise as recently as last weekend against Tennessee. Worst of all, their pitching, while generally every bit as good as advertised, has shown a tendency to completely implode at times- and when it implodes, it really implodes, as in a "giving up a 6-2 8th inning lead and losing 10-6 to LSU" or "giving up ten runs in four innings to a sub-.500 Stetson team" level implosion.
But this is all simply part of the charm of college baseball.
Like basketball, all you have to do in the regular season to achieve the sport's ultimate goal is make the NCAA Tournament; from that point, everybody has the same mathematical chance to win a national championship. Of course, those schools who host are naturally given exponentially easier paths to navigate to Omaha through, but we've seen Florida get knocked out on its home field twice under Kevin O'Sullivan too, once as the #2 overall seed in its Regional and once as the #8 overall seed in its Super Regional. Which means that there's no substitute for playing your best baseball when it matters most. Or that any team that plays its best toward the end of the year is guaranteed to be rewarded instead of the team that had the better overall year.
And it looks like Florida is playing its best baseball of the season right now, even if the sample size is a week's worth of work. There's still a month to go before the really serious baseball gets played, but if the Gators keep swinging the bats the way they've been swinging them this past week, they'll write their names in history in a more favorable manner than the first half of their season indicated they ever could.