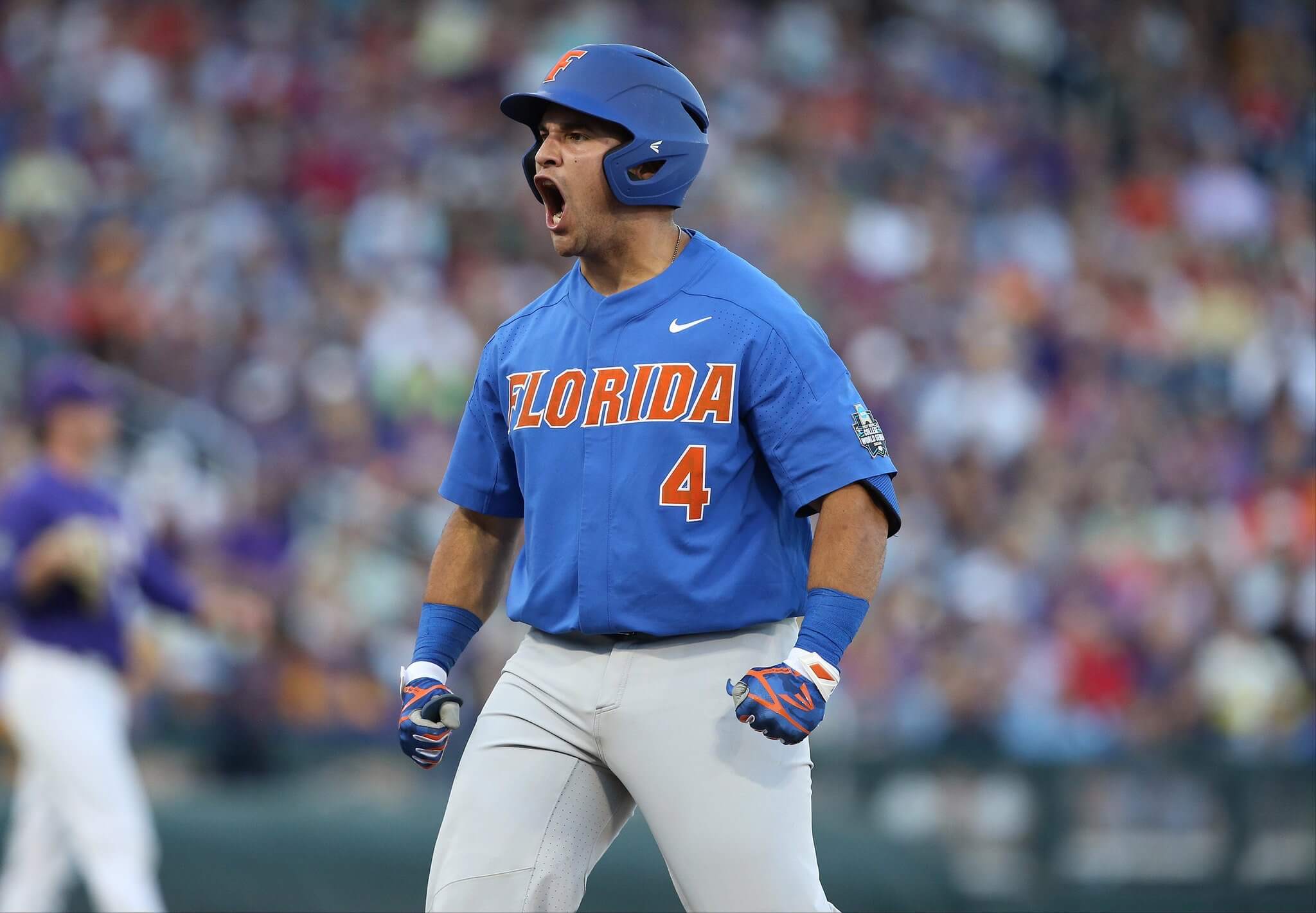 Kevin O'Sullivan's Gators have used a simple formula to win games all year: pitching, defense, and just a little bit of offense.
And though their pitching wasn't quite as strong as it has been times this year, it was good enough to give Florida a 4-3 victory in the opener of the College World Series final against LSU. Now, the Gators have two chances to win their first ever national championship with a 1-0 lead in the best of three championship series, the first of which will be tomorrow night.
Brady Singer got the ball for the Gators, and while he would run into some trouble late, he breezed early. The Tigers were frequently caught off balance by his slider, swinging themselves into some weak groundouts and a CWS Championship Series record 12 strikeouts. He even got some help from wounded shortstop Dalton Guthrie, who sprinted some 120 feet to make a diving catch near the tarp in foul territory despite a tweaked back. And in the meantime, Florida's offense went to work.
The real fun started in the fourth. Russell Reynolds issued a pair of walks to load the bases for Austin Langworthy, who popped one foul down the 3rd base line, but far enough away from the field that all three runners- including Dalton Guthrie at third- were able to tag up and give Florida a 1-0 lead. Jonathan India then ripped one over the center fielder's for a two run ground rule double. And the Gators held a seemingly comfortable 3-0 lead.
But LSU would counter in the sixth with a solo homer from Antoine Duplantis and later, an RBI single from Beau Jordan to cut the lead to 3-2. Singer finally cleaned up the mess he'd started by coaxing an inning ending strikeout. Luckily, Florida fought back immediately, as Langworthy cranked a double into the gap and then scored on Mike Rivera's ensuing single up the middle. That made it 4-2 in the seventh.
Singer regrouped and sent the Tigers down again in the seventh, but gave up a double to Greg Deichmann to start the eighth. He was replaced by Michael Byrne, who gave up a single to Josh Smith… who was subsequently gunned down by Nick Horvath at second trying to stretch the hit into a double.
And that was LSU's last chance. Because Byrne came back out for the ninth inning and proceeded to mow down LSU once again and wrap up his nineteenth save of the season.
Just like that, the 2017 Florida Gators are one win away from etching its name in the record books. Just like that, the 2017 Florida Gators are one win away from going down in history as the one that ended the seemingly endless streak of Omaha futility. Just like that, the 2017 Florida Gators are one win from immortality.
And just like that, the 2017 Florida Gators are one win away from becoming what everyone who signs up to play an NCAA sport wants to be: national champions.