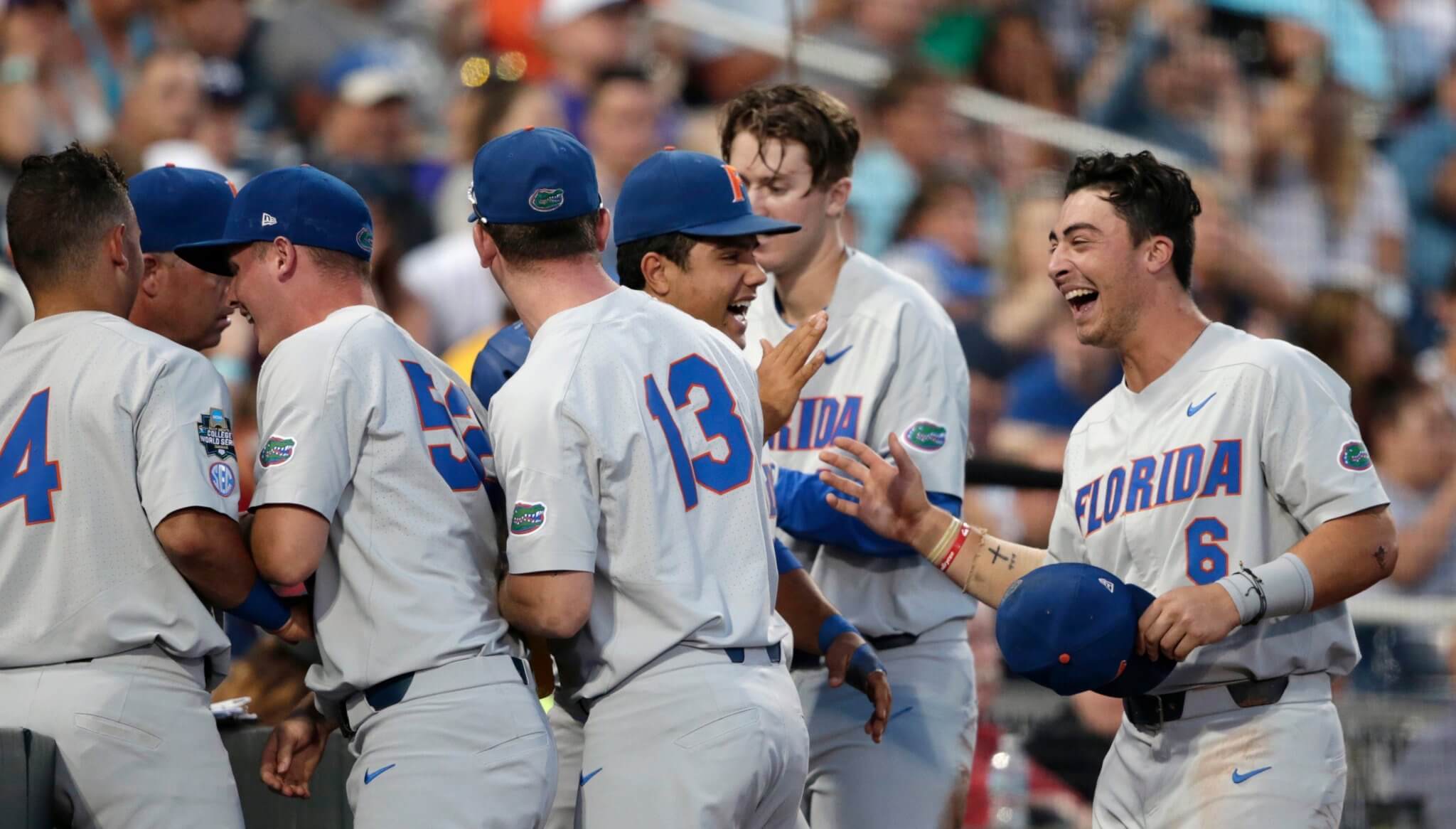 The Gators didn't handle their first two trips to college baseball's grandest stage very well, promptly getting swept by Texas and South Carolina.
They'll get another shot.
Twelve years after their first venture to the CWS Championship Series and six after their second, the Gators will return, this time for a date with LSU. Florida took two out of three from the Tigers back in March.
Florida set up the rematch with their second 3-0 shutout of the Horned Frogs in the last seven days at the CWS. And like the first one, they used an exceptional outing from newly minted Detroit Tiger Alex Faedo and just enough offense to get the job done. In his two games against TCU, Faedo threw 14.1 innings of shutout ball, recorded 11 strikeouts in each and allowed just five hits combined.
Faedo didn't start this game well, missing his spots a few times and mixing up signals with Mike Rivera once, but settled down quickly enough. The Gators then grabbed a lead they would not relinquish in the second inning to give him a boost. Austin Langworthy went the other way with an outside pitch and bounced it down the line for a double, and subsequently scored on Rivera's RBI groundout. Faedo then struck out the side in the bottom half of the frame- and only got better as the night wore on.
Florida's offense struck again in the fifth when Christian Hicks slapped a double into the opposite field gap, and the bobble off the carom allowed Rivera to score all the way from first. For good measure, Hicks drilled a triple two innings later and then came in to score on Deacon Liput's first base bag-aided RBI single.
And those three runs were all Florida needed, because Faedo was unhittable. Again. He let his opponents know it early on, too, with a prolonged and somewhat truculent staredown at the TCU bench after the second inning. The Horned Frogs could never even bring a runner to third base, and only got one to second base against him. There was the slightest, faintest glimmer of hope for TCU when Faedo issued back to back walks in the seventh, but he promptly cleaned up the mess he started with yet another strikeout. Faedo then got one out in the eighth before succumbing to cramps (that, or a 113 pitch count) and giving way to Michael Byrne, who got the final five outs without incident.
So, back to the CWS Finals go the Gators. They won't have Faedo available at all against the Tigers save for a potential quick relief appearance if the series goes three games, but they do have the similarly effective Brady Singer to start Game One and a fresh and healthy Tyler Dyson available for Game Two. And while the Gators' bats haven't been particularly explosive, they've done just enough throughout the NCAA Tournament to consistently win. Which a quick phone call to a baseball fan in Corvallis, OR will confirm is all that matters.
This isn't the best team Kevin O'Sullivan has ever fielded. Far from it. This isn't even the best team in this year's NCAA Tournament. But they're one of the final two teams left standing, and thus, as close to a national championship as they've ever been.