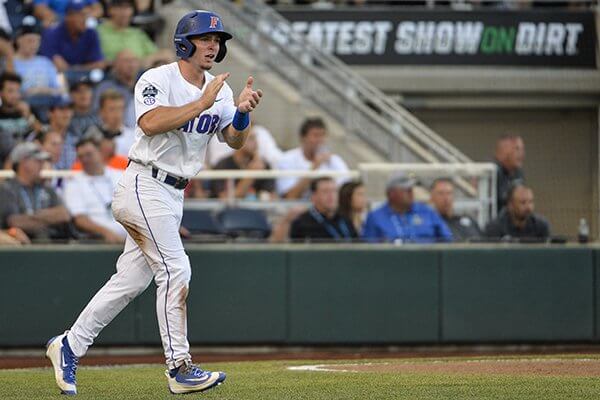 The pitching performance Florida got from Alex Faedo to handle TCU in their CWS opener was said to be one for the ages.
They got one almost as good against Louisville tonight. And this time, they got some offense to boot.
Brady Singer shut the Cardinals down for seven innings, Austin Langworthy and Deacon Liput each smashed home runs- Liput's being a three run jack- and the Gators took care of Louisville, 5-1, in the 1-0 game of the winner's bracket at the College World Series. Florida will play the winner of Louisville-TCU on Friday night, and will get two shots at winning that semifinal game and booking passage to the CWS Championship Series next week.
Langworthy got the scoring started in the third inning. He took an 0-1 pitch the other way, lifting a fly ball down the left field line that just kept carrying and eventually landed behind the wall. Langworthy's shot went down as well timed homer that interrupted ESPN's embarrassing fawning over Louisville prospect Brendan McKay, and gave Florida not just its first run of the game but its first batter to reach safely.
Liput one upped Langworthy an inning later. With two outs, Kade McClure walked Nelson Maldonado in the fourth. Jonathan India followed that up by poking a single over the first baseman's head and into right field. That set to stage for Liput, who teed off on a low pitch and golfed it into the Cardinals' bullpen to make it 4-0 Florida.
Meanwhile, Singer held the Cards at bay for the first five innings, flustering them with a nasty two seam fastball and sending them down in order time and again. Only in the seventh did Louisville mount a notable threat, scoring a lone run on two hits and then loading the bases. And then Singer got out of the jam by coaxing a weak grounder to Dalton Guthrie, who stepped on second to kill the threat. Singer gave way to Nick Horvath in the eighth, and then Tyler Dyson came on in the ninth to slam the door shut.
Now Florida sits in the driver's seat, and gets the added advantage of resting while watching Louisville and TCU use up more pitching arms than they have to. Which means that when Florida faces the winner of that game, not only will Florida get two shots of clearing the pool round, but will be much fresher and thus better equipped to do so. And the added time off will also give the hobbled Nelson Maldonado time to heal his ankle before the final showdown.
The toughest part of the Gators' potential ascent to the college baseball mountaintop is still to come, of course. Should Florida win on Friday, they would face one more hurdle, a best of three series (likely against a seemingly unbeatable Oregon State team) next week with the winner being crowned national champions. Before they get to that point, though, it's worth sitting back and enjoying the ride this team has taken its fans on thus far. Of Florida's prior ten Omaha reaching teams, only two of them won their first two CWS games. So historically speaking, this is uncharted territory Florida is currently occupying in the rarefied air atop their CWS pool.
And if they keep getting pitching performances like the ones they've gotten so far, it'll be a tough task for anybody to knock them out of it.