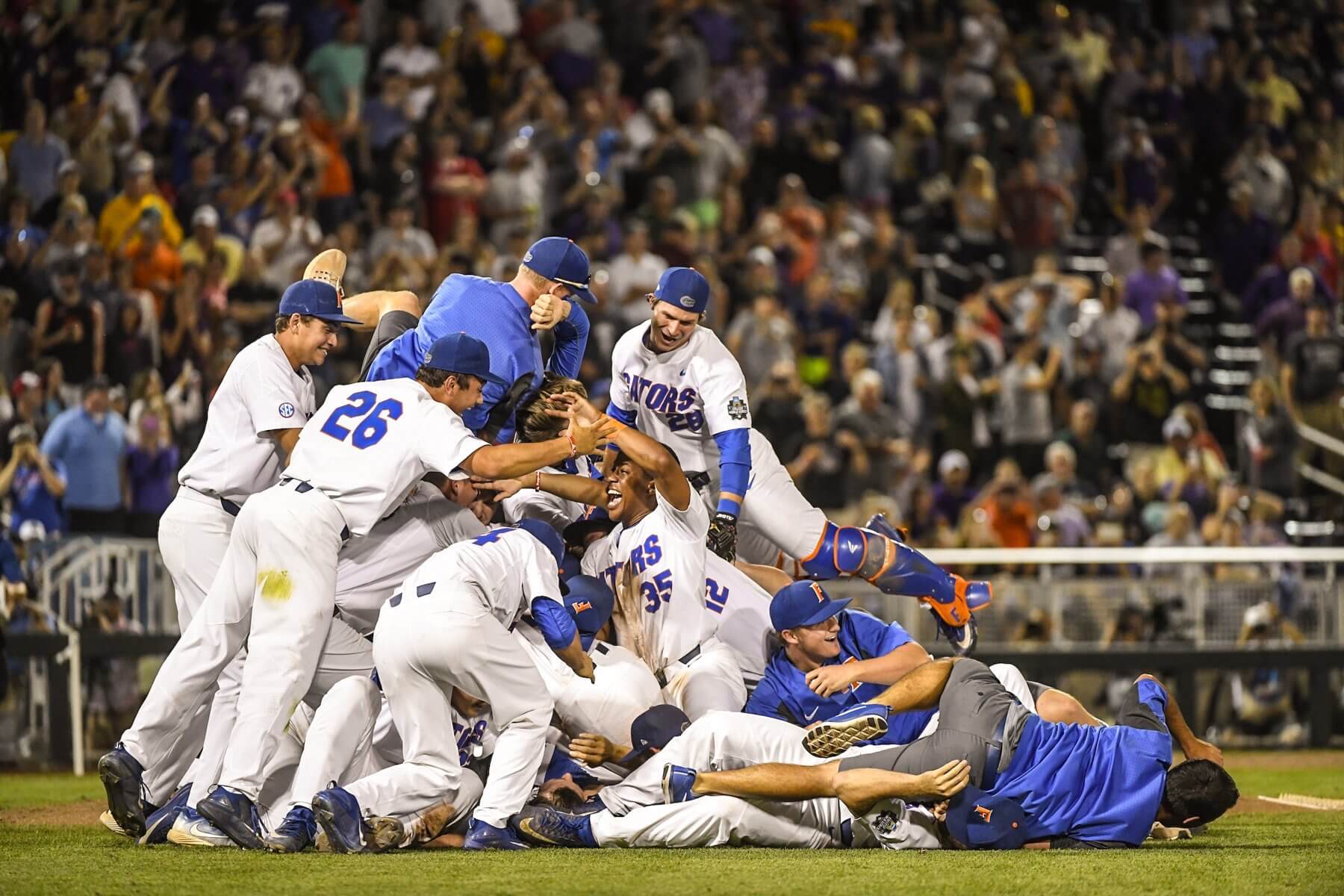 They owned three national championships in football, back to back national championships in basketball and softball, and 38 national championships across all sports. Only one thing was missing in the Florida Gators' collection: a baseball trophy.
And now, 105 years after first fielding a team, they've got it.
Florida held onto a 2-0 lead for most of the night before exploding in the eighth inning to put the decisive second game of the CWS Finals on ice. The 6-1 win complements the Gators' 4-3 victory in Game One of the Championship Series, and ends Florida's 103rd season of baseball the way that over 350 Division I schools aspire to: by flying over the dugout railing and mobbing each other, collapsing in a heap on top of each other, and then getting up and lifting the national championship trophy.
It's great to be a Florida Gator, indeed.
The championship is especially sweet given how close Florida has come before, and perhaps more frustratingly, how many times they've come close. The Gators waltzed to the CWS Finals in 2005 and 2011, only to get swept by Texas and South Carolina. Adding to that reputation of failure were the school's eight other trips to the game's final stage, all of which ended in similar disappointment. But no team appeared better equipped to finally take home that first title than the 2016 Gators, who went two and out at the CWS despite a #1 overall seed, three first round draft picks in their starting rotation, and a lineup stockpiled with power. If that team couldn't win it, it didn't seem like any Florida team ever would.
Turns out, the Gators were just putting it off a year.
The Gators struck first in the first inning when JJ Schwarz singled to left to score Deacon Liput. They then added another run in the second when Liput lined a single into center field to bring home Horvath. And in the third, the Gators appeared poised to blow the game wide open by loading the bases.
But then.
But then Ryan Larson struck out, and then Deacon Liput popped out. And the lead stayed at 2-0 after three, with LSU pitcher Jared Poche hanging on by a thread.
Poche's counterpart, future Florida starter Tyler Dyson, was having a much easier time. LSU seldom worked deep into counts, allowing him to pitch quick innings, and thus, more of them. For awhile, it mattered not the least that Florida couldn't add to its 2-0 lead, because Dyson just kept sending the Tigers down in efficient fashion, only facing the slightest amount of trouble in the fifth- which he escaped by coaxing a groundout to Kramer Robertson. After working himself into a little more trouble in the sixth, Dyson escaped. And despite leaving seven runners on base- and five in scoring position- in the first three innings, Florida found itself just nine outs away from history.
But then.
But then Dyson was replaced in the seventh- he'd more than done his job- by closer Michael Byrne after giving up a single on a swinging bunt, and Byrne promptly gave up an RBI double to Josh Smith. Jake Slaughter then followed that up with a single to make it first and third with no outs. And while not ideal for them, LSU then appeared to tie the game on a double play groundout.
But then.
But then Freeman was called for runner's interference when he slid directly into Dalton Guthrie, and Smith was forced to go back to third. A harmless line out into the glove of a sliding Nick Horvath ended the seventh and stranded Smith to leave the score at 2-1 in the seventh. Of course, that wouldn't be the end of the trouble; LSU would threaten once more in the eighth, quickly placing runners at the corners with one out.
But then.
But then projected Game Three starter Jackson Kowar came on for a mildly surprising five out save situation, illustrating Kevin O'Sullivan's desire to go for the kill in Game Two and not let the series get to a third game. Kowar immediately induced a ground ball to JJ Schwarz at first, who came home with it and watched as Mike Rivera slapped down the tag to keep the tying run from scoring. The ensuing line out to Horvath in center field ended that episode.
And then.
And then Florida exploded with a barrage in the bottom of the eighth that can only be described as 105 years' worth of frustration being unleashed at once. Jonathan India cranked a double down the left field line to get the ball rolling, and that was followed by a walk from Austin Langworthy to put two runners on. Each would move over on Mike Rivera's sacrifice bunt, and the bases were subsequently loaded with an intentional walk to Christian Hicks. Horvath was then hit with a pitch to bring across the Gators' third run, which looked to be an insurance run of critical importance.
And then.
And then the birthday boy Deacon Liput banged a double to plate two more.
And then.
And then JJ Schwarz dotted the "i" of Florida's championship with a sac fly to make it 6-1.
And then.
And then Kowar went back out to the mound to finish the deal, and finish the deal he did with a ground ball to Liput.
Who squared his body.
And threw to Schwarz at first.
Who caught the ball.
And stepped on the base.
End of inning. End of game. End of series. End of season. End of a magical, historical and downright unbelievable run to the first championship for a school that seemed less and less destined to ever win one with each passing year.
And the beginning of an eternity of one small adjustment to the College baseball history books: the inclusion of the Florida Gators.