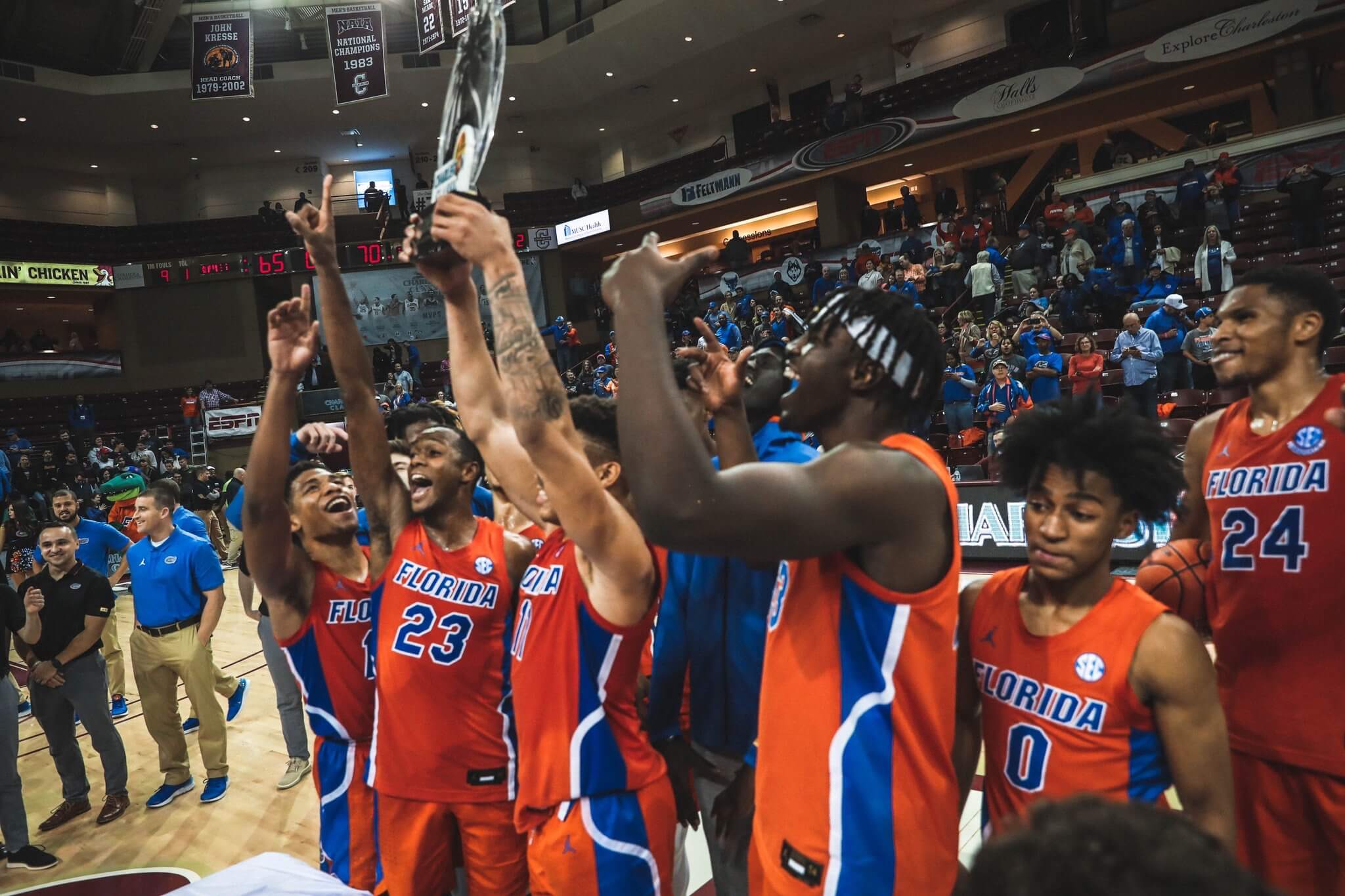 Florida's basketball team could not have possibly handled its first appearance in the national rankings worse, getting blown out by FSU at home and then losing on the road to a mediocre Connecticut team.
It looks like they'll get another shot.
Kerry Blackshear overcame a slow start to finish with another double double, three other players scored in double figures and Florida survived Paul Skruggs' 24 points to pick off No. 18 Xavier, 70-65, in the Charleston Classic championship game. The win gives Florida its first mid-season tournament title since the Gators beat Michigan State and Rutgers in the 2009 Legends Classic in Atlantic City, NJ. More importantly, it provides a ray of hope for a team that looked far from ready to match its lofty preseason expectations as recently as Thursday against St. Joe's.
To be sure, Florida's formula for handing the Musketeers their first loss of the season is not a sustainable one. The Gators shot 67.7% from the floor for the first 33 and a half minutes of the game to build a 66-53 lead with 6:25 to go, and then held on as they cooled off down the stretch. Even when the final horn sounded, Florida had shot 38.9% from three point land- which is going to be difficult for most teams to beat.
Florida first created some separation late in the first half, when Andrew Nembhard buried a three to give Florida a 31-23 lead. A few minutes later, Blackshear hit a jumper to increase the advantage to 39-29 as the teams headed into intermission. The Gators would pick up right where they left off after the break with back to back threes from Nembhard and one from Noah Locke, followed by a midrange jumper from Keyontae Johnson to make it 52-35 with sixteen minutes to play.
Xavier, though, rallied back. The Musketeers drew within six on a Quentin Goodin layup with 10:25 to play. Florida responded with a quick 8-1 spurt to make it 64-51 with seven minutes to play, and after the teams traded buckets, the Gators were still sitting pretty with a thirteen point advantage and under six and a half minutes left. But then Xavier applied a press, Florida slowed the tempo down and the Gators went cold as Goodin got hot. After he hit back to back threes, the latter of which drew Xavier within 68-58 with a minute to go, Florida suddenly had a fight on its hands. The ensuing Florida possession was doomed from the start, and ended with Locke awkwardly chucking up a three that missed the rim and resulted in a shot clock violation. Thus, Xavier had the ball down three with the final shot.
But Scruggs missed the potential game-tying three, and Blackshear grabbed the rebound. Two free throws and a missed last ditch three later and Florida had held on.
The late game offense, highlighted by the final offensive possession, was highly concerning. The Gators clearly have a lot of work to do in breaking opposing presses, and White needs to really think twice before ordering his team to slow the game down when his team is naturally equipped to run. And Florida isn't going to shoot as well as they did last night on a nightly basis, and they need to be prepared to win games in which they don't.
Nevertheless, it's a strong win on Florida's resume, one that gave fans reason to believe again. This team has looked atrocious as recently as eight days ago, and the fact that they looked competent- not great, but competent- gives me reason to think that we've far from heard the last of them.