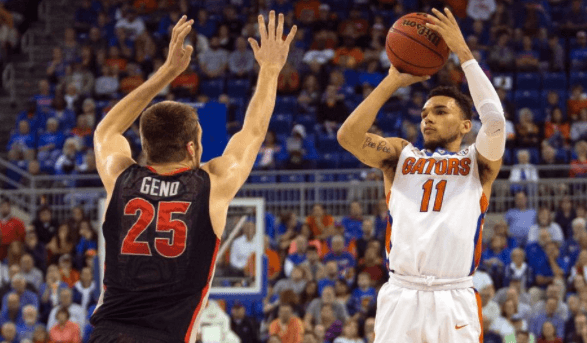 Perhaps knowing that his team finally played the way he expected them to, Mike White allowed himself a little smile as Florida dribbled out the final seconds of a convincing 77-63 win over Georgia. It's a sight that's become quite frequent in this rivalry, but more importantly, it gives White and his assistant coaches a glimpse of just how good their team can be.
The Gators have struggled mightily from three point land so far this year, but they didn't seem to have any problem burying nine of the twenty-three they tried against the Bulldogs. KeVaughn Allen made three of them, Devin Robinson chipped in two more and Chris Chiozza added two of his own. But Dorian Finney-Smith hit the biggest one of all, a dagger from straight away that made it 69-55 with two minutes to play. Florida then used an array of free throws to salt away their 19th win over Georgia in the last 23 games.
The 14 point margin of victory would have been even worse if Florida had hit their free throws throughout the night. The Gators finished the night a dreadful 24-41 from the free throw line, although Kasey Hill was more to blame for that than anybody else with his 8-16 night from the line. Then again, it's not like the rest of this team has a particularly strong history from the free throw line, so I'm not really sure we can throw all the blame on Hill here.
Georgia led briefly in the game's first minute, but Florida took the lead for good on the second John Egbunu dunk in the game's first two minutes. Egbunu would add two more dunks in the ensuing minutes, and the Dawgs appeared to be in serious trouble when Devin Robinson hit a three to make it 24-11 midway through the first half.
But Georgia fought back. The Bulldogs traded buckets with the Gators for a few minutes, and then they begin to hack away at the deficit. Eventually, the Dawgs cut it down to 43-39 early in the second half on a jumper by Yante Maten, but Allen responded with a jumper. A few minutes later, Chiozza hit a step back jumper to make it 56-46, and the Dawgs never got it closer than nine the rest of the way. For good measure, Finney-Smith delivered the knockout punch with 2:12 to go.
The Gators still have a long way to go if they want any shot at achieving every team's preseason goal of a national championship. Championship teams make free throws, simply put. But championship teams also play great defense and come through in the clutch, two things that this Florida team definitely does. This Gator team by no means has all the pieces to win a national championship or even seriously contend for one, but they do have a few of them. And because they spawn hope and promise for an entertaining season, in what's clearly understood to be a rebuilding year, that's good enough for me.