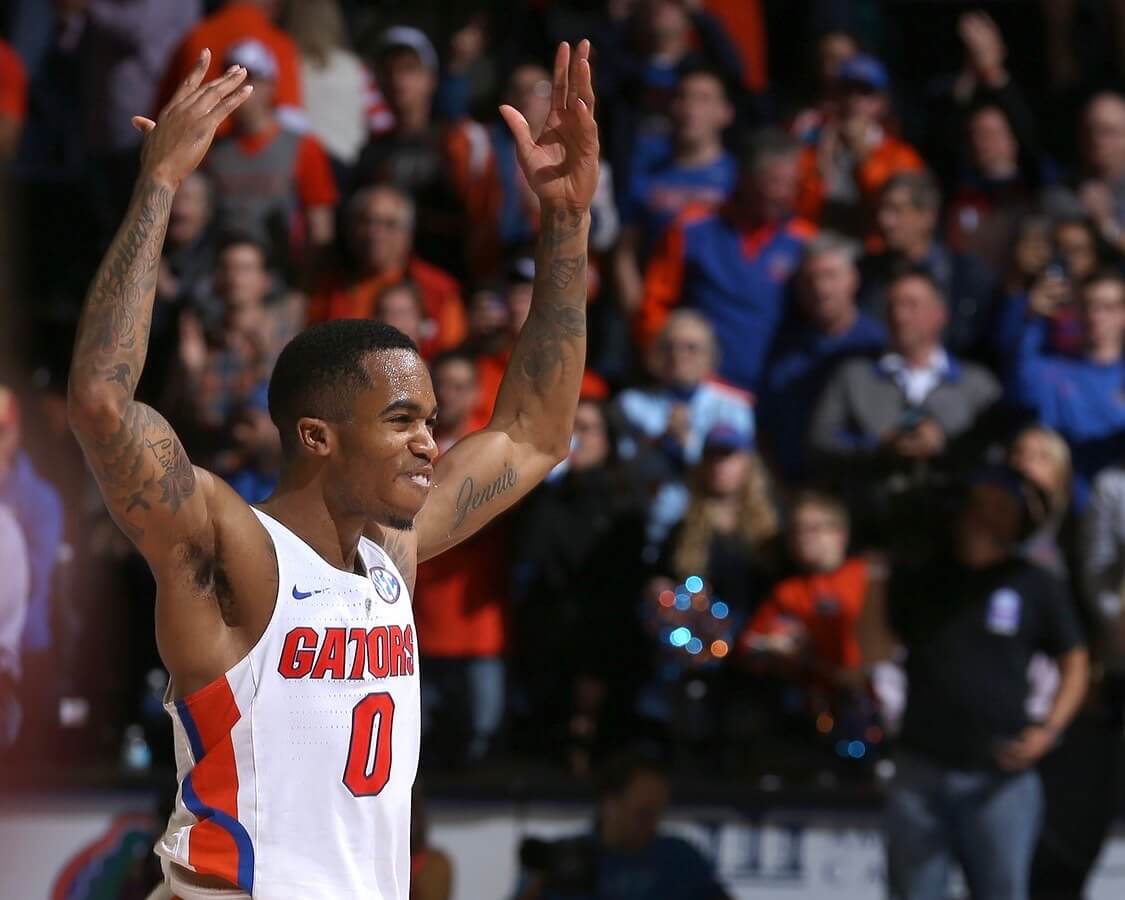 Florida learned a valuable lesson about ball movement after their loss to South Carolina last month.
They learned an even more valuable lesson tonight while drubbing the Gamecocks in the rematch: that they don't need John Egbunu in order to click offensively.
KeVaughn Allen led the way with 26, Devin Robinson added 14 more and Kevarrius Hayes blocked six shots as Florida turned on the jets late to smash South Carolina, 81-66, for their ninth straight win. The result eliminates the Gamecocks from the SEC championship race, leaving Florida and Kentucky to fight for the crown.
The flow of the game was a familiar one. The Gators jumped out to an early lead, choked it away with a late first half lull, and then recovered in plenty of time to pick up a double digit win. Florida led 28-16 with about five minutes to go, then watched as Duane Notice and Sindarious Thornwell got hot and led the Gamecocks on a 17-2 run. But the Gators responded with a three from Chris Chiozza and then a dunk in transition from KeVaughn Allen to regain the lead at halftime, 35-33.
The Gators began to pull away midway through the second half with a barrage of threes. It started when Allen and Robinson hit back to back threes to turn a three point lead into a nine point lead in little more than 30 seconds. The Gamecocks fought back and closed to within five. A few minutes later, though, Justin Leon drained a pair of threes to push the lead back up to eleven, and this time the Gamecocks had no answer. And that set the stage for Devin Robinson to put the game away with yet another three with 5:30 to go.
The only negative of the night was Canyon Barry, who was hobbled by an ankle injury. Barry played nine minutes and missed all three shots he attempted.
Florida clearly missed Egbunu, if only because of their lack of depth down low. But there were a lot of things holding the Gators back offensively prior to their nine game winning streak that didn't involve Egbunu, and they appear to have fixed those. The Gators moved the ball really well in the second half, and were able to turn some Carolina mistakes into points throughout the night. If Florida will cut down on their own turnovers (16 tonight) and they shoot like they did tonight, it'll be very difficult to beat them.
It feels like Florida is peaking at the right time, yet simultaneously still have room to improve. A lot of their less than positive moments are self inflicted, meaning the fix is relatively easy.
It also feels like Florida is becoming a team of destiny. And if they are indeed, they took a step towards it by setting up what's everything short of an SEC Championship Game with Kentucky on Saturday.