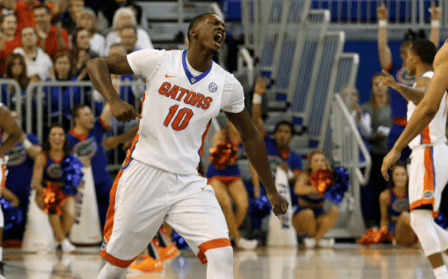 Chomp on this, West Virginia.
Florida craves more than just an NIT this season. They'd love to celebrate en masse by running onto the court, hugging each each other at the height of their jumps and screaming with delight as the school's fight song plays in the background sometime in early April. And when the Gators' 88-71 demolition of the nation's 9th ranked team was complete, the message had been sent: there's a legitimate chance that this team could be orchestrating such a celebration.
It took a few months of working out the kinks, but the Gators are back to national relevance, the way they once were under Billy Donovan. With an ugly shooting night from Vanderbilt last week already in the rearview mirror, this team re-taught the college basketball world the lesson from last Saturday's blowout of Auburn: when they hit shots, there may not be a single team in the country who can beat them.
Florida opened the game with a three pointer from Dorian Finney-Smith; that three kick-started an 11-2 Gator run to open the game, and Florida never looked back. The Gators struggled with West Virginia's vaunted press a little bit to start the game, but quickly figured out how to beat it. All they had to do was get the ball past mid court a couple times and get the ball into their shooters' hands, and before West Virginia could get back on defense, Florida had three more points on their half of the scoreboard.
Before too long, the Gators had a 21-10 lead. West Virginia then took off the press and switched to a zone, which turned out to be a supremely bad idea. There was no longer any pressure on the Gator bringing the ball up, but with all the same holes in the defense on the perimeter that came with a broken press. Predictably, the results were horrendous. Chris Chiozza immediately nailed an open three, and Finney-Smith hit one of his own less than a minute later. No matter what WVU did defensively, there were holes on the outside for Florida to hit open shots through.
There was the briefest, faintest glimmer of concern when the Mountaineers launched a run near the end of the first half- which has been a pattern for Florida opponents- to cut the lead down to four. But the Gators then countered by scoring points in the last way you'd expect; by making nine of their ten free throws to end the half, sandwiched around a three from Brandone Francis-Ramirez. And to prove that the first half was no fluke, Doe-Doe hit a three to open the second half just like he did to start the game.
End of threat. End of game. And hopefully, end of worrying about the direction of the program under Mike White.
Florida has been knocked this year for coming close but not finishing in big games. But to repeat: when this team shoots like they're capable of, they're virtually unbeatable. Case in point: today's 88-71 flogging of 9th ranked West Virginia. Finney-Smith finished with 24 points, including five trey balls, and KeVaughn Allen and Chris Chiozza each added two of their own. But the real hero was Brandone Francis-Ramirez. The seldom used Dominican Republic native, who came into the game averaging 2.2 points per game, came off the bench and nailed all three three-pointers he attempted. When the Gators can get production from the outside like that, you'd better be ready to match it, because it's almost impossible to stop.
And so we can stop criticizing Mike White. There was some internal turmoil for the first few months of his tenure, and this team lost games to FSU and Tennessee that they probably shouldn't have. But after the Vanderbilt loss last week, White regrouped the team, and relayed the message to them that they had a huge game this Saturday. With the way his team played today (not just on offense, but defensively, too), perhaps it's time to stop questioning him as a coach. This was the biggest game of his young coaching career, as it was a chance to put his program on the map, and how did his team respond? By absolutely destroying a team that figures to be a 2 or 3 seed in the NCAA Tournament.
When White took the job, he knew his new program had a long, difficult climb ahead. And to some extent, they still do. But his team just knocked off one of the game's leviathans. That's exactly the kind of breakthrough win he's been looking for, and his team needed. Will this Gator team win a national championship and dance around at mid court? I don't feel comfortable answering that. But can they? Today's win proved that, yes, they can.