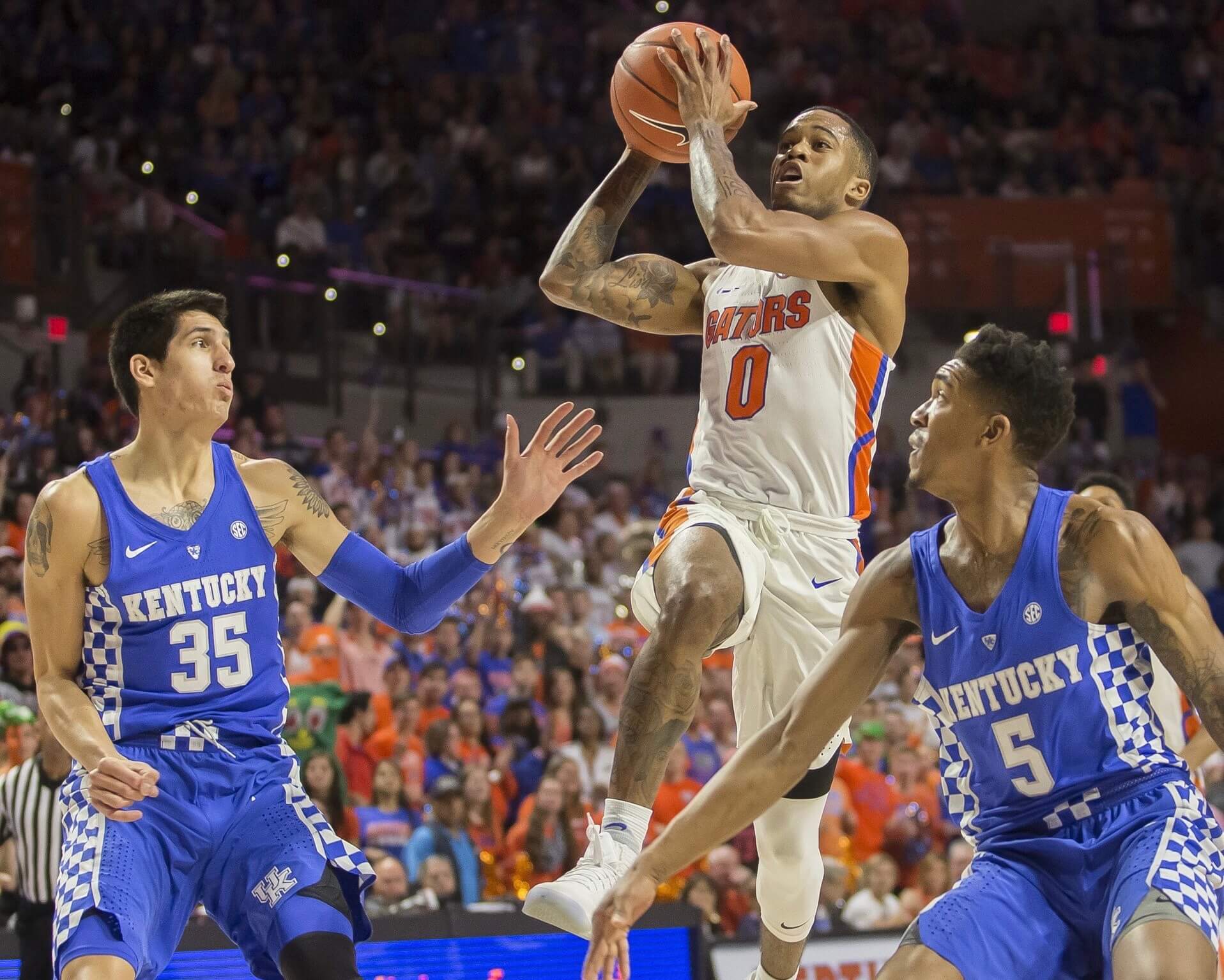 This was the type of fast paced basketball an SEC fan would love to watch between two of the conference's best.
By the end of the night, though, it was a clear case of one of the conference's best putting on a show against an unfortunate victim of far lesser caliber. And Florida- yes, Florida- was the team putting on that show.
Two weeks after losing to a sub-.500 Vanderbilt team on its home floor, Mike White's team appears to be on a rampage of similar vigor to Sherman's March to the Sea. LSU, Oklahoma, Missouri and now Kentucky have each been victimized by what appears to be the Gators' second wind, losing by a combined 128 points.
One of those was different from the others, though.
Kentucky was supposed to be able to lock down defensively and force Florida to make tough shots. Kentucky was supposed to collect lots of rebounds. Kentucky was supposed to turn Gator misses and turnovers into transition points. Kentucky was supposed to be a tougher challenge given their #8 ranking, high profile coach and their newest group of talented youngsters.
But it was Florida who put the clamps down on defense, holding Kentucky to a miserable 37% shooting from the field. It was Florida who owned the boards with an insane 54-29 rebounding edge, and it was Florida who picked up easy points off of misses and miscues, scoring 31 points in transition.
Thus, it was Florida who came out the winner by an 88-66 margin- the most lopsided beating of Kentucky in program history. And there was never really any doubt that this was going to be the outcome.
The Gators opened the game by scoring the first five points and never trailed, nor did Kentucky ever tie the score again. The Wildcats managed to stay alive early as Florida self destructed with nine turnovers in the game's first fourteen minutes, and shot a dreadful 29% in that same time span. But the Wildcats were even less effective offensively, connecting on just six shot attempts from the floor in the first seventeen minutes and even missing two dunks early. Thanks in large part to the Cats' even worse start, the Gators slowly built a 30-17 lead.
Kentucky's only real stretch of success came at the end of the first half, which extended into the early moments of the second half. But when De'Aaron Fox managed to hit a driving layup to cut the lead to four, it seemed like Florida's turnovers and cold shooting was about to catch up to them.
As good teams do, though, the Gators responded. Canyon Barry hit a layup and then a three to answer Kentucky's run, and Florida was off to the races. The Gators shot a blistering 70% in those final seventeen minutes of the game, and with the way they shut down Kentucky's offense and gradually wore them out with their transition offense, the outcome was inevitable. The only surprise was that it took until ten minutes left for Florida to really put the game away.
After seemingly toying with the Cats for much of the night and leaving them in the game for far longer than they should have, Florida finally exploded for a 13-0 run that turned the game into a rout and allowed fans to breathe. There would no collapse on this night like the one we saw against Vanderbilt; instead, Florida saw the finish line and turned on the jets.
The storylines following this game are fun to think about- and boy are there a lot of them. The 88-66 win was the largest the Gators have ever had over the Wildcats, and stands as the second worst loss John Calipari has ever suffered at Kentucky. Florida snapped a five game losing streak to Kentucky with this win, and staked its claim as the best in the SEC even one game behind South Carolina, and will have a chance to turn a claim into a reality given that the teams play again. Or you could take the angle of how complete a beat down this was. All ten Gators played scored. Chris Chiozza finished with nine assists and nine rebounds, one more of each and a few points away from his second straight triple double. Or you could focus on how Kasey Hill has gone from a liability to the Gators' best player, from a five star recruiting bust to the kid who, three years after signing that LOI, finally looks like all he was hyped up to be.
Most importantly, though, we get to talk about those storylines because of the way the Gators responded to adversity two weeks ago rather than folding as they did last year. Make no mistake, this win was no upset. Florida dominated from start to finish, thanks in large part to a career night from the formerly turnover prone Kasey Hill (21 points) and the only reason it wasn't worse was because of some silly self inflicted wounds. This game would not have played out like this had Florida played Kentucky two weeks ago, but the Gators appear to have transformed into something that's impossible to have fathomed since then, yet quite easy for fans to enjoy.
It's a team that's not only developed multiple ways to beat you, but gotten really good at beating you in those different ways. It's a team that has faced little else but failure in the past, and is now tasting real success for the first time. Above all else, it's a team that's taken some losses and lessons early this year, but appears to have learned from them and now seems better off because of them.
This ending to this team's story is still yet to be written, as we still have a lot of ball left to be played. The hope is that the team we've seen recently is the team we'll see from here on out. But I don't think anybody really knows how to explain or define the last three weeks for this team.
All I know is, I wouldn't want to have to play them.