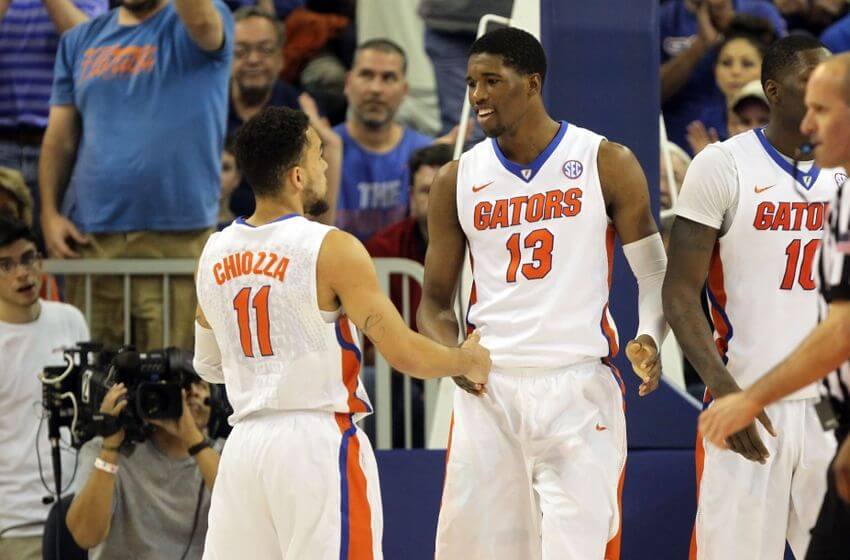 After an ugly week in which the Gators failed to make a single three pointer for the first time in a quarter of a century, and appeared headed for a free fall, the team simply created a new streak.
Consecutive wins by 30 points or more. And now that streak is at two.
Thanks in large part to 20 points from Kevarrius Hayes and 15 more from Canyon Barry, Florida waltzed into Sooner land and easily dismantled Oklahoma, 84-52, in the SEC-Big 12 Challenge. The win puts the Gators at 16-5 on the season, and all but locks up a spot in the NCAA Tournament.
And once again, the Gators did it by putting their opponent away by halftime.
Florida actually trailed early on in this one, but Canyon Barry gave the Gators the lead for keeps with a three to make it 23-20 midway through the first half. The teams traded buckets for a few minutes- and then the Gators turned it into a bloodbath.
Keyed by Barry and Kevarrius Hayes, Florida launched a backbreaking 21-2 run that knocked the Sooners down for the count. The spurt bridged into the second half and featured a barrage of dunks and three balls, quite similar to the mid-game explosion the Gators had against LSU on Wednesday. Down 50-29 at the end of the flurry, Oklahoma would slowly chip the lead down to 58-45 thanks to a combination of better defense and some bad shot selection by Florida.
But then the Gators got hot again. A few minutes later, Justin Leon stepped up and drained the game clinching three with seven minutes to go, extending the lead back up to 18. And that was the start of a 22-5 run to end the game.
Florida now has to completely implode to not reach the NCAA Tournament, which is always the goal for the regular season. But more importantly, we wondered after the Vanderbilt loss if the Gators had it in them to turn things around, get better every time they step into the court and peak in March. Granted, LSU and Oklahoma are not the best barometers, but the Gators continue to lock down defensively, have been much better with their ball movement of late and are rapidly gaining confidence as we flip the calendar to February.
And at this point in the season, that's really all you can ask for.