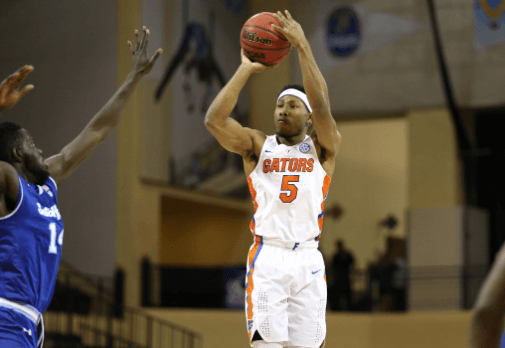 KeVaughn Allen got a rude welcome home from Arkansas fans, so he retaliated in a fashion that his tormentors are all too familiar with.
And in the process, he and his teammates played basketball in a manner that Gator fans are delighted to see again.
The sophomore from nearby Little Rock dropped in 21 points, including five threes, and the Gators opened SEC play by taking down Arkansas, 81-72. It's Florida's fourth win in their last five trips to Fayetteville, and their 17th win in the last 20 meetings with the Razorbacks. More importantly, the Gators got off to a 1-0 start in SEC play for the fifth straight year.
Florida led this one most of the way, with margins ranging from four to ten, but really began to put some distance as the game entered the phase we all love to call "crunch time." With 9:45 to go, Allen hit a three to put the Gators up 63-52- their largest lead of the game- and it only grew from there. Justin Leon and Chris Chiozza put the game out of reach with back to back threes, and just like that, it was over. Florida had a big road win.
And that last sentence is just it. Allen will get all the press for silencing his hometown hecklers, and he should, because it's nice to shut up your haters, but on the team level, that was a huge win. Florida now has wins over Seton Hall, Miami and Arkansas, and barring any of those teams completely collapsing, appear to have the "big win" section of their NCAA Tournament resume just about set. The Gators now sit at 10-3 with three wins over RPI Top 50 teams, and all three losses came to teams ranked in the top 20.
But the numbers and even the NCAA Tournament talk don't quite do this team justice. For the first time since the Final Four run three springs ago, I feel like I can finally trust a Gator team to pull through in a big game. Mike White wasn't happy with the Gators' second half defense against Little Rock last week, and his team appeared to have more than gotten the message; only a last second layup allowed the Razorbacks to avoid their season low point total. That's called stepping up and answering a challenge, something that doesn't really show up in a box score or SportsCenter ticker.
Florida will have more challenges ahead, for sure. But the way they handled this last one promises to, at the very least, make it fun to watch them take them on.