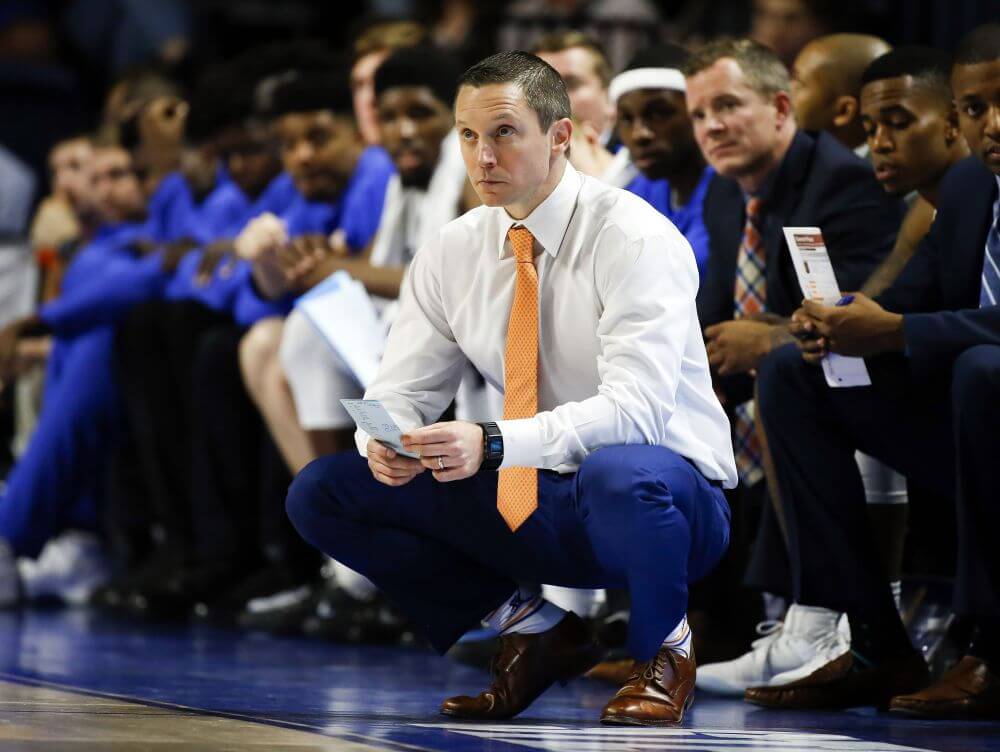 Florida's return to the national rankings probably won't last very long. Chris Silva and South Carolina made sure of that.
Florida did its part, too.
Thanks to a double-double from Silva and a game high 22 points from Wesley Myers, the Gamecocks walked into the O'Dome and handed the Gators their first conference home loss in 368 days, to Vanderbilt last January 21st. Part of the reason for this result was that the Gamecocks enjoyed an unheard of 52.4% night from behind the three point arc, and Florida went ice cold down the stretch. And if that sounds a lot like the synopsis of the last game these two teams played, you're right. It does, minus the officiating.
There's just one major difference: this one wasn't an upset.
Florida's 2017-18 basketball team has proven capable of playing basketball at a level of winning a national championship at times, most notably against Duke and Gonzaga in the #PK80 tournament. But this same group of guys has also proven capable of playing badly enough to lose to even the lowest of sacrificial lambs, like against New Hampshire and Loyola-Chicago. Rarely do we see the Gators' performance fall in the vast gray area between the max and the min, with the lone notable exceptions being against Cincinnati and Kentucky this past Saturday. This team is so unpredictable that sometimes, their level of play can swing back and forth multiple times within the span of the same game, and that's what happened tonight.
Florida fell behind 6-2, but exploded on a 19-4 run to take a seemingly commanding 21-10 lead. They then fell apart and managed just 16 points for the remaining 11:31 of the first half. Then it was rinse and repeat: they came out of the gates roaring in the second half with a 13-0 run, and then managed just 22 points over the final 15:54. The Gators spent the final five minutes down by increments of three and five, never able to claw back because the Gamecocks (unlike the Gators) were able to connect on enough free throws to ice the game. In other words, the same old combination of a lack of depth inside, some truly head scratching shot selection, and the other team hitting just enough shots did Mike White's team in again.
None of this is anything new minus the offensively challenged Gamecocks making more than half of their threes. Florida is going to have a problem as long as it doesn't have significant interior play from guys not named Kevarrius Hayes, and as long as it compounds that natural weakness by deciding that hoisting up heavily contested threes is a good idea. These Gators have not, contrary to popular opinion, gotten the slightest smidge better from that forgettable week in December when they lost to FSU and Loyola-Chicago, but rather have gotten lucky that their inherent issues have only reared their ugly heads as infrequently as they have. It's easy to point to games like Kentucky and Missouri as reasons to be sold on this group, but the body of work this Florida team has laid out through 20 games is that of a mediocre squad that sometimes masquerades as a good one when its opponent self-destructs.
And while anything is possible come the NCAA Tournament, where any team can get hot and win six straight games if it plays to its ceiling, tonight served as a reminder of just how low this team's floor is.