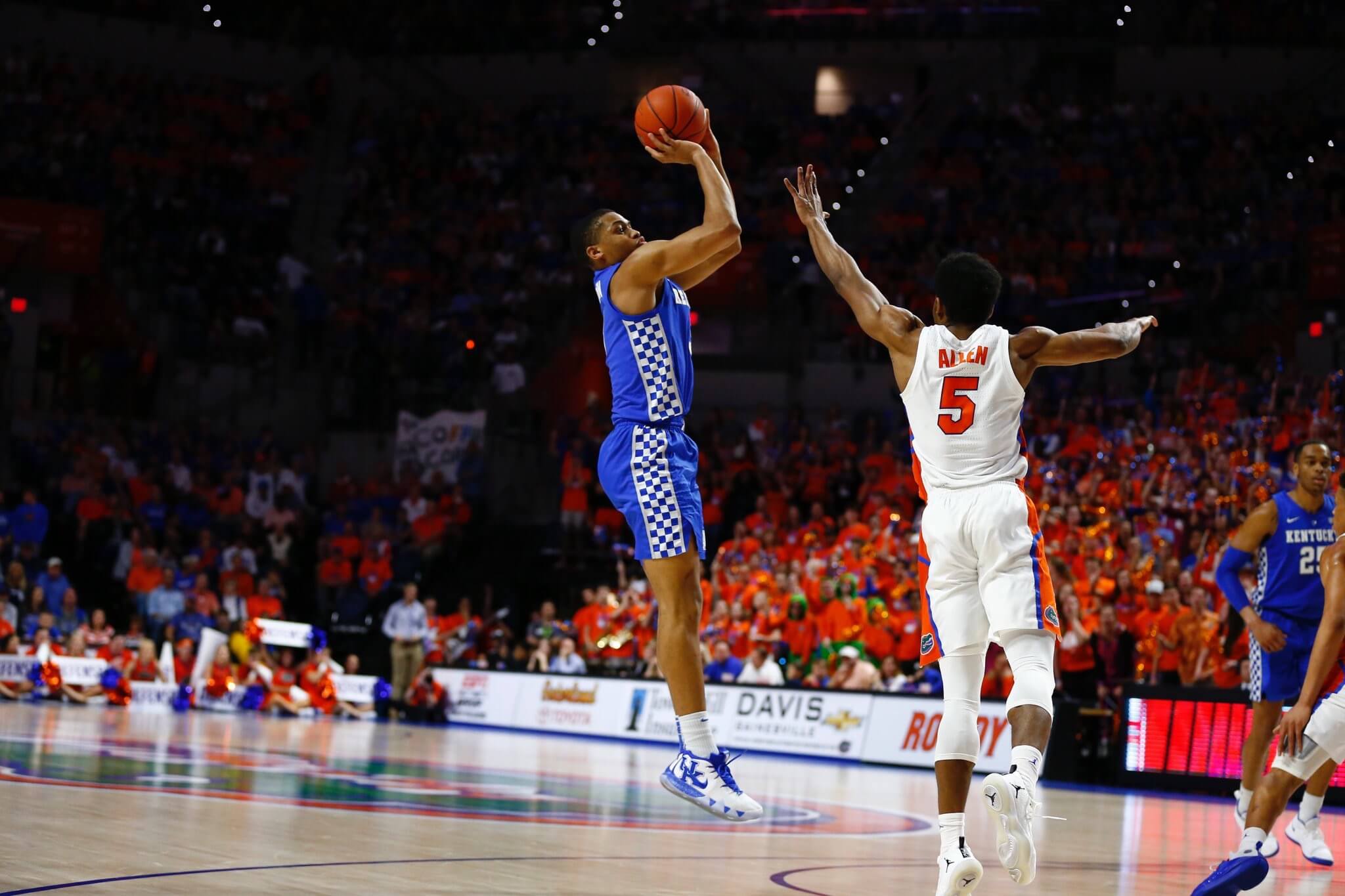 Mike White's Gators blew another double digit lead, and thus, perhaps the best chance at a resume header victory they were going to get.
Tyler Herro led the way with 19, PJ Washington added 15 and No. 7 Kentucky added loss No. 9 to Florida's 2018-19 season to the tune of 65-54- a result that left a slim majority of the crowd in Gainesville visibly frustrated as it collectively slunk to the exits.
In hindsight, though, Florida choking away sizable second half leads at home really shouldn't incite so much disappointment. It's become par for the course for this squad. The Gators let a 58-44 lead over South Carolina slip away in a 71-69 loss, and lost by eleven to Tennessee after leading 41-35 early in the second half. Florida also wasted a sixteen point second half lead on the road at Arkansas, letting the Hogs climb all the way back into the game and draw within two. To its credit, the Gators pulled it together and survived that one.
They weren't as lucky this time.
Up nine with fourteen minutes to go, Jalen Hudson drove the lane and converted a layup over the outstretched arms of both Herro and Reid Travis to make it 42-31. The Gators had a golden chance at a guillotine drop on their next trip down the floor, with Kevarrius Hayes catching an inbounds pass midflight and drawing a foul that inhibited him from performing a glass shattering slam. Hayes then promptly clanked both free throws- the first of many microevents that went Kentucky's way down the stretch.
The Wildcats launched a 10-0 run over the next few minutes to close within two. Florida fought back and rebuilt a 48-43 edge for itself on a nice runner from KeVaughn Allen. But Kentucky had found its shooting touch by then, and coupled with one of the Gators' famous cold spells, pulled off another run.
And this one was fatal.
Kentucky outscored Florida 34-12 over the final 13:58, a stretch during which the Gators shot a paltry 9-32 from the field. Making matters worse, electric freshman Andrew Nembhard could only manage two points in the second half, and similarly explosive freshman Noah Locke finished with a disappointing six for the night. Along the way, the Wildcats owned the boards by a 46-34 margin.
Were there positives to take from this loss? Sure. Jalen Hudson played a fine game on both ends of the floor, which is both a necessary development for a team that desperately needs his presence and a nice thing to see for him personally. Kevarrius Hayes made his presence known, too, by doing little things like drawing a pair of charges and boxing out for a putback bucket. And though Kentucky couldn't hit the ocean by falling from a transAtlantic plane in the early going, Florida's defense was tenacious and downright championship caliber for a portion of the game.
But unfortunately, the NCAA Tournament Selection Committee doesn't care about feel good moments for struggling seniors, hustle plays, or looking good for portions of games. The committee needs to see wins, specifically against good teams. Florida's failure to earn one today indicates that it remains wholly incapable of doing so.
And if they don't learn how to do it soon, the prospect of missing the NCAA Tournament will go from distinct possibility to fully expected reality.