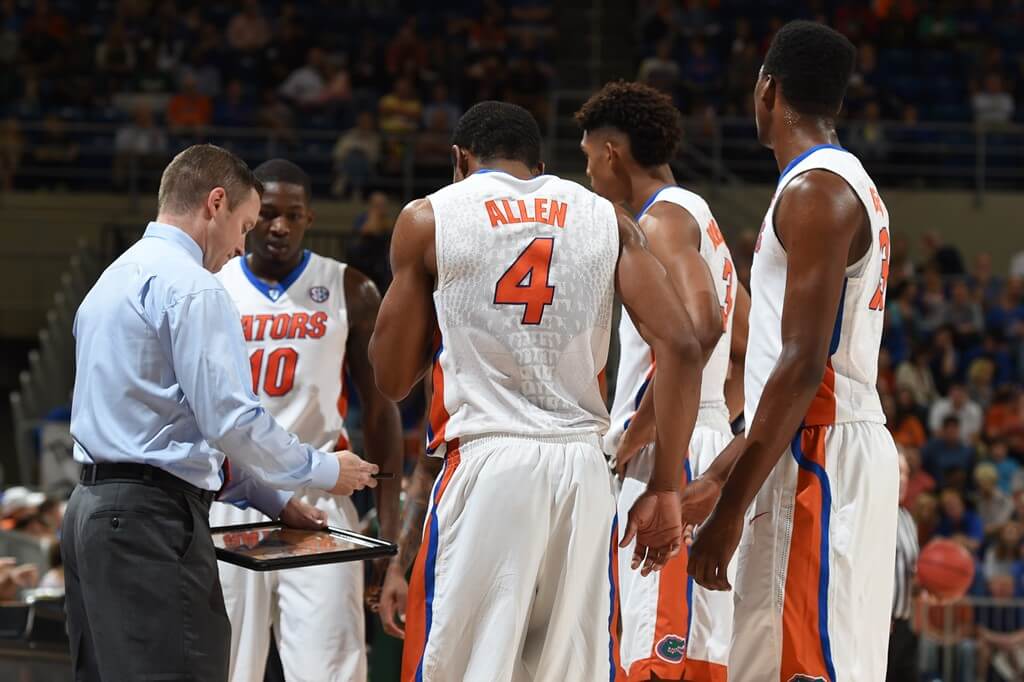 The NCAA Tournament bracket was unveiled yesterday without a whole lot of fanfare, relatively speaking. Some were questioning their seeding decisions, such as making Minnesota a 5 and Wisconsin an 8, and others were questioning why Syracuse was left out, but on the whole there wasn't a whole lot to be surprised about.
So without much to gripe about, the talking heads on every major television network went to their next favorite thing: predicting upsets. And as you can probably guess by the way I've led into this, a popular upset pick was East Tennessee State over Florida. Cue the eye rolls or the panic, depending on how optimistic or pessimistic you generally are.
Of course Florida is on upset alert. Everybody is. It's March Madness. That's what happens. Yes, TJ Cromer is a terrifying player who can explode for 40 points if you aren't careful. And sure, ETSU's ability to pick up points in bunches and from a variety of different sources scares me. The fact of the matter is that the Gators' road to the Sweet 16 is as easy as it could have conceivably been, and that's welcome news for a team that's trending the wrong way.
Let's start with ETSU. The Buccaneers may be able to score a lot of points, but they don't play defense. That's advantage number one working in the Gators' favor. ETSU has been surrendering 70 points a game against a suspiciously weak schedule that featured just one NCAA Tournament team (Dayton). And they gave up 75 points in a loss to that team. This could all make for a rude awakening for the Bucs in the form of a big day for Canyon Barry or Kevaughn Allen from the outside, as they've never had to defend the likes of them before.
Even better, ETSU turns the ball over an average of 15 times a game, which plays perfectly into the Gators' biggest strength: their transition game. Florida has become adept at forcing live ball turnovers and then scoring off of them, so a team that gives it away as frequently as ETSU should only make it that much easier for them to do so.
And then, oh yeah, Mike White's squad plays defense. Really good defense. Only two of Florida's opponents all year scored more than their season average against them, and for an ETSU team that averages 80 a game but could only manage 68 against Tennessee, that doesn't bode too well. Nor does their lack of an inside scoring presence, period, which would be the way opponents would exploit the Gators' loss of John Egbunu. For all the damage TJ Cromer can do as a point guard, the Bucs aren't equipped to take advantage of Florida's lone weakness.
The round of 32 possibilities are about as easy as Florida could have hoped for, too. The possibilities are a punchless Virginia squad that ranks an unbelievably bad 314th in points per game or a UNC Wilmington team that's potent offensively but gives up 75 points a game at the other end. The Gators will have a distinct advantage at one end of the court against either of them, while only being at a marginal disadvantage at worst if not even on the other.
Looking beyond that, things could get real interesting. No longer can you say the road is easy, but hey, it gets tough for everyone at this point. And relatively speaking, it's manageable.
The overwhelming favorite to meet the Gators in the Sweet 16 is a Villanova squad that's every bit deserving of its number 1 overall seed, but has a noticeable lack of size. That essentially counteracts the loss of John Egbunu down low, which means it'll become a battle of two similar teams. Nova gets great guard play from Josh Hart, but Kasey Hill- who takes a beating from fans for his inability to do much else- has proven capable of shutting down some of the best guards in the nation. And if Allen gets hot on top of that, you have to like Florida's chances.
The big problem in this region could be Duke, should Florida find their way past Villanova in the Sweet 16. The Gators played dead even with Duke at Madison Square Garden in December in the second half, but a late first half run by the Blue Devils proved fatal in an 84-74 loss. But Duke has gotten better since then, with Grayson Allen, Luke Kennard, Amile Jefferson and Jayson Tatum all capable of doing equal damage on a given night. I'm not sure even Florida can slow them all down in a rematch; the Gators would need a superb shooting night to pull off the upset.
But then again, things are supposed to be difficult once you reach the round of sixteen in the NCAA Tournament, in any sport. I was honestly worried that Florida would get placed in the West Region and have to fly out to California for the Sweet Sixteen and Elite Eight (they didn't) or that they would draw a much more dangerous offensive team as the one seed in their region like Kansas or Gonzaga (they didn't).
I was even a little worried that Florida's recent struggles would drop them to the five seed line and/or out of their backyard of Orlando. But that didn't happen, either, as the committee put more stock into their entire body of work, top ten RPI and KenPom rankings and their monster win over Kentucky than most of the "bracketologists" who did dump Florida down to the five line and thus collectively set off a panic among some Gator fans that they'd be set up for an early exit.
But the reality is quite the contrary. Again, of course Florida could lose earlier than their seeding suggests simply because that's how March Madness works, but really, this is about as good as it could get. Until Duke in the Elite Eight, Florida doesn't really have any bad matchups standing in their way. They get to play their first two games in their backyard, and don't have to travel across the continent for the next two games should they reach that stage.
Finally: yes, it would have been nice to avoid Duke in the Regional altogether, but somehow that feels like destiny. If Florida gets that far, it means that they're playing the best basketball they've played all year. And if the Gators are to make a magical run to a national title, they would have to play the nation's best team at some point on their journey anyway.