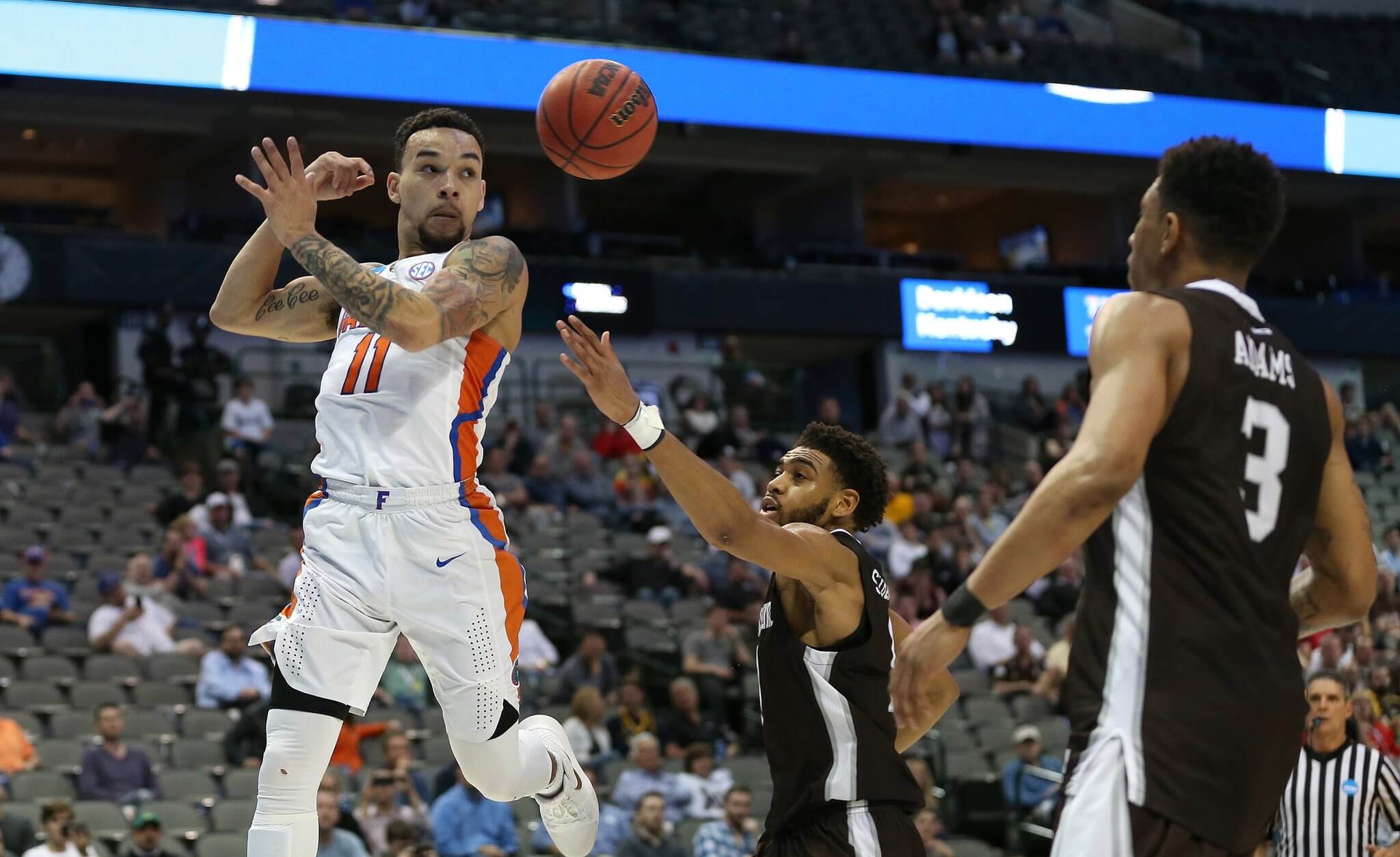 Florida's sloppy performance didn't make a difference against St. Bonaventure.
It might tomorrow.
The Gators used stout defense, 20 points from Egor Koulechov and 16 from Jalen Hudson to shake off a downright horrendous first half to fend off the Bonnies in their inaugural game in the 2018 NCAA Tournament. The win sets up an interesting Round of 32 matchup against a defensive minded Texas Tech squad that in a lot of ways mirrors this Florida team; a great guard in Keenan Evans opposite Chris Chiozza, a limited amount of size and plays great defense.
It should be interesting, that is, if Florida plays like they did in the second half against St. Bonaventure as opposed to the first half. If we see first-half-against-St.-Bonaventure Florida again with the Red Raiders as the opponent, it'll be the last we see of Florida, period.
The Gators were cruising early on in Dallas when suddenly they stalled in the rarefied air with a 20-9 lead and SBU star Jaylen Adams on the bench with three fouls. As has become customary with this team, Florida blew that double digit lead in its entirety, surrendering a 12-1 run to a Bonnies team running on fumes following a late comeback two nights earlier against UCLA in Dayton. The ugliness included eight consecutive minutes without a bucket, a pair of missed layups and three turnovers while St. Bonaventure finally started hitting some of the outside shots they'd been missing for the first ten minutes of action.
But, alas, as Florida displayed the worst of itself, they recovered enough to survive it. Michael Okuaru put the Gators back up for good with a three pointer with 2:49 remaining in the half, and Koulechov followed that with a three of his own moments later. That 6-0 mini-run got the Gators to the locker room with a 27-22 lead despite shooting an anemic 29% from the field in the first 20 minutes. During the intermission, they regrouped, and after it, they proceeded to bury the Bonnies.
Fueled by their late first half spurt, Florida roared out of the gates and turned that spurt into a 15-0 run that knocked SBU down for the count. And that run featured the early favorite for the play of the tournament from Chris Chiozza:
Last night's play of the game, presented by @SavvyGNV: @Chiozza11 puts St. Bonaventure through the spin cycle and finishes at the other end. pic.twitter.com/ZjzYGta7U8

— InAllKindsOfWeather.com (@AllKindsWeather) March 16, 2018
True to form, the Gators didn't play a perfect second half, either. Chiozza committed a dumb foul with two seconds on the shot clock of a SBU possession that was destined to end badly, and multiple miscommunications resulted in passes being flung into the bleachers. But Florida turned in a significantly better final 20 minutes by every metric imaginable, and that's what they're going to need 40 minutes of against Texas Tech if they want to book passage to Boston next weekend.
Because Texas Tech, while not an offensive juggernaut, isn't going to shoot 26% like St. Bonaventure did over the first 20 minutes no matter how well the Gators defend. It was only because the Bonnies were somehow worse offensively than the Gators' third worst half of basketball this year that Florida was even ahead at all by halftime, let alone not down by twenty. Turning in numbers like that are an excellent way to watch the remainder of this tournament from the couch, and the frequency at which the Gators have struggled like that throughout the course of this season does not set up a ton of confidence heading into tomorrow night.
Then again, if there's one thing this team does consistently, it's pull a complete 180 in consecutive games. And given that they just showed the world how ugly they can look in their last game, the logic in this season that has defied logic is that they're bound to show the world how pretty they can look, too.