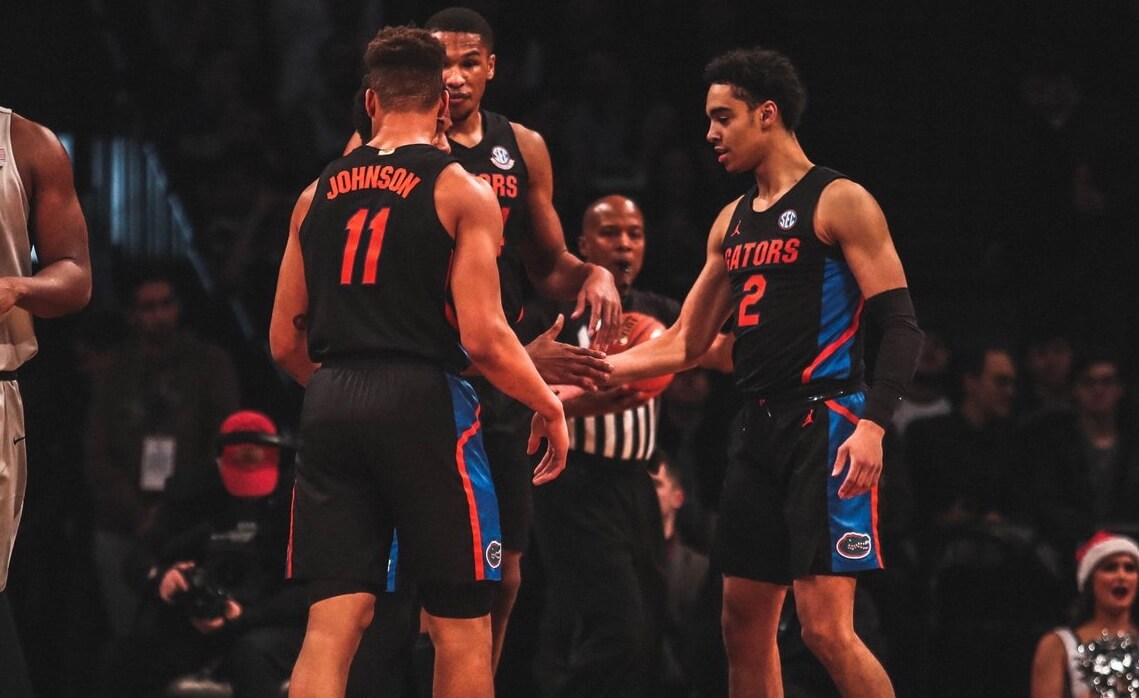 By no means has the product that Mike White's team has turned in so far in his fifth year matched the lofty preseason expectations. But at least for one day, the college basketball world got the chance to see why the experts were so high on them once upon a time.
Freshman Omar Payne led the way with nineteen points and eleven rebounds in a breakout performance, Noah Locke drained four threes, and Florida's defense limited Auburn to by far its worst offensive performance of the season in a 69-47 upset rout of the fourth ranked Tigers in Gainesville. The win is Florida's 13th in a row over Auburn in the O'Dome, and the Gators' first over a top five team in over a decade.
Before we get too high on this team, a few disclaimers. Florida had its sloppy moments, for sure, turning the ball over fifteen times on the day and getting caught out of place on defense a couple of times (specifically Kerry Blackshear). And at various points early in the game, the shot selection ranged from questionable to downright bad. Meanwhile, Auburn helped out, starting the game a dreadful 1-16 from the floor, and finishing with season lows in points and shooting percentage (25.5%). The Tigers are sure to suffer an enormous fall in the rankings next week by virtue of losing to this Florida team, as well as to an even worse Alabama team earlier in the week.
But the fact of the matter is that this was a top five team and one of last year's national semifinalists that came into the O'Dome. All Florida could do was play the team in front of them, and they did so well, smacking them around for the overwhelming majority of the contest. Payne played the game of his life, Florida's defense made what was clearly a miserable shooting day for Auburn even more miserable with (mostly) ferocious defense and overcame its own self destructive issues. That all netted the Gators their first victory over such a team since November of 2009, when Florida upset then No. 2 Michigan State in Atlantic City. Regardless of how monumental a tumble Auburn takes in the rankings, this was the kind of win that a team can build off of: yes, Auburn played its worst game of the year, but Florida also played its best, and the two of those things happening simultaneously on the same floor provides a realistic sample of what this team could possibly accomplish when it brings its A game.
Maybe this team will build off this win, come together, morph into what we thought they were capable of and launch an unforgettable run to the Final Four. Maybe they'll regress to the mean, drop a few more games to inferior teams and either go one-and-done in the NCAA Tournament or completely bottom out and miss the Big Dance altogether. Or maybe this team's fate lies somewhere in between those two extremes.
But whatever the future holds for Mike White and this team, for whatever else you can say about them, on this one day, they at least showed the world that that they're capable of being the team that everybody thought they could be.