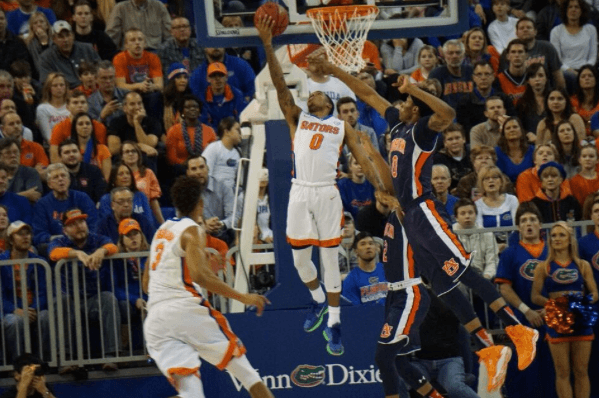 The scene was so familiar to anybody who's followed SEC basketball the last few years. Bruce Pearl was yelling, screaming, and gesturing with his hands like an African savanna baboon for much of the two hours his team was on the court.
On this night, though, all it did was make for comedy. There was nothing he could do to save his Auburn Tigers from getting clobbered by the Gators. Again.
Dorian Finney Smith dropped 24 points, Chris Chiozza added a career high 14 and Florida blew Auburn away, 95-63. It's the Gators' ninth straight win over Auburn, and their nineteenth in the last twenty meetings with the Tigers. That 95-63 score joins its friends of 83-52, 78-69, 91-66 and 89-61 blowouts in the last several years. Even last year's Gator team, which finished with a losing record for the first time in two decades, dropped a convincing 75-55 beating on the Tigers. With numbers like that decorating the recent series history, tonight seemed like a mere formality.
Credit the latest Gator chomping of Auburn to an unbelievable shooting night.
Florida used a 23-3 run in the game's opening minutes to put the game out of reach before many of the fans had settled into their seats. The kicker was a rebound-dunk combo by Dorian Finney-Smith that came after John Egbunu blindly tossed the ball over his head in the general direction of the basket with the shot clock running down. But Florida wasn't just lucky, they were on fire. The Gators attempted ten threes in the game's first twelve minutes; they made seven of them. After the first couple, Auburn started backing them up further and further, but the shots just kept falling. To boot, the Gators hit ten of their first twelve free throws, as if to prove that nothing, not even their biggest weakness, would slow them down on this night.
Auburn gradually woke up on offense, but the damage was done. Florida eventually cooled off from outside, but the Tigers never did find an answer for John Egbunu (who finished with 12 points) down low, nor did they launch the kind of 17-0 run they would have needed to climb back into the game. Auburn's two stars, Tyler Harris and Kareem Canty, found their shots way too late, as at that point the teams were trading buckets with Florida up by 20+ points.
As the night wore on and the game spiraled out of control, more Gator players grew confident and began playing closer to their potentials. For the first time as a Gator, Chiozza demonstrated a consistent ability to create a good shot for himself and knock it down. Kasey Hill made his usual share of mistakes with the ball, but even he ended the night with some nice assists and a few highlight reel dunks on breakaways. Of course, when Dorian Finney-Smith is hitting pretty much every shot he takes regardless of where he takes it from, things become easier for the other guys out there. But that's beside the point; it was still nice to see.
Florida now sits at 13-6 overall and 5-2 in the SEC, good enough for NCAA Tournament consideration should they continue to win the games they're supposed to win the rest of the way. This win was particularly sweet because watching Bruce Pearl can whine and cry about everything that goes wrong brings me a fatherly heavenly feeling of delight, but the truth is that there really aren't many teams who will beat Florida if they shoot like this. It's an unpredictable variable in every game, but the knowledge of what this Florida team is capable of should provide fans with encouragement as the season begins to really heat up.