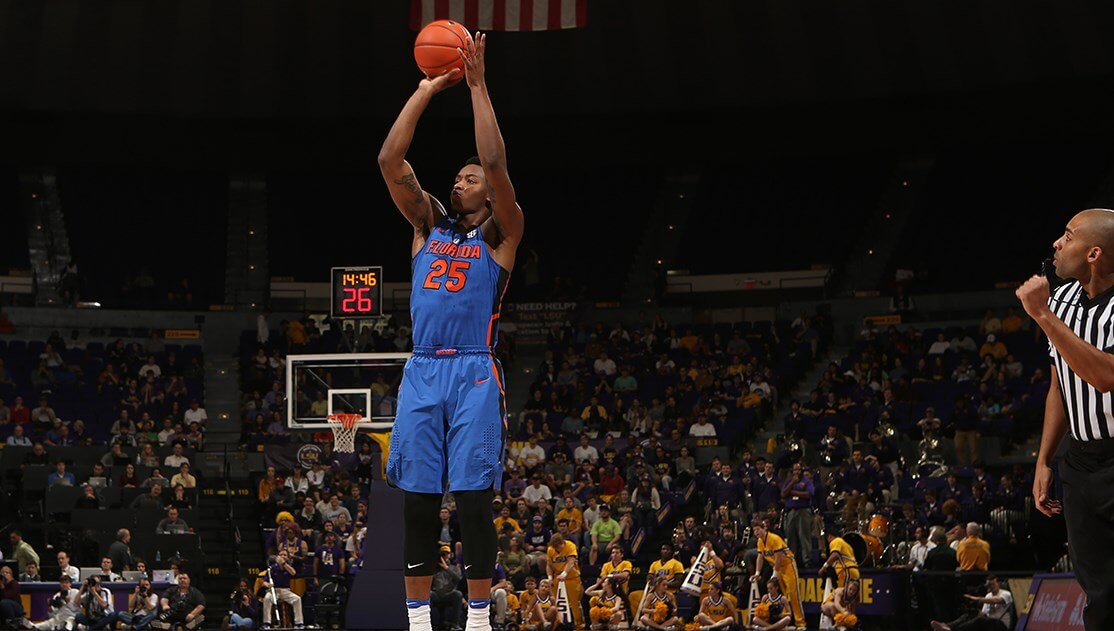 Texas A&M's inability to dress 60% of its starting lineup wasn't Florida's concern.
All Florida knew was that they had to play better defense than they'd played early in the year against the good teams. And all of a sudden, the Gators have won four in a row as a result of doing just that, including their first two against SEC opponents- and they may have their mojo back to boot.
Florida used 19 points from Egor Koulechov and 18 more from Keith Stone to smash #11, albeit short handed, Texas A&M 83-66. It was Florida's highest victorious point total and best shooting night percentage wise since a 111-105 win over Gonzaga on Black Friday. It was also the best the Gators have looked over the course of 40 minutes since then, too.
The Aggies were missing starters DJ Hogg due to suspension, and Admon Gilder and Duane Wilson due to injury, but their presence may not have mattered much. Florida hit ten of their first sixteen threes and finished with seventeen on the night, and exploded for 46 points in the first half. Basically, they looked much more like the team that outdueled Gonzaga in double overtime and crushed Stanford than the train wreck they've resembled of late.
The Gators also locked down defensively. Florida's tight defense held the Aggies to their third lowest point total of the season and caused 16 turnovers.
There was the faintest, slightest glimmer of doubt when Texas A&M made their run midway through the second half to cut the Florida lead down to 55-45- an unfortunately familiar scene for a team that blew double digit leads in losses to Duke and Clemson. But this time, the Gators didn't let things get too tense. Egor Koulechov drained back to back threes sandwiched around a vicious block from Kevarrius Hayes to launch a 10-0 run, and before the Aggies knew what had happened they were down 20 and out of the game.
The test will be to see how long Florida can keep this up. The Gators surely won't shoot 60% from the field or close to it in every game they play the rest of the year, and probably won't in many- and I'm still unconvinced that they have a Plan B to score points if the outside shots don't fall. But if nothing else, tonight served as a reminder of how explosive they can be when their shots are falling.